Top 15 Off-Roading Trails Near Phoenix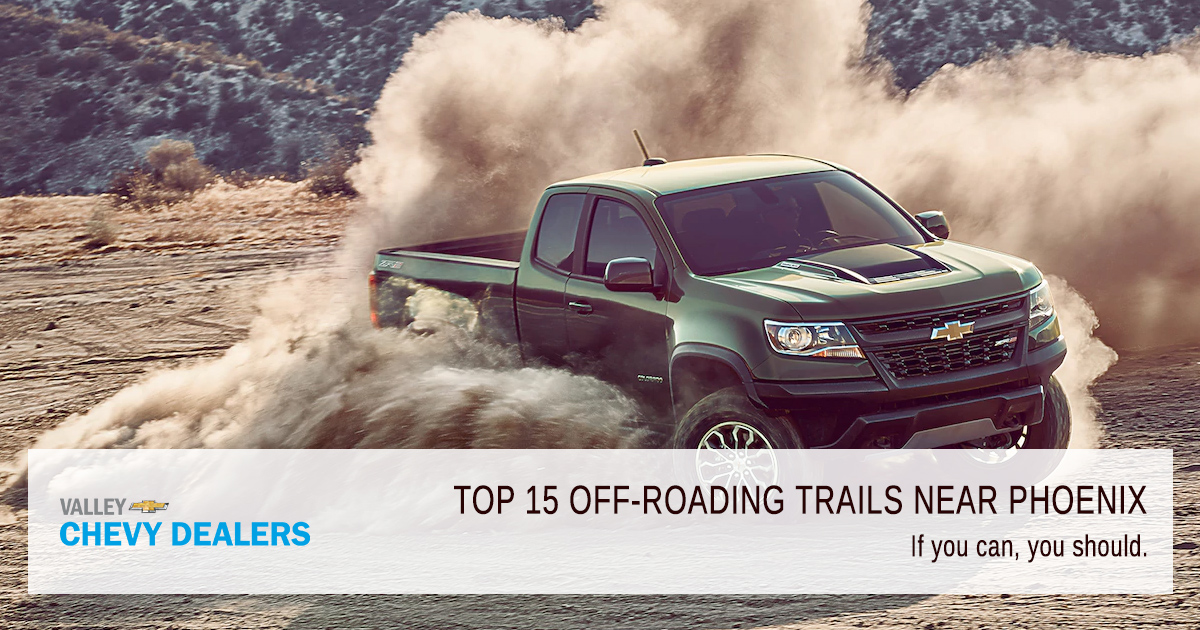 Beauty is in the eye of the beholder, they say, and to some the desert is one of the most beautiful places on Earth. One of the best ways to take it all in is by taking advantage of the many off-roading trails near Phoenix. It's also a great way to take advantage of your truck's off-road capabilities, so kill two birds with one stone and check out these 15 great AZ off-road trails.
Best Phoenix Trails for Off-Road Vehicles Infographic
Share this Image On Your Site
1. Apache Trail
East of the greater Phoenix area and just north of Apache Junction, Apache Trail is a fairly easy trail that takes you through Tonto National Forest, near the Salt River, and ends near Roosevelt Lake. Much of it is paved, so it's a great beginner trail with some excellent views. Just make sure you're paying attention as there are numerous blind turns and switchbacks.
2. Bulldog Canyon
Also on the northeast side of Phoenix, Bulldog Canyon is a shorter offroad trail that starts in north Mesa and ends near the Salt River with great views of the Superstition Mountains. Make a day of it and do some Salt River tubing after the off-roading to really enjoy the nature in the area. Bulldog Canyon does require a permit, but you can obtain one online and have it within two days.
3. Mount Ord Lookout
This trail, located north of Mesa off Highway 87, has a little bit of everything. It is a moderately difficult trail, but the increase in difficulty is worth it as it involves an elevation rise of more than 3,000 feet, making for an excellent vantage point. At the end of the trail you can make a short hike to the Mount Ord lookout tower before returning.
4. Sunflower Mine
A tougher trail located near Payson, Sunflower Mine is a 20-mile loop that will take most of the day to do, but you'll be rewarded with an excellent drive through the mountains in the Payson area and a trip toward what used to be a mercury mine.
5. Bradshaw Mountains
South of Prescott, the Bradshaw Mountains trail is a long one, so be prepared for a long day. It's a fairly easy trail that can allow most cars on it until some of the higher, rougher spots require a vehicle with higher clearance. Mining country and vantage points make this a trail you'll take a few pit stops on.
6. Back way to Crown King
A fun trail to go on because it is frequently affected by the weather, going to Crown King the back way (as opposed to the Bradshaw Mountains Trail) is a much harder route that does require an off-road vehicle with a little more power and clearance. This is another all-day trip, but a worthwhile one.
7. Castle Hot Springs Road
Just west of Lake Pleasant, Castle Hot Springs Road is an easy trail in the lower foothills that has you cross the creek several times, so be careful not to go if rain is a possibility. It's pretty sandy, and some rough rocks can be exposed, but is otherwise a mild trail that doesn't take too long.
8. Wickenburg Mountains
Another full-day trip, driving the Wickenburg Mountains Trail is a tough one as it has several narrow roads and steep inclines, so it'll require a true off-road vehicle to attempt. Navigation can be tricky with several side roads, but there are lots of mines to stop and explore throughout.
9. Bloody Basin Road
Bloody Basin Road is quite a route, from its elevation rise to 5,000 feet to the numerous Indian ruins to stop and check out from start to finish. Straight through Agua Fria National Monument, is an all-day trail that offers camping and a hidden natural hot springs to check out.
10. Belmont Mountain
A relatively short trail with a great payoff, Belmont Mountain takes you to Vulture Mine, a well-preserved gold mine and ghost town. There are some steep, rocky spots so a high-clearance vehicle is recommended.
11. Schnebly Hill Road
East of Sedona, Schnebly Hill Road is a pretty easy drive that takes you up to one of the most picturesque spots in Arizona. Get a Red Rocks Pass if you're going here. You don't need it for the drive, but if you're going stop and park you do. And you're going to want to take your time on this short ride.
12. Greasy Spoon
Rocky and steep, Greasy Spoon requires a ride with some clearance to make it, but the drive leads to a couple hiking trails to mountain peaks. This one is a little out of the way, so make a day of it, but it's worth taking the road less traveled.
13. Mingus Mountain
Just south of Jerome, Mingus Mountain offers a moderately difficult trail that looks over Sedona as you drive it. There are some steep, narrow areas, but it offers enough space for your SUV and is fairly easy as long as it's not raining.
14. Broken Arrow
Overlooking the red rocks of Sedona, Broken Arrow offers some of the best off-roading, and as a result can often be pretty busy. It's an easy trail to follow because there is signage to help navigate, but it does require a truck with good clearance as there are several difficult obstacles, many of which can't be avoided.
15. Smiley Rock
Up by Jerome, it'll bring a smile to your face if your truck can handle this difficult trail. Drive through Martin Canyon and take in the scenery as you drive by Woodchute Mountain. Because of the narrow rocky paths and boulder fields, it's best to have skid plates to protect your ride on this trail.
Your Chevrolet Vehicle Options
If you're tempted to check out these great trails and others Arizona has to offer but don't have an off-road vehicle, Valley Chevy has some great options. These are a couple to check out so you can start your off-road adventures!
Jump in the ZR2 Crew Cab Chevy Colorado and hit the trails. Designed to handle the roughest trails with its built-in Off-Road Mode to make adjustments to traction and transmission, the Colorado is great for the steep paths and the long ride to the trail.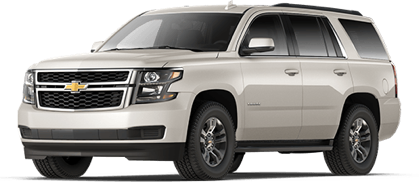 Built to take you and the whole crew on a camping trip after a little off-roading action, the Chevy Tahoe ZR1 is equipped to handle whatever the road throws at you, so long as you have the clearance to make it. Spacious, comfortable and powerful, it offers the full package when you want to take the back roads.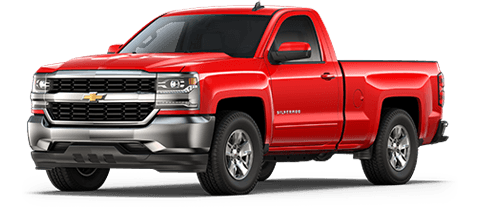 The bigger, badder brother of the Colorado – and the most dependable truck in America – the Chevy Silverado Z71 Off-Road package is ready to tackle every terrain with off-road tuned suspension, skid plates and Hill Descent Control.
Whenever you go off-roading, make sure you go prepared. Bring lots of spare water, have a spare tire ready to go, bring a compass and map to help with navigation and have phone charger to keep your phone juiced. Avoid going alone, and make sure someone knows where you're going and when you'll be back in case of emergency. Nature is fun, but can be unforgiving.
For more tips and travel ideas, check out more articles at Valley Chevy.