Top 15 Off-Roading Trails Near Phoenix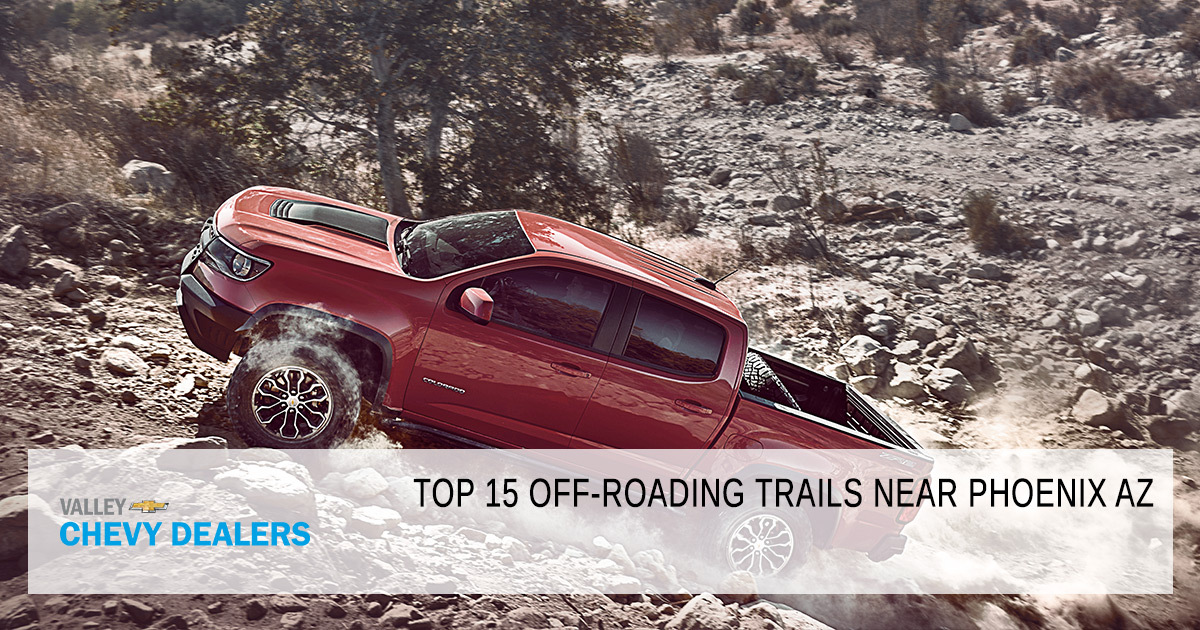 Updated: 6/16/2021
Beauty is in the eye of the beholder, they say, and to some, the desert is one of the most beautiful places on Earth. One of the best ways to take it all in is by taking advantage of the many off-roading trails near Phoenix. Jagged mountains, barren landscapes, and pine forests dot the Arizona landscape.
Here are the top Phoenix off-road trails to let you take it all in and experience the best the Southwest has to offer. It's also a great way to take advantage of your truck's off-road capabilities, so kill two birds with one stone and check out these 15 great AZ off-road trails.
1. Schnebly Hill Road
East of Sedona, Schnebly Hill Road is a pretty easy drive that takes you up to one of the most picturesque spots in Arizona. Get a Red Rocks Pass if you're going here. You don't need it for the drive, but if you're going stop and park you do. And you're going to want to take your time on this short ride.
2. Broken Arrow Trail AZ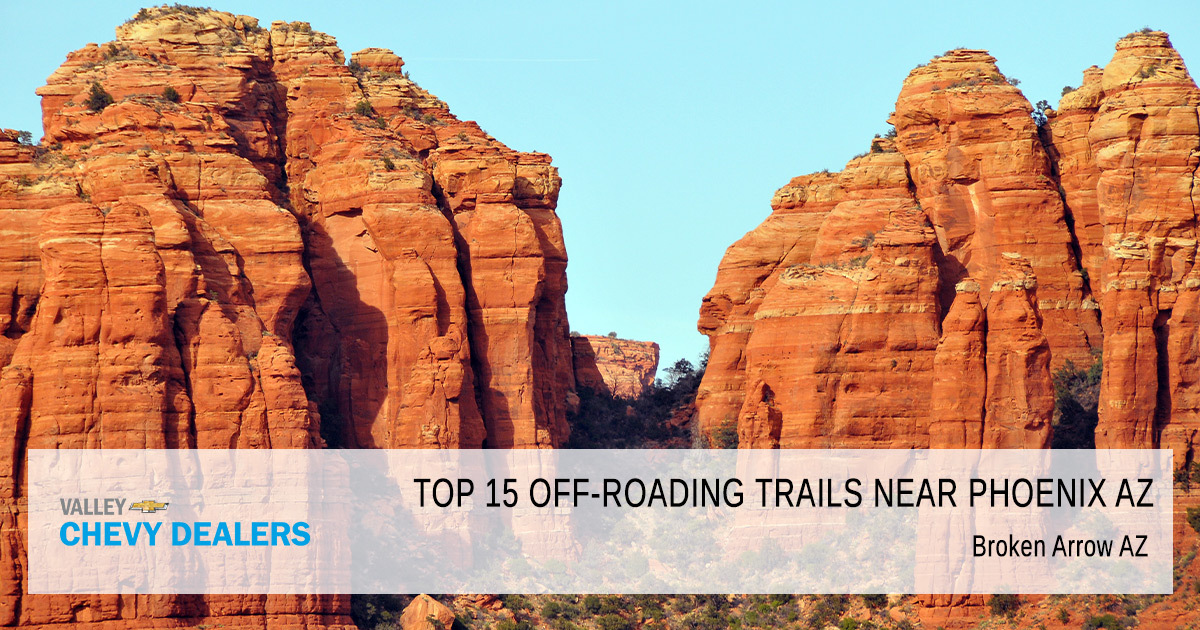 Popular, fun to drive and surrounded by the beautiful red rock scenery, this short trail east of highway 178 and south of Sedona is considered one of Arizona's best. Including side trips, the drive is about four miles.
It's an easy trail to follow because there is signage to help navigate, but it does require a truck with good clearance as there are several difficult obstacles, many of which can't be avoided.
3. Apache Trail AZ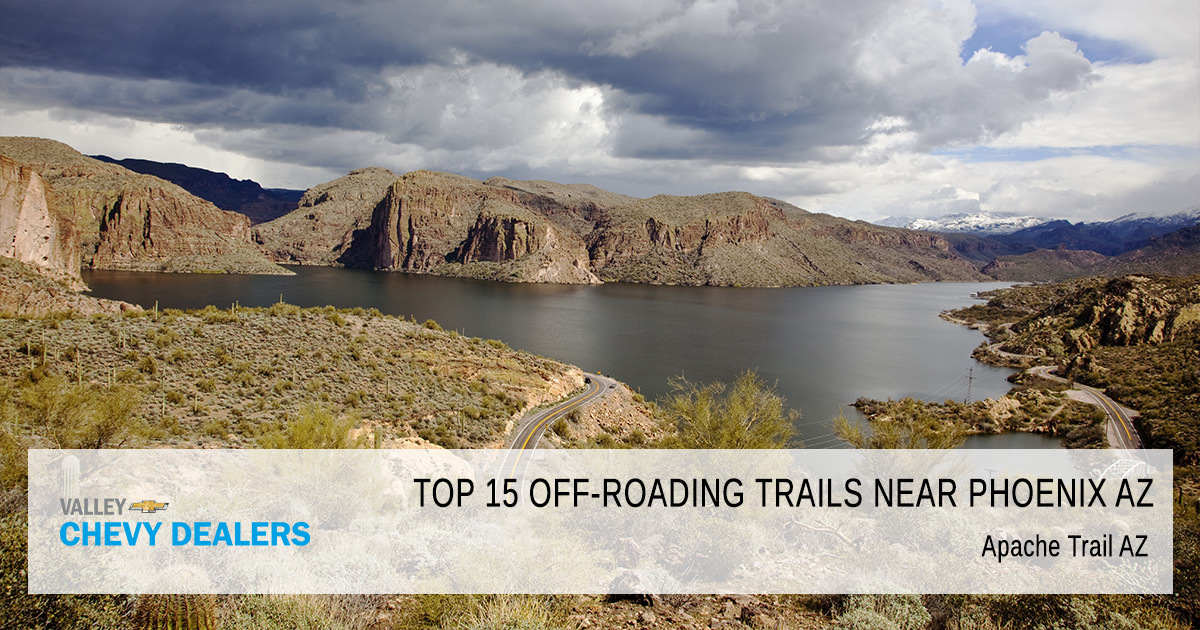 East of the greater Phoenix area and just north of Apache Junction, Apache Trail is a fairly easy trail that takes you through Tonto National Forest, near the Salt River, and ends near Roosevelt Lake. 
Accessible to all vehicles, the scenic western half requires caution, and RVs are not recommended.
Much of it is paved, so it's a great beginner trail with some excellent views. Just make sure you're paying attention as there are numerous blind turns and switchbacks.
4. Bulldog Canyon AZ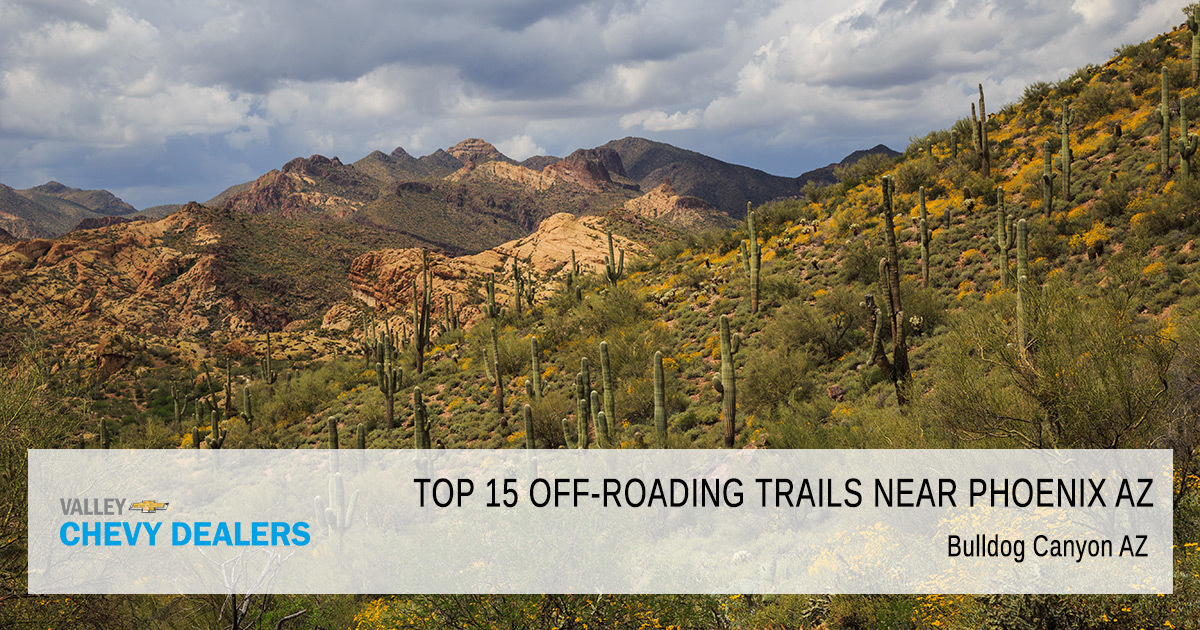 Also on the northeast side of Phoenix, Bulldog Canyon is a shorter offroad trail that starts in north Mesa and ends near the Salt River. 
Best for aggressively stocked high-clearance vehicles, the trail offers stunning views of the Goldfield and Superstition Mountains.
Make a day of it and do some Salt River tubing after the off-roading to really enjoy nature in the area. Bulldog Canyon does require a free permit, but you can obtain one online and have it within two days.
5. Pyeatt Draw AZ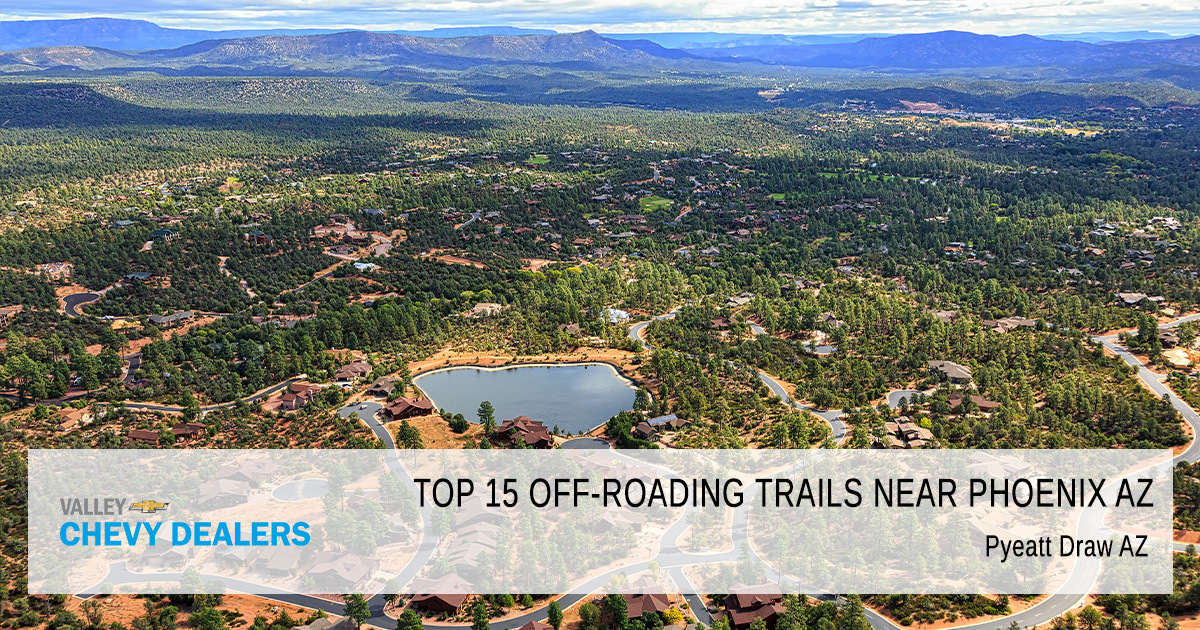 Prepare to up the ante and challenge yourself, with this moderate to difficult trail northeast of Payson. Follow a rocky wash or bypass it by taking an unmarked forest road. There is standing water during certain times of the year, so be prepared with a spare tire, repair kit and a winch.
6. Reno Pass AZ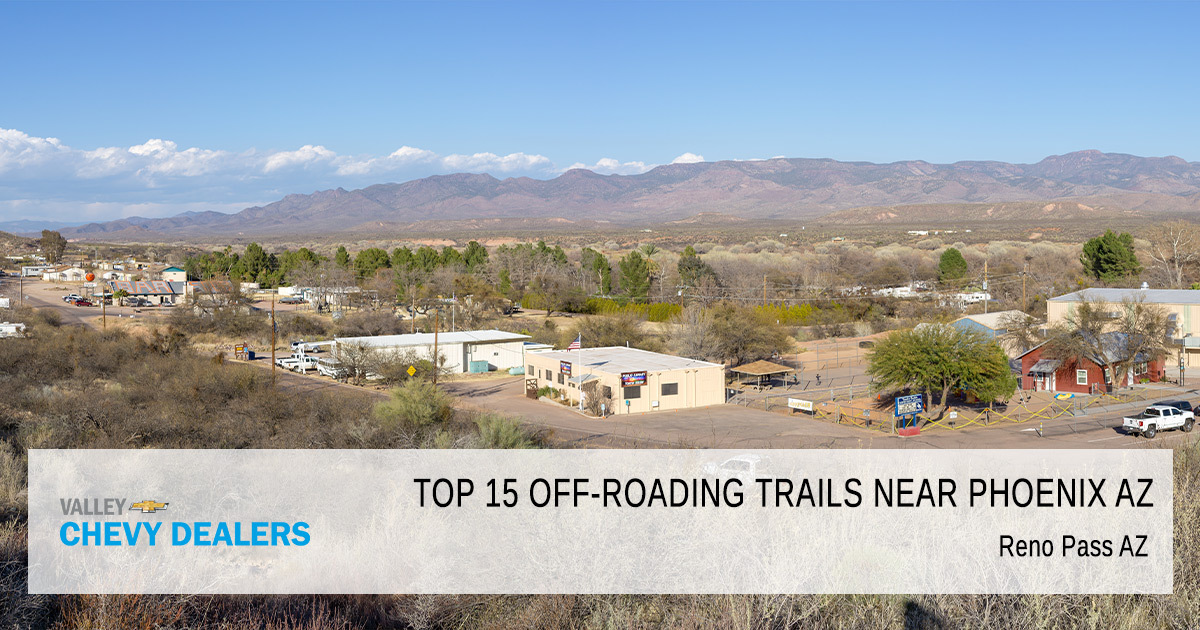 Tight brush and a steep, rutted, shelf road are the hallmarks of this 20-mile route. Located between Sunflower and Punkin Center northeast of Phoenix, the area is remote, and lockers are recommended.
7. Bradshaw Mountains AZ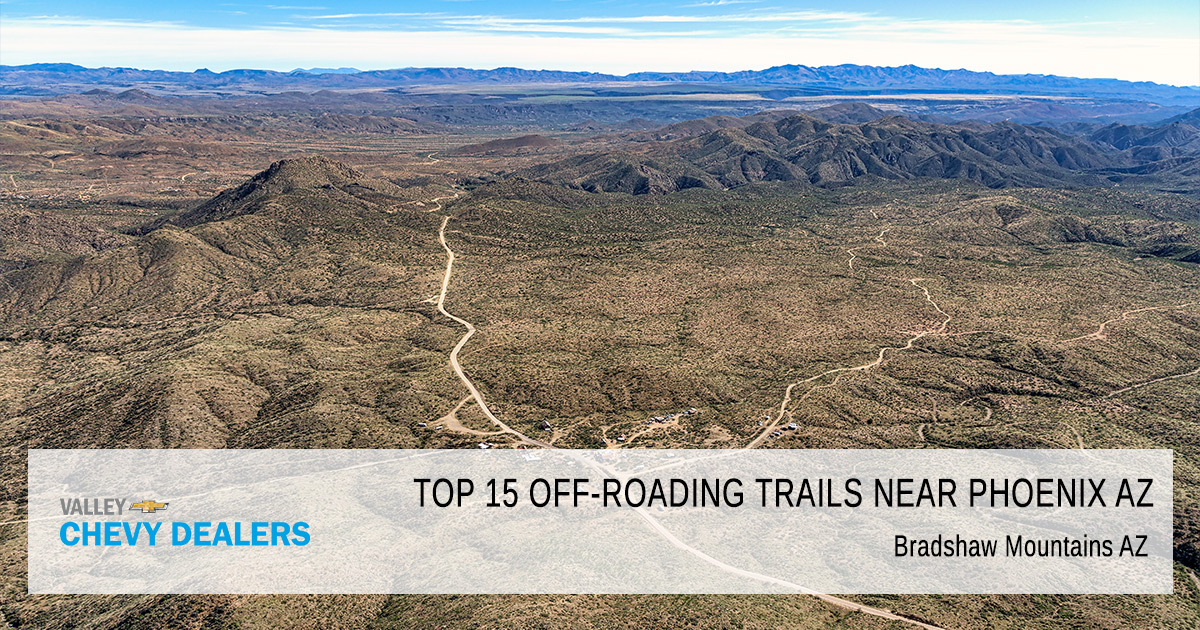 South of Prescott, the Bradshaw Mountains trail is a long one, so be prepared for a long day.
Enjoy the beautiful mountain drive through the mining country with stops in Crown King, Bumble Bee, and Cleator. A high-clearance vehicle is recommended beyond Crown King, but a passenger car can handle the wide gravel road during the dry season.
8. Sunflower Mine AZ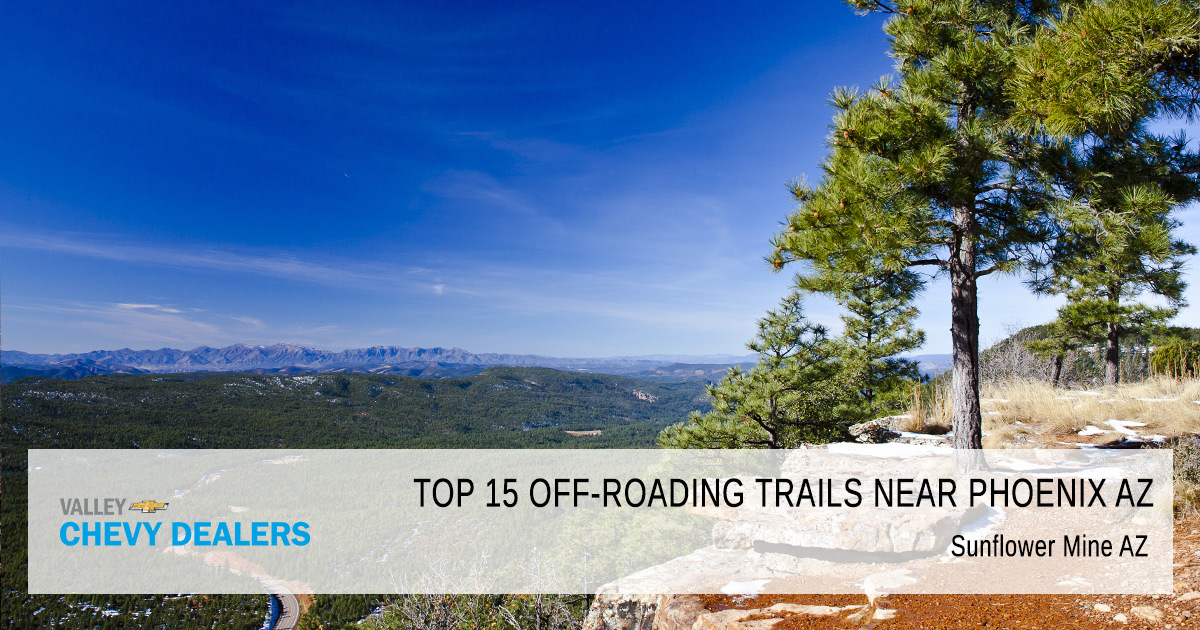 Explore the trails that loop through the mountains near Payson, northeast of Sunflower. If you follow the entire loop, it's 20 miles of easy and moderate sections to the mine, with difficult areas later.
9. The Rolls - Four Peaks AZ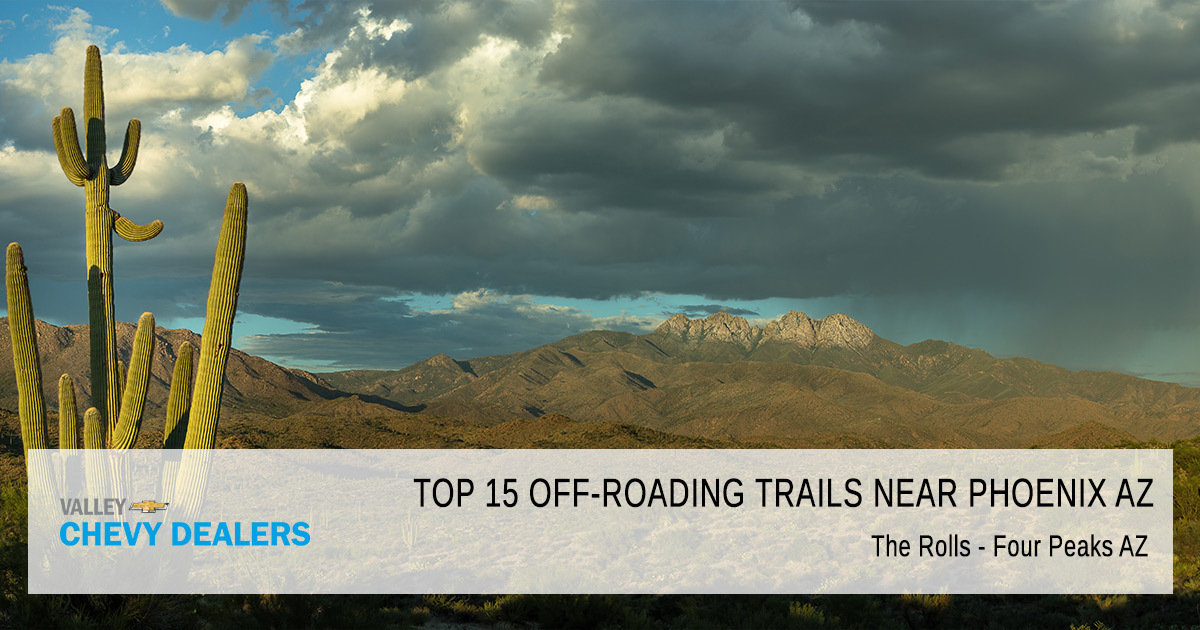 Just west of Lake Pleasant, Castle Hot Springs Road is an easy trail in the lower foothills that has you cross the creek several times, so be careful not to go if rain is a possibility. It's pretty sandy, and some rough rocks can be exposed but is otherwise a mild trail that doesn't take too long.
10. Wickenburg Mountains AZ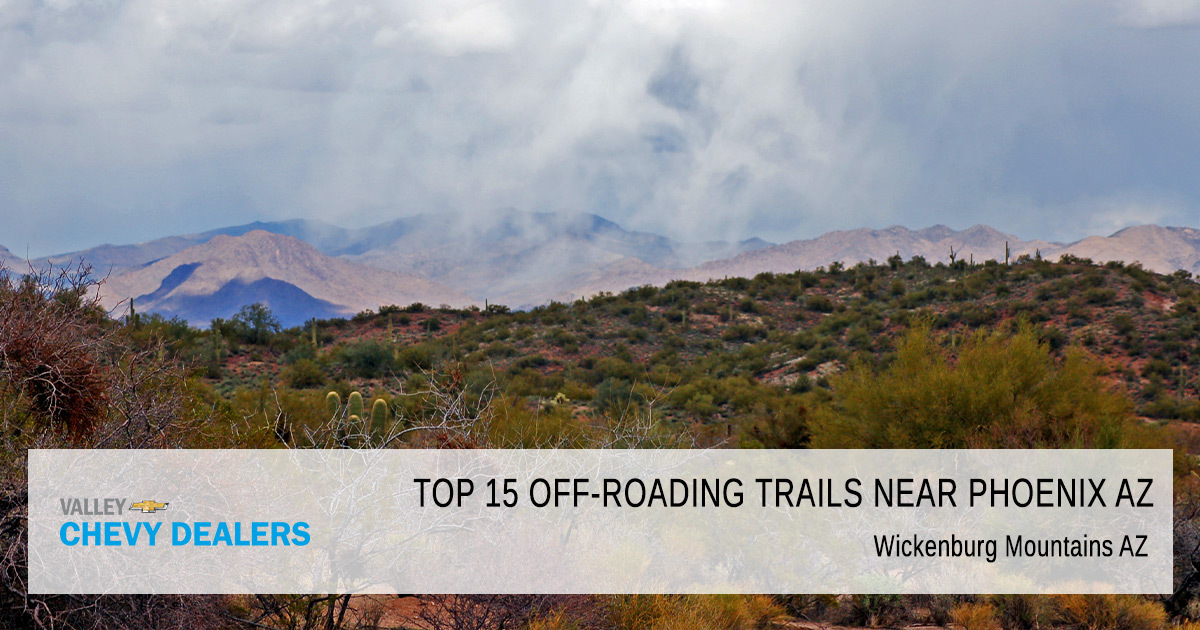 Another full-day trip, driving the Wickenburg Mountains Trail is a tough one as it has several narrow roads and steep inclines, so it'll require a true off-road vehicle to attempt.
Rocky shelf roads, sandy creek bottoms, and steep inclines make for a challenging, moderate 25-mile route to the Copperopolis Mine.
11. Bloody Basin Road AZ
Bloody Basin Road is quite a route, from its elevation rise to 5,000 feet.
North of Phoenix and south of Camp Verde, this easy route passes through Agua Fria National Monument. With a high-point of almost 5,000 feet, you can explore the hot springs and see petroglyphs along the 38-mile trail. The trail offers camping and hidden natural hot springs to check out.
12. Sycamore Creek AZ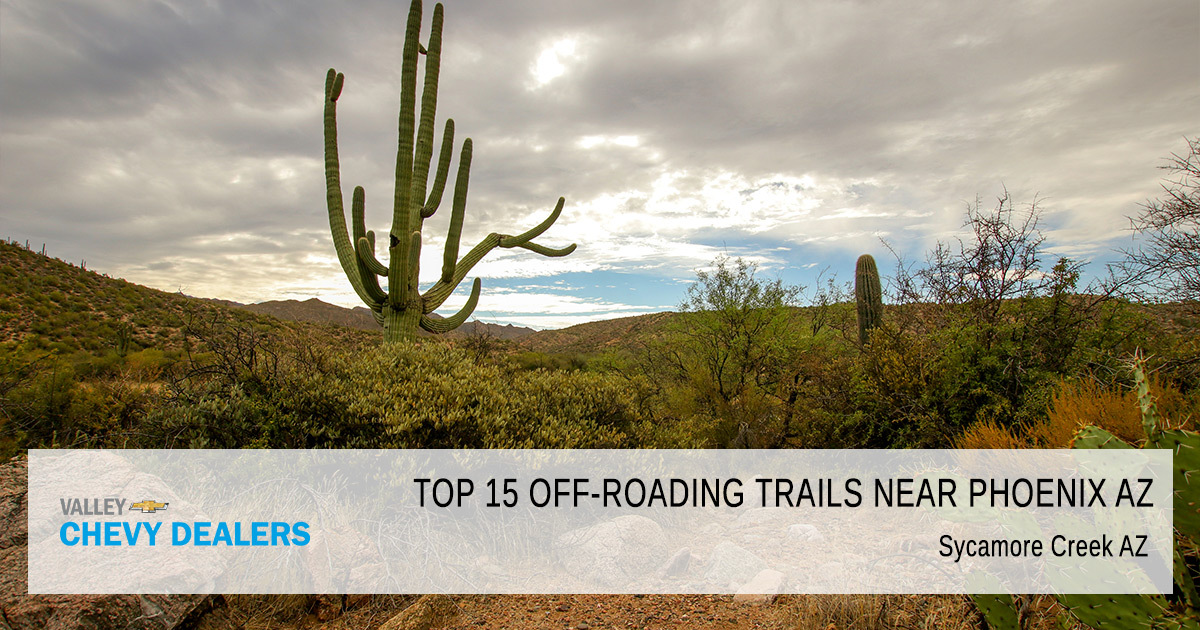 Access a
vast network of Arizona off-roading trails
less than a mile from the highway, Northeast of Phoenix. The primary route is easy to moderate, with an extremely steep and narrow section along the northern loop.
13. Miners Mountain AZ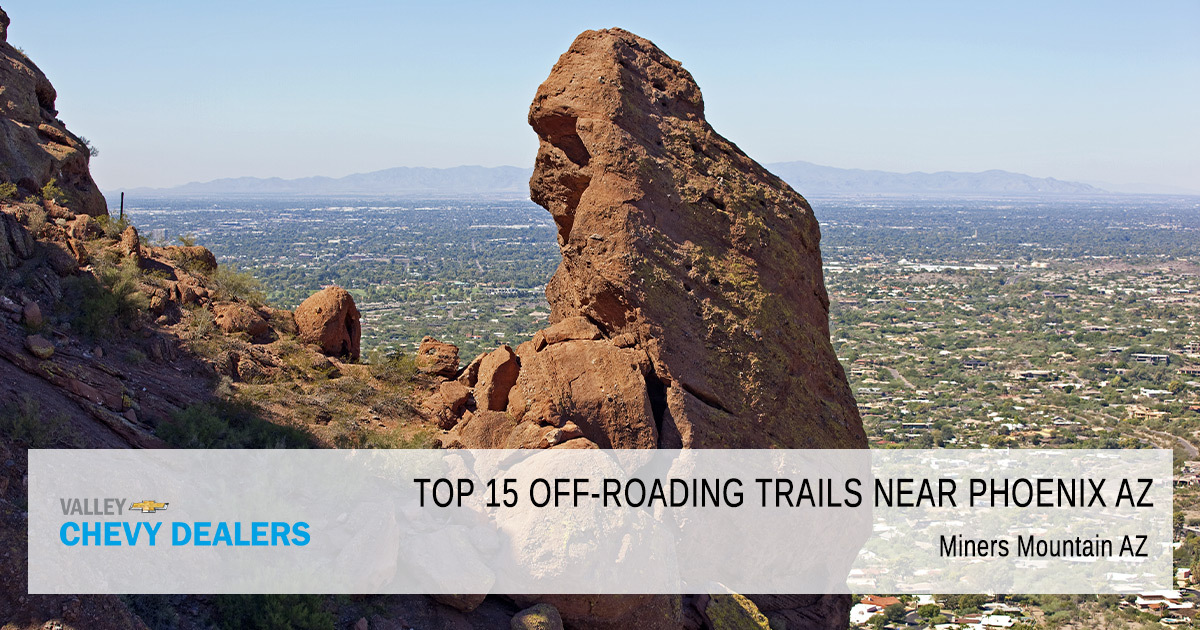 North of Tonopah and northwest of Phoenix, you'll find the easy 22-mile with sandy washes and slight desert climbs. Explore the Tonopah/Belmont mine and enjoy Vulture Mine, a preserved goldmine and ghost town.
14. Greasy Spoon Tank AZ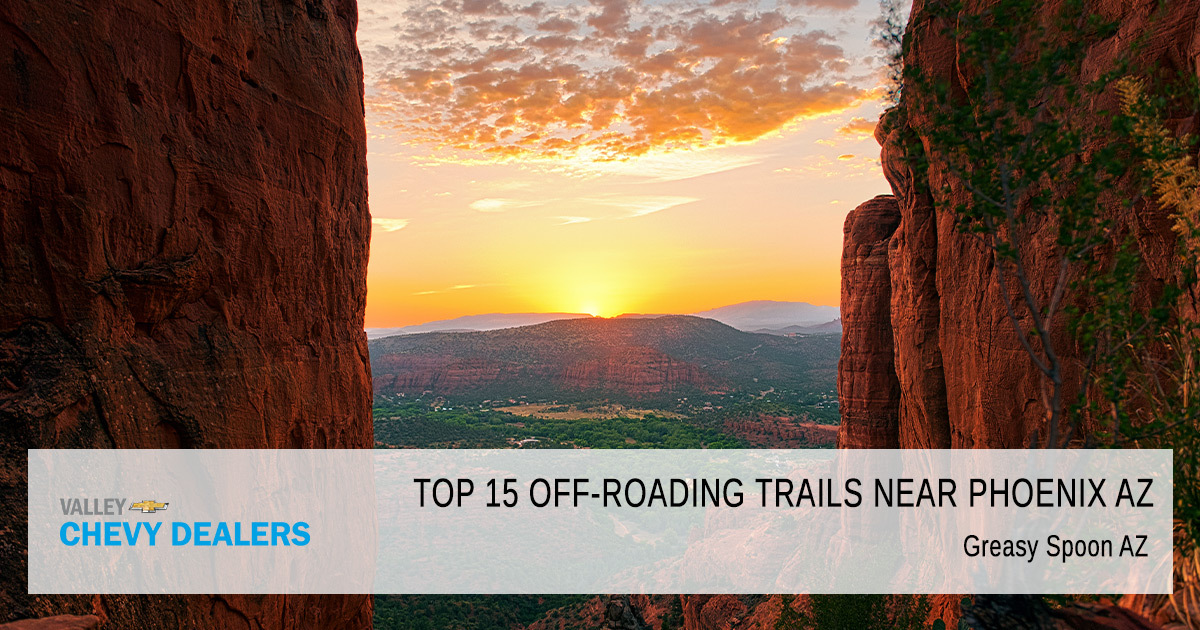 Situated north of Highway 89A and west of Sedona, rocky terrain and steep descents make this trail challenging. The first part is easy when dry but slippery when wet, making it difficult and dangerous. The trail itself is almost six miles, but you'll need to add 11 miles to get there and back.
15. Smiley Rock AZ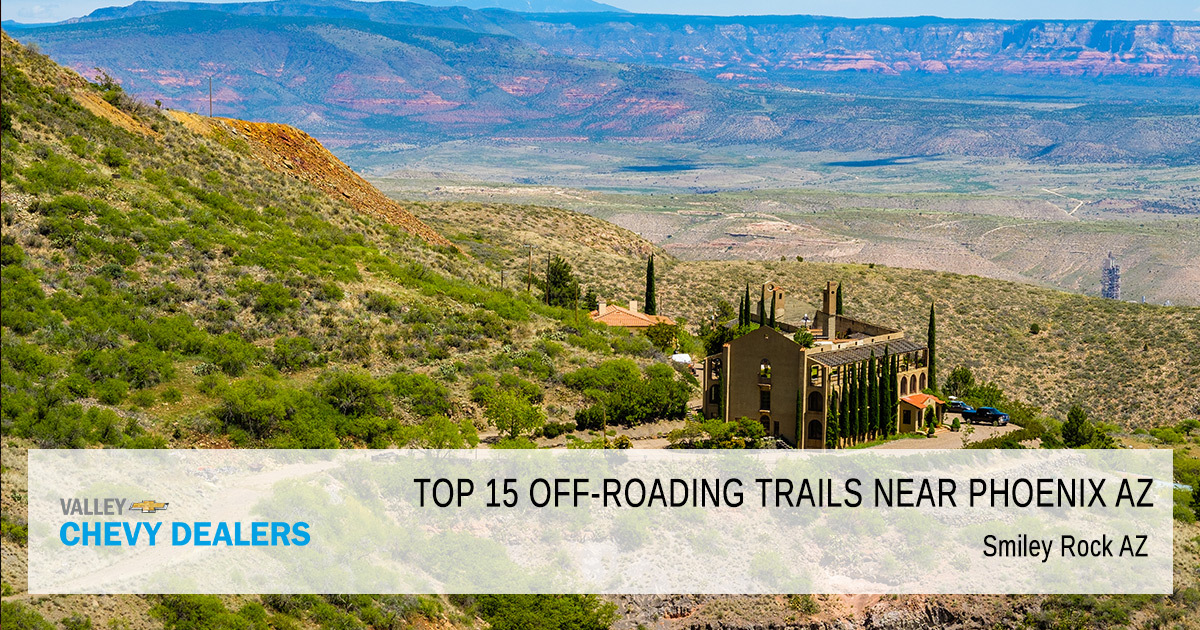 This route follows the southern border of the Woodchute Wilderness west of Cottonwood and Jerome. The 23-mile route is mostly a  gravel road with a rocky, narrow section through Martin Canyon, giving the route a difficulty rating. Because of the narrow rocky paths and boulder fields, it's best to have skid plates to protect your ride on this trail.
Your Chevrolet Vehicle Options
If you're tempted to check out these great trails and others Arizona has to offer but don't have an off-road vehicle, Valley Chevy has some great options. These are a couple to check out so you can start your off-road adventures!
Jump in the ZR2 Crew Cab Chevy Colorado and hit the trails. Designed to handle the roughest trails with its built-in Off-Road Mode to make adjustments to traction and transmission, the Colorado is great for the steep paths and the long ride to the trail.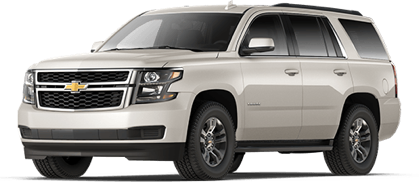 Built to take you and the whole crew on a camping trip after a little off-roading action, the Chevy Tahoe ZR1 is equipped to handle whatever the road throws at you, so long as you have the clearance to make it. Spacious, comfortable and powerful, it offers the full package when you want to take the back roads.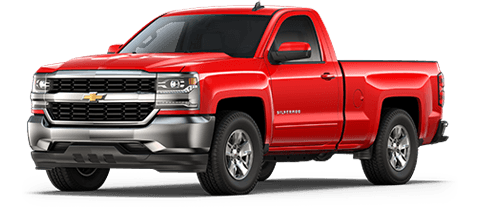 The bigger, badder brother of the Colorado – and the most dependable truck in America – the Chevy Silverado Z71 Off-Road package is ready to tackle every terrain with off-road-tuned suspension, skid plates, and Hill Descent Control.
Whenever you go off-roading, make sure you go prepared. Bring lots of spare water, have a spare tire ready to go, bring a compass and map to help with navigation and have a phone charger to keep your phone juiced. Avoid going alone, and make sure someone knows where you're going and when you'll be back in case of an emergency. Nature is fun but can be unforgiving.
For more tips and travel ideas, check out more articles at Valley Chevy.