Chevrolet Silverado 3500HD Vs. Ram 3500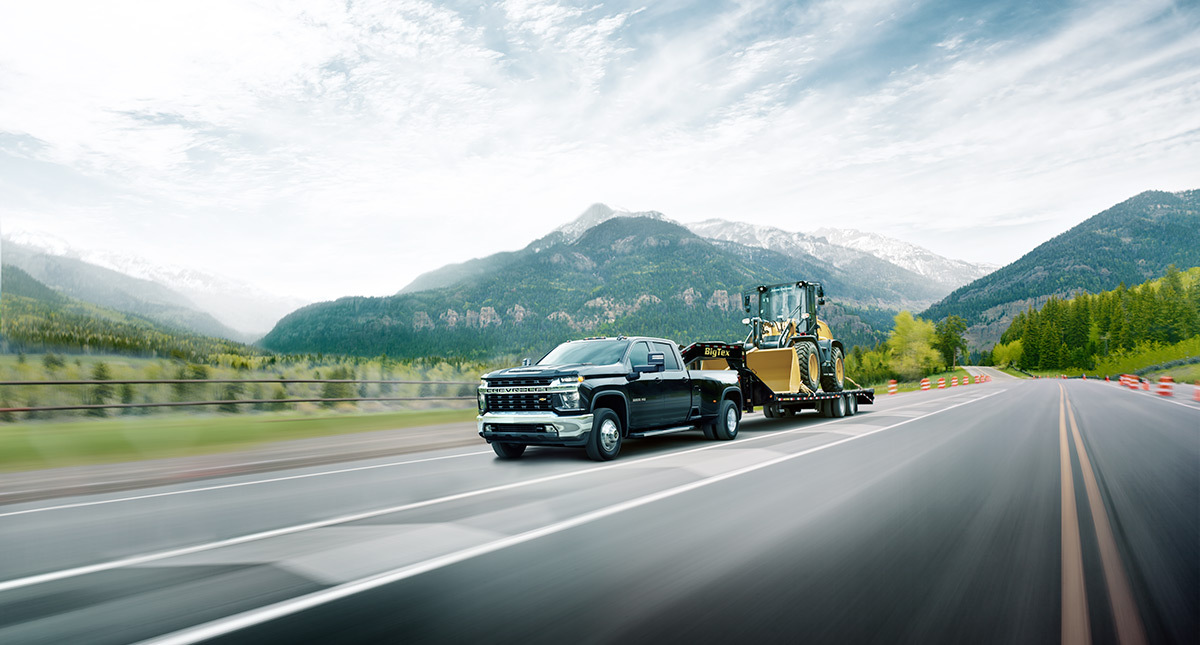 What You'll Learn
As you read this comparison of the Ram 3500 and the new Chevrolet Silverado 3500HD, you'll learn:
2021 Chevrolet Silverado 3500HD Vs. 2021 Ram 3500
Both of these big, powerful trucks have excellent reputations for being capable and dependable. They're among the best trucks in the world when it comes to hauling and towing, which is exactly why the choice for most drivers often comes down to these two options. You'll be able to handle enormous loads whether you ultimately choose the 2021 Ram 3500 or the 2021 Chevy Silverado 3500HD.
Even so, there are other differences between these two vehicles that will ultimately shape your experience. Consider finer details like the comfort of the interior, the quality of the technology, and the suite of active safety features in each truck. As you compare these two vehicles head to head across multiple categories, it will get much easier to make your decision about which truck is best.
Ram 3500 Vs. Silverado 3500 Power and Performance
Power is certainly the biggest thing that drives people to own trucks like these. Some people simply want to know that they have the biggest, baddest truck on the road. Others need the hauling and towing capabilities for work or play, and smaller trucks just won't do. When you need a vehicle that works as hard as you do, you can't go wrong with either the Ram 3500 or the Silverado 3500HD.
Each of these vehicles is available with multiple different engines, so choose one that matches your requirements and lifestyle as precisely as possible:
2021 Ram 3500 Engine Options

6.7-Liter High-Output Cummins Turbo Diesel I6 Engine

1,075 Pound-Feet of Torque

420 Horsepower

37,100 Maximum Towing Capacity

6.7-Liter Cummins Turbo Diesel I6 Engine

850 Pound-Feet of Torque

370 Horsepower

22,670 Maximum Towing Capacity

6.4-Liter Hemi V8 Engine

429 Pound-Feet of Torque

410 Horsepower

18,210 Maximum Towing Capacity

2021 Chevy Silverado 3500HD Engine Options

Duramax 6.6-Liter Turbo Diesel V8

910 Pound-Feet of Torque

445 Horsepower

36,000 Maximum Towing Capacity

6.6-Liter V8 Gas Engine

401 Horsepower

17,370 Maximum Towing Capacity
The engines in these two vehicles are extremely competitive. The Ram 3500 has higher maximum torque, which helps it tow slightly more. The Chevy Silverado has the higher maximum horsepower, though. Overall, look for the Chevrolet truck to deliver a slightly more efficient, capable performance thanks to other components like its heavy-duty driveline and durable frame. The Silverado is also smoother to drive, while the Ram 3500 regularly receives poor reviews for its cumbersome, outdated transmission.
Chevrolet Silverado 3500HD vs RAM 3500 Safety
Modern vehicles are incredibly safe. Not only are these trucks big and durable enough to perform well in crash tests, they also include excellent active safety and driver assistance features. Both vehicles can help you detect collisions earlier, stay aware of what's in your blind spots, and even park the truck with ease. Between everything that comes standard and all of the available driver assistance technology, drivers can feel confident in either of these full-size trucks. It does seem like Chevrolet puts just a little bit more care into creating thoughtful safety features, possibly because of the company's experience making such a wide range of family vehicles.
Ram 3500 Vs. Chevy 3500 Technology
This is one of the areas where Chevrolet starts to separate itself from the competition even more since the Ram is uncompetitive in terms of trailering tech. The Chevrolet Infotainment 3 system is widely considered to be one of the best and most intuitive on the market. Combine that with the segment-first Advanced Trailering System, and you can simplify every step of the hauling process. From hitching to driving, you can take advantage of available features including all of the following:
Predeparture Checklists

Exterior Trailer Lighting Diagnostics

Trailer Maintenance Reminders

Trailer Tire Pressure Monitoring

Trailer Temperature Monitoring
Dodge Ram 3500 Vs. Chevy Silverado 3500 Reliability
When you invest in a truck as serious as either of these, it better be ready to handle everything you can throw at it. Both trucks come with warranties to give drivers peace of mind that their vehicles will stand up to many tough jobs throughout the years. At the end of the day, though, no other brand has a reputation for reliable quality and dependability like Chevrolet does.
Dodge 3500 Vs. Chevy 3500 Exterior and Interior
Most drivers aren't too worried about how their truck looks while it's towing tons of weight, but the small details still matter to many of us. The Silverado 3500HD is so sophisticated that it looks just as at home in downtown Phoenix as it does on the job site. Similarly, the interior offers a perfect blend of comfort and functionality. Ultimately, though, this is a matter of personal taste.
What Is the Best 1 Ton Dually Truck?
Once you've examined all of your options from multiple different angles, it starts to become clear that the Silverado 3500HD outclasses the competition. If you're looking for a Dually truck that has it all, look no further. The Chevy dually offers power, performance, and technology in one attractive package. 
What Is the Difference Between Silverado 2500 and 3500?
The big difference here is performance. The Silverado 3500HD is like the big brother of the Silverado 2500. It's more powerful, which means it gets superior performance stats when it comes to things like maximum payload and maximum towing capacity. Otherwise, the features of these two trucks are very similar, so 2500 is suitable for those who don't need to haul as much.
How Much Can a Chevy 3500 Pull?
The Chevy 3500HD is rated for maximum available trailering of 36,000 pounds. In many cases, though, you may not even need to attach a trailer to bring all of your supplies with you. That's because this truck has a maximum available payload of 7,442 pounds and a maximum cargo volume of 83.5 cubic feet.
How Much Horsepower Does a Chevy 3500 Have?
Depending on the engine you select, the answer will change. The Silverad0 3500HD with a Duramax 6.6-Liter Turbo-Diesel V8 offers 445 horsepower, which beats any engine offered in the Ram 3500. Even the 6.6-Liter V8 Gas Engine offers 401 horsepower.
Test Drive the 2021 Silverado 3500 in Phoenix
Just reading about the newest pickup truck from Chevrolet can give you an idea of what's possible, but that's nothing compared to driving it yourself. From Surprise, AZ to Coolidge and throughout the rest of the valley, there are numerous places to find the 2021 Chevy Silverado 3500HD. 
Valley Chevy Dealers have locations in Chandler, Glendale, and throughout the Phoenix area. Find your nearest location and come take this impressive dually pickup truck for a test drive today!