Review of 2022 Chevrolet Bolt EUV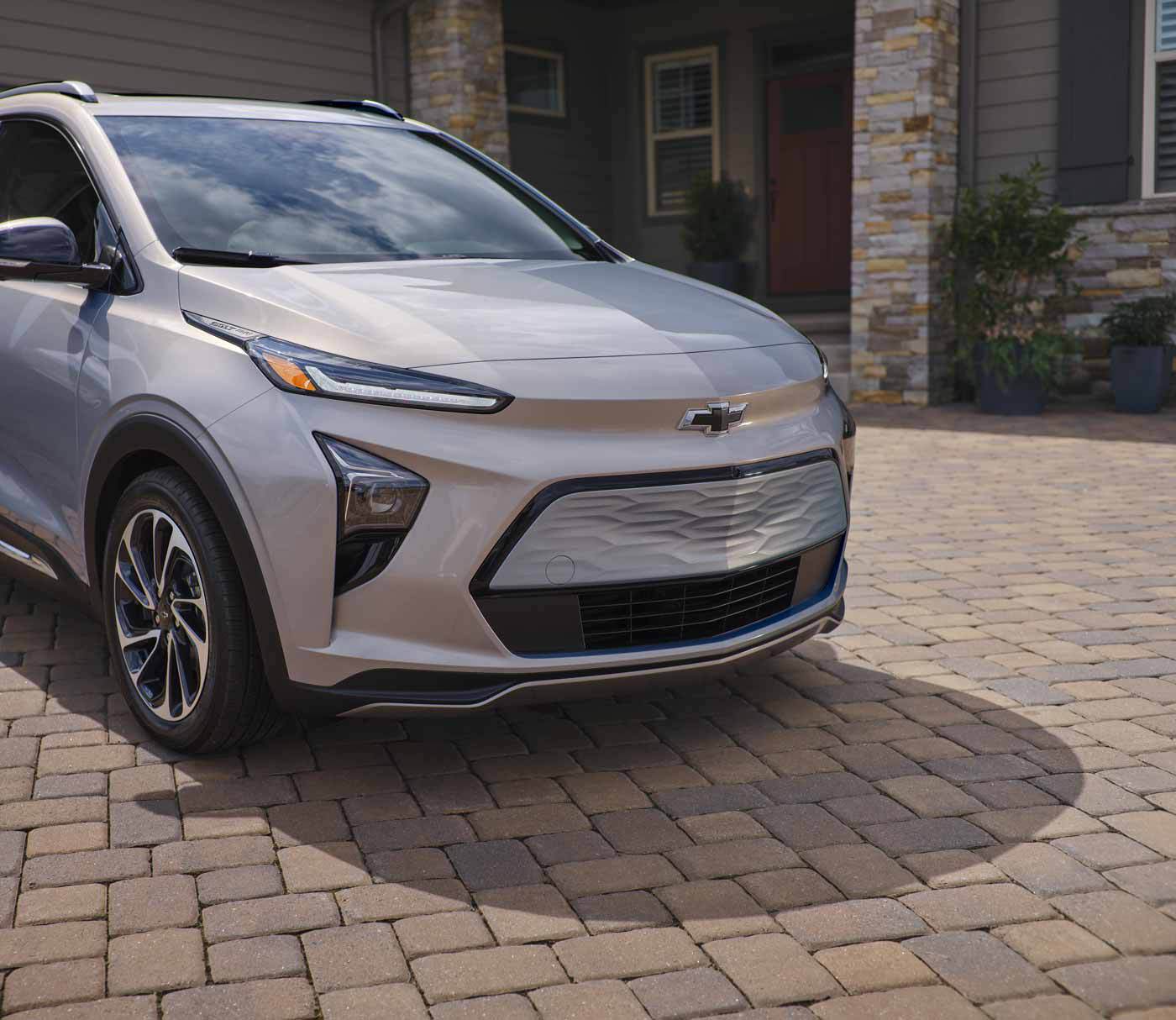 What You'll Learn
As you read this review of the new Chevy Bolt EUV, you'll learn:
2022 Chevrolet Bolt EUV Overview
When we look back years from now, this is likely to be one of the vehicles that get recognized for helping make EVs more mainstream. It's a relatively affordable option that competes with other electric SUVs like the Ford Mustang Mach-E, the Tesla Model Y, and the Hyundai Kona Electric. In addition to the affordable starting price, the Bolt EUV has been generating a lot of buzz thanks to its attractive appearance and the intuitive nature of its available semi-autonomous driving system.
New Bolt EUV Range and Charging
The Bolt EUV has an EPA-estimated range of 247 miles on a full charge. For most commuters in the Phoenix area, this is more than enough to get to work and back, even if you have a few other errands to run along the way. You may even find that the size of the battery in this vehicle gives you enough range to tackle some short weekend road trips, especially if you have a great place to charge once you get where you're going.
As far as charging goes, the standard Dual Level Charge Cord gives you the option of using either Level 1 or Level 2 charging at home (after a professional installation). Some drivers appreciate the added convenience and style they can get by choosing an available illuminated charge port. There are three critical types of charging to know about before you buy your new Chevy Bolt EUV:
Level 1 Charging – This is ideal for topping off your charge. For example, you may want to use this to refill your battery after you run a quick errand within your own little neighborhood of Phoenix.

Level 2 Charging – With a 240-volt appliance outlet, you can add up to 37 miles of range in a single hour of charging. This will come in handy when you only have a short break between work and your evening outings.

DC Fast Charging – Get back on the road faster when you can add up to 95 miles of range in 30 minutes.
About Super Cruise Driving
This is the first Chevrolet vehicle to feature the available Super Cruise technology, but it probably won't be the last, thanks to the popularity of this feature. When enabled, it works with Adaptive Cruise Control to handle braking and acceleration as traffic slows down and speeds up. The driver should always remain attentive at all times, but this technology can allow for periods of hands-free driving on compatible roads and during proper conditions.
How Much Will the Bolt EUV Cost?
The 2022 Bolt EUV has a starting MSRP of only $33,000. This makes it one of the most affordable new EVs on the market, but early reviewers are finding that you don't have to sacrifice quality to save money. Even if you want to upgrade trim levels from the 2022 Bolt EUV LT to the 2022 Bolt EUV Premier, the starting MSRP is still only $38,495. Either one of these trim levels offers a tremendous value for drivers who want to go electric without overpaying.
When Can I Get a Bolt EUV?
The Chevy Bolt availability date is upon us. The 2022 Bolt EUV was originally expected to hit dealership lots toward the middle of this summer, but they might be getting here even sooner. Some models have even left the assembly line already. That means you won't have to wait very much longer, but you might also want to reserve yours today. Otherwise, people might buy out the inventory every bit as fast as we can get it in stock.
Should I Wait for the 2022 Chevy Bolt?
The decision of when to buy your next vehicle will always be a personal one. If your old car died or got totaled and you need a new one right away, it may be harder to wait for the Bolt EUV. Of course, with the Bolt EUV availability date upon us, you may be able to look into things like short-term rentals so you can end up in the vehicle you really want. If your situation with your current car is better, then it's an even easier decision, and this vehicle is definitely worth the wait!
Is Bolt EUV Available?
As mentioned above, dealerships all over the country will be receiving their shipments of these new electric vehicles within the next few months. Some might even be available already as you read this. In either case, we recommend that you connect with one of your local dealerships as soon as possible to reserve yours. The earlier you take action, the easier it will be to get the exact trim level, option packages, and color you want.
First Drive Review: 2022 Chevrolet Bolt EUV Is a Better Bolt
If you already like the original Chevy Bolt, You're going to absolutely love the 2022 Bolt EUV. It's slightly larger than the previous EV from Chevrolet, which translates to significantly more rear legroom. It's shorter than your typical subcompact SUV but still feels roomier (thanks, in part, to that more spacious backseat). You can make the most of this space with some smart storage solutions, too.
The biggest thing you'll probably notice during your first drive is how smooth the one-pedal driving experience is. It's incredibly intuitive and easy to figure out right away. Some drivers have found that the braking is too light for their liking, but that can be addressed right away by using the paddle shifter to the left of the steering wheel. As you come to a stop, this shifter allows you to create an immediate yet gentle uptick in the pace of the regenerative braking.
The simplicity of the driving experience doesn't stop there. This new electric vehicle also includes the available option of Super Cruise, which is GM's hands-free highway driving system. This technology is so smart and reliable that you can use it even when there's some highway traffic here in the Phoenix area. There's a lot that goes into making this the best Chevy EV yet, and taking it for a test drive is the best way to experience it for yourself.
Test Drive the New Chevy Bolt Near Phoenix
With more than 10 dealer locations throughout the greater Phoenix area, Valley Chevy dealerships make it easy to find the bolt EUV near you. You can visit us for a test drive in Surprise, Coolidge, and just about everywhere in between. Whether you're in Peoria, Chandler, Glendale, or Gilbert, you'll find that there's a valley area Chevrolet dealership within minutes of your home. 
Find the location nearest you and stop by to claim your 2022 Bolt EUV today.