Chevy Tahoe MPG vs the Competition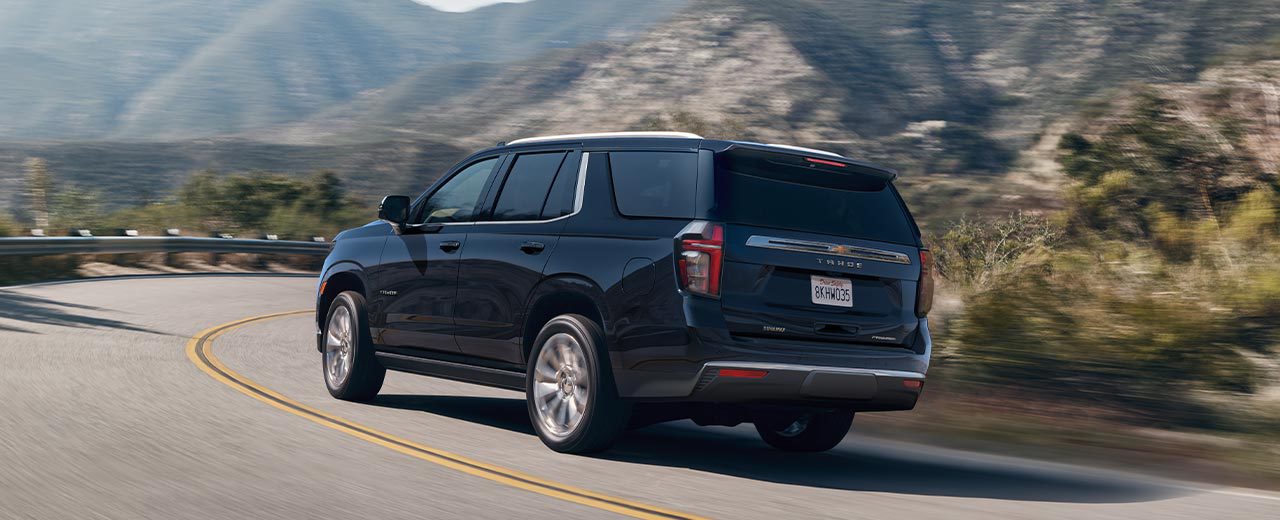 Updated: 12/11/2021
The Chevrolet Tahoe is known for many things. When asked about this vehicle, people might mention its size, its bold looks, or its comfortable interior. What people might not realize is that the Tahoe gas mileage is also terrific for a vehicle of this size. It gets up to 28 miles per gallon on the highway and 21 miles per gallon in the city for combined fuel efficiency of 24 miles per gallon.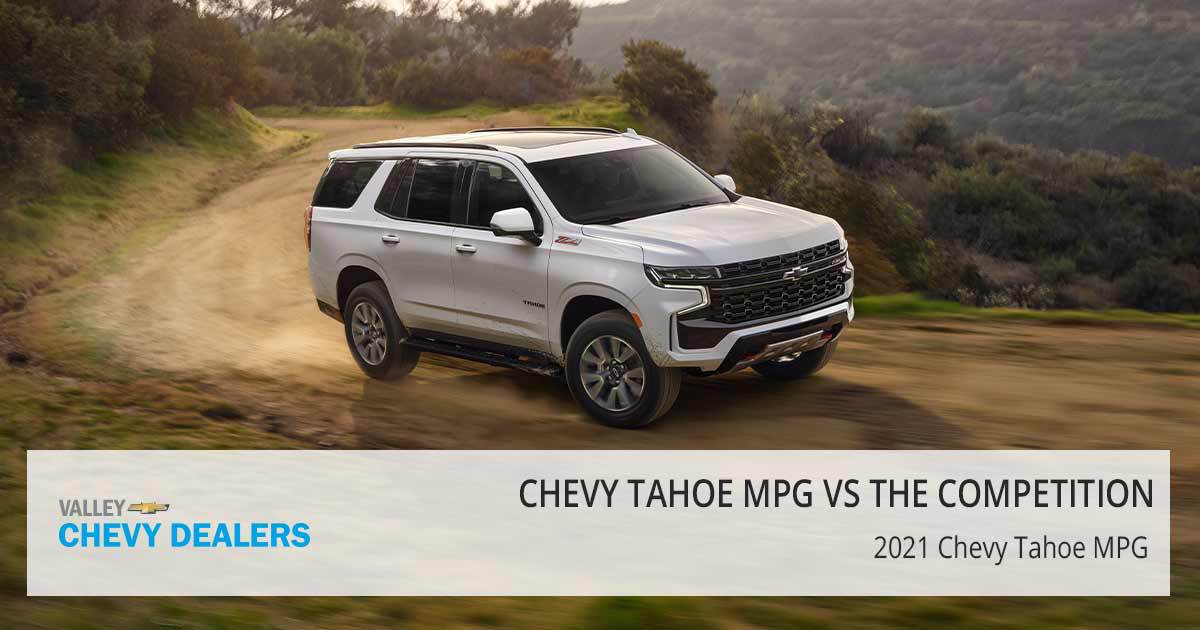 Chevy Tahoe Gas Mileage Vs. The Competition
The Chevrolet Tahoe is often imitated but never duplicated. You may notice that many auto brands have started making their own versions of vehicles that are eerily similar to this legendary SUV, but none are quite the same. One of the primary ways the competition falls short is by failing to replicate the capabilities of the Tahoe, especially when it comes to towing and hauling without burning through a ton of gas.
GMC Yukon Gas Mileage Vs  Tahoe 
One of the first vehicles you might be tempted to compare the Tahoe to is the GMC Yukon. They're similar in many ways, except that the Yukon is significantly more expensive and arguably less maneuverable. It seems like the Yukon tries to copy many of the things that make the Tahoe great, but just can't quite pull it off. The Yukon gets slightly worse gas mileage at 27 miles per gallon highway and 21 miles per gallon city.
Ford Expedition Gas Mileage Vs. Tahoe 
Another common vehicle for those who love large American SUVs is the Ford Expedition. The Expedition gets an estimated 23 miles per gallon on the highway and 17 miles per gallon in the city. This makes some sense if you've ever driven the Expedition, which feels large and cumbersome with poor steering and soft braking. Another knock against this vehicle for those who are conscious of their fuel consumption is that the Expedition demands premium unleaded fuel to get its maximum power output.
Nissan Armada Gas Mileage Vs Tahoe  
If you're not necessarily sure you want a large American SUV, you may be tempted to go with the Nissan Armada. Nissan is proud of this massive vehicle, which is evident from the high price tag. Unfortunately, the Armada gets horrible gas mileage. The EPA estimates that the four-wheel-drive Armada can only achieve 13 miles per gallon in the city, 18 miles per gallon on the highway, and 15 miles per gallon combined.
Chevy Tahoe Vs. Chevy Suburban Gas Mileage
The Chevy Suburban can't quite match the gas mileage of the Chevrolet Tahoe, but it's definitely one of the most worthy competitors you're ever likely to find. The newest Suburban can return up to 15 miles per gallon in the city and 20 miles per gallon on the highway. In other words, this isn't exactly the move if you're looking for something that can get better gas mileage than the brand new Chevy Tahoe.
Like the 2021 Tahoe, the 2021 Suburban is brand new, and every detail of the redesign appears to be just right. There's even more passenger space than before, and that isn't the only thing the rest of your crew will appreciate about this ride. The ride and handling also feel more refined, creating a quiet and luxurious atmosphere within the cabin of this vehicle.
Also, like the Tahoe, the new Suburban is capable of creating a ton of power, thanks to the maximum available horsepower of 420. This pairs nicely with the excellent towing capabilities and maximum cargo space of 144.7 cubic feet. No matter what you want to bring with you along the journey, the Suburban has you covered. While the Suburban gas mileage isn't quite as good as what you might expect from the Tahoe, it's hard to beat it with any other vehicle that has competitive size and capabilities.
Toyota Sequoia Gas Mileage Vs Tahoe 
Many people seem to agree that full-size SUVs are an American thing, but foreign manufacturers like Toyota are starting to make impressive attempts to catch up. The new Toyota Sequoia is one of the best foreign SUVs available thanks to thoughtful features like front and rear parking sensors to help you get this massive SUV into a parking space without bumping into anything.
Unfortunately, the Toyota Sequoia gas mileage does come up just a little bit short, with only 14 miles per gallon combined when you buy a 2021 Toyota Sequoia with four-wheel drive and the eight-cylinder, 5.7-liter engine with an automatic transmission. This combined fuel efficiency breaks down to an estimated efficiency of 13 miles per gallon in the city and 17 miles per gallon on the highway as estimated by the EPA.
Chevy Tahoe Vs. Chevy Traverse Gas Mileage
The 2021 Traverse is one of the few SUVs on this list that can compete with the new Tahoe when it comes to gas mileage. The 2021 Chevrolet Traverse can achieve up to 18 miles per gallon in the city or 27 miles per gallon on the highway, which makes it incredibly efficient for an SUV of its size. It definitely doesn't have the towing and hauling capabilities that make the Tahoe so famous, but there are plenty of other things to love about the latest Traverse.
For one thing, you're going to have a hard time finding any other SUV that can seat as many as eight people while returning this kind of fuel efficiency. If you don't necessarily need to haul a large crowd with you, easily fold down some seats to give yourself access to up to 98.2 cubic feet of maximum cargo space.
If all of that space within the vehicle still isn't enough, or if you need to haul a lot of gear and people at the same time, the 2021 Traverse's towing capabilities will come into play. The maximum towing rating is 5,000 pounds, which means you can pull just about anything within reason. Chevrolet's Traverse is definitely appropriately named because it's ready to go just about anywhere.
This vehicle has plenty of details to keep you and your passengers engaged along the way, too. Just consider the available SkyScape dual-panel power sunroof that can let more natural light into your vehicle with the push of a button. The Traverse might not be as big and powerful as the Tahoe, but it still offers plenty of versatile functionality thanks to features like these:
Best in class cargo volume of 98.2 cubic feet to make plenty of room for gear when you have all of the seats folded down
Smart Slide seating in the second row to make the rear of your vehicle more accessible to backseat passengers when you have a full load
60/40 split-folding rear seats in the third row for those times when you need a little bit of extra space for gear without sacrificing too much of your seating
Available power-folding third-row seats that make it easier to convert the rear of your vehicle from comfortable seating to a cavernous space for your cargo
A hidden storage apartment, plus an available second hidden storage compartment, to give you a place for that valuable cargo that may be best kept out of sight
Available hands-free power liftgate to make the cargo space of this vehicle more accessible even when you have your hands full
Hyundai Palisade Gas Mileage Vs. Tahoe 
The Hyundai Palisade seems to prove that American car companies aren't the only ones making capable SUVs. It has a maximum available towing capacity of 5,000 pounds, respectable horsepower, and a decent amount of cargo space. The cargo volume is 18 cubic feet with all of the seats available, and that goes all the way up to 86.4 cubic feet when you include the seating area.
The Hyundai Palisade definitely isn't as big and spacious as some of the other SUVs on this list, but that's part of the reason you can get such great gas mileage from it. The 2021 Palisade returns up to 26 miles per gallon on the highway and 19 miles per gallon in the city. That makes it almost as good as the new Tahoe (but still not quite as efficient).
The rest of the comparison between the Palisade versus the Tahoe tells the same story. In other words, the Palisade is competitive with the Chevy SUV in many ways without ever being able to quite keep up. Still, it gets closer to the legendary Tahoe than most of the other SUVs on this list could ever dream of coming.
Like the Tahoe, the 2021 Palisade is intended to serve as a family vehicle. That means the focus is on safety, technology, and comfort. The Hyundai SUV does have a decent amount of active safety features as well as a respectable (if not innovative) infotainment system. All three rows of seating are fairly comfortable, too.
Unfortunately, you may have to shell out a good deal of money to spring for the 2021 Hyundai Palisade Calligraphy if you truly want to ride in luxury. It starts with an MSRP of more than $46,050, so it isn't necessarily the best move if you want to get a lot of bang for your buck. If money is no object, though, you can choose this expensive Hyundai to get all-wheel drive and soft interior touches like quilted leather on the interior door panels.
Kia Telluride Gas Mileage Vs. Tahoe  
The 2021 Kia Telluride has impressed some automotive experts such as the reviewers at Car and Driver. Its highlights include things like the following:
A competitive infotainment system that might be easy to use even for people who aren't very technologically savvy
Excellent safety features, even if you choose one of the lower trim levels
Good handling for a vehicle of its size
Even with all of the things it got right, the Kia Telluride can't quite compete with the Tahoe when it comes to fuel economy. The 2021 Telluride gets up to 26 miles per gallon highway and 20 miles per gallon city, which means it will go through more gas than the Tahoe. This is especially unfortunate considering it's shorter than Chevy's large SUV both in terms of height and length.
Dodge Durango Gas Mileage Vs. Tahoe 
First, focus on what the 2021 Durango gets right, most of which comes down to power. With the Supercharged 6.2-liter HEMI SRT Hellcat V8 engine, the Dodge Durango SRT can churn out up to 710 horsepower and 645 pound-feet of torque. What that means in practical terms is a maximum towing capacity of 8,700 pounds for this all-wheel-drive SUV.
To make the Durango competitive when it comes to power, the engineers at Dodge seem to have sacrificed a thing or two in terms of efficiency. The 2021 Durango gets up to 19 miles per gallon city and 26 miles per gallon highway. Keep in mind that those numbers aren't for the powerful Durango SRT mentioned above, either, since the most powerful Dodge SUV returns as few as 13 miles per gallon combined.
Jeep Grand Cherokee Gas Mileage Vs. Tahoe  
The 2021 Jeep Grand Cherokee returns up to 19 miles per gallon in the city and 26 miles per gallon on the highway as estimated by the EPA. That's not quite as good as the Tahoe, and it's even worse when you consider that the 2021 Jeep Grand Cherokee only has a maximum seating capacity of five people. The 2021 Grand Cherokee does boast the off-road capabilities that have made Jeep famous, but it does have a few shortcomings that shouldn't be passed over lightly:
The fuel economy isn't quite as impressive compared to other vehicles of this size.
The cargo area is mediocre compared to most other vehicles on this list.
The ride quality leaves something to be desired, even when you stick to paved roads.
The safety score is low compared to other vehicles within the class. This is especially troublesome considering many drivers count on SUVs to transport their families safely.
Why Choose the Chevy Tahoe?
The Tahoe's superior efficiency compared to the competition is only one of the many reasons drivers choose this full-size SUV. As a truck-based SUV, it's better than the rest when it comes to hauling and towing. This vehicle is more than a brute, though, as it also has a comfortable interior including state-of-the-art technology. When you throw in the responsible fuel economy compared to the rest of its class, this vehicle is a definite winner.
Is It Worth Buying the New Tahoe Now?
When you get right down to it, there's never been a better time to buy a new Tahoe. The all-new 2021 Tahoe was redesigned for 2021, and it's safe to say it's better than ever. This new generation addresses past complaints like rough rides over bumpy roads or a lack of some of the standard active safety features drivers have come to expect from other Chevy models.
It's safe to say that this legendary SUV has been brought all the way up to date without sacrificing any of the classic appeals that made it one of the world's most legendary vehicles in the first place. It's still plenty powerful, even for its size, thanks to 420 max horsepower. Make the most of that power by bringing all of your favorite possessions and people with you thanks to the maximum cargo space of 122.9 cubic feet.
This vehicle isn't just bigger and bolder, it's also better in just about every other way as well. The state-of-the-art technology is headlined by things like nine available camera views to help you stay more in touch with your surroundings while you maneuver this large SUV. Choose any 2021 Tahoe trim level to receive excellent value for your dollar and access to some of the most modern features in the automotive industry.
Test Drive a Tahoe Near Phoenix
The numbers don't lie– Tahoe has great gas mileage when compared to its competition. There are other aspects to this vehicle that isn't so easily condensed to numbers, like the comfort of the cabin. To experience everything this vehicle has to offer, we recommend taking it out for a test drive to familiarize yourself with all of the great features.
Stop by an AZ Chevy dealership today to get started!