2019 Chevy Tahoe Fuel Efficiency & Gas Consumption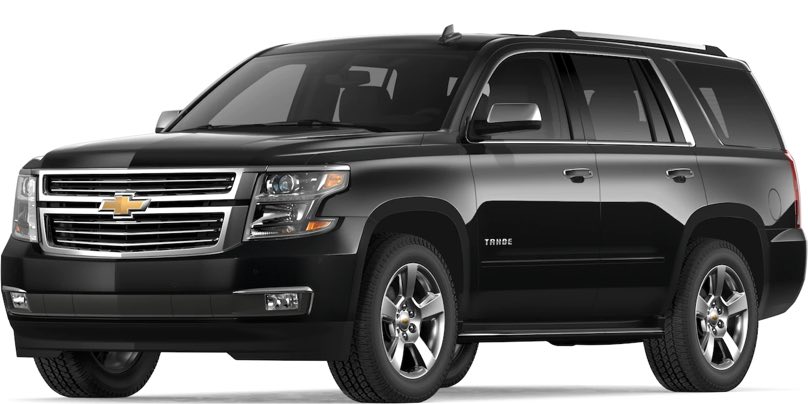 The new and improved 2019 Chevy Tahoe boasts some exciting new changes to one of America's favorite SUVs. Everything you loved about the 2018 Chevy Tahoe has a sleek, rugged, and classic new look.
Check out the 2019 Chevy Tahoe MPG, gas consumption, and other important stats to see why the 2019 Chevy Tahoe may be the right SUV for you and your family.

What's New With the 2019 Tahoe
While the Tahoe has long been a favorite among families across the nation, the 2019 Tahoe comes with a few new changes to the 2018 model. The biggest addition is a new trim level.
Like all your other favorite 2019 Chevy models, the Tahoe is now available in a Premier trim level. This comes with a variety of luxury features. Ask your local dealer for more information.
You'll still be able to enjoy most of your favorite exterior colors on your Tahoe, and now you can look forward to Shadow Gray Metallic. This sleek color is sure to turn heads and help your 2019 Chevy Tahoe stand out in the crowd. This model lost a few colors: Havana Metallic and Tungsten Metallic.
Since the 2015 model introduced the fourth generation of Chevrolet Tahoe, this iconic look has been making a name for itself. This spacious SUV is the second-largest Chevy SUV on the market and is capable of hauling 8,400 pounds and up to nine people.
2019 Chevy Tahoe Options and Trim Packages
The 2019 Chevy Tahoe comes in three distinct trim levels, each with their own pros, cons and price points.
Whether you're looking for all the luxurious additions available or need a more affordable and paired down option, take a look at these three dynamic trim levels: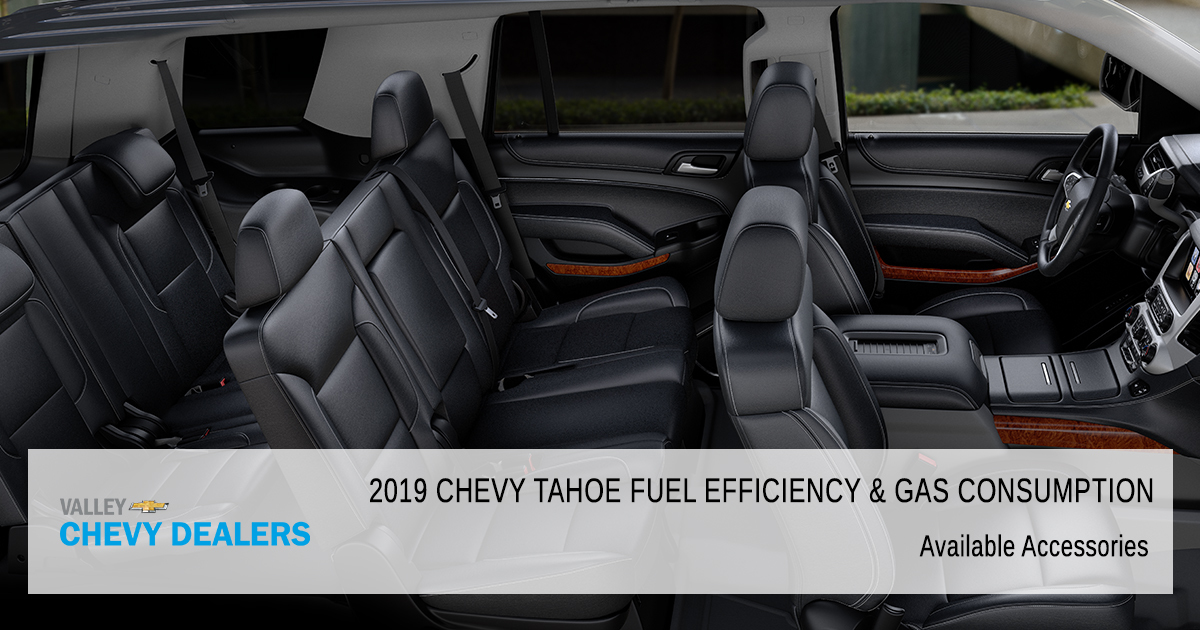 The LS is the base trim package but still comes with all the basic features you can expect from a quality Chevy SUV. It comes standard with front-wheel drive, touchscreen for convenient navigation, manual liftgate, and a six-speaker stereo.
You'll still enjoy a few premium features, like a leather-wrapped steering wheel. If you aren't ready to upgrade completely to the LT, you can select a few premium features, like all-wheel drive.
The LT is a mid-range trim package that comes with a few luxury additions. Power liftgate, all-wheel drive, and leather upholstery are just some of the additions you can expect from the LT. They both come standard with the 355-horsepower V8 engine, so you can expect similar fuel economy on these two popular trim packages.
For maximum luxury, power, and convenience, check out the Premier 2019 Chevy Tahoe. You'll enjoy a larger V8 engine, integrated brake controller for trailers, a heater for your engine block, and a suspension upgrade.
All your 2019 Chevy Tahoe trim levels come with three-zone climate control, 4G LTE wireless hotspot and enough 12-volt and 110-volt outlets to charge all your devices on the road.
From cross-country road trips to your daily commute, you'll have the power, control, and fuel economy you need to conquer the open road.
How is Fuel Efficiency and Gas Consumption Measured on the New Tahoe
It's no secret that the 2019 Chevy Tahoe has the best in class V8 highway fuel economy. If you're commuting through a city, the Tahoe is your go-to SUV for cost-effective commutes.
For more varied driving, check out the combined fuel economy.
Combined MPG is calculated using both the highway and city scores during test drives. The combined rating takes 55% of the city value and 45% of the highway value to estimate typical driving patterns. This number is approximate but is a great way to determine the overall fuel efficiency of a vehicle.
Another important factor when comparing SUVs is the fuel consumption rate. Like most modern vehicles, the Tahoe has an indicator that helps you estimate the gas consumption of your current driving speed.
The gas consumption, typically expressed in gallons per 100 miles or per mile, is another helpful way to look at the overall fuel economy of your vehicle. See how the 2019 Chevy Tahoe rates and compare it to your current car to see how much you can save.
How the 2019 Chevy Tahoe Rates
Here are some fast facts about the Chevy Tahoe gas mileage. The 5.3L V8 engine that comes standard with the 2019 Tahoe is able to produce a tremendous amount of power while still keeping your costs down.
Compare these with your current Chevy to determine how much you can save when you switch:
15 MPG city driving

22 MPG highway driving

18 MPG combined fuel economy
If you're considering the Premier trim level, you can upgrade to a 420-horsepower 6.2L V8 engine.
This rugged engine gives you additional horsepower as you pull your way through the mud or haul heavy loads. The MPG decreases slightly with this larger engine:
14 MPG city driving

23 MPG highway driving

17 MPG combined fuel economy
With a 26-gallon tank, the Chevy Tahoe has an excellent overall fuel economy for its size.
Thanks to the Active Fuel Management system of this and other Chevy vehicles, both Tahoe engines can enjoy improved efficiency. Compared to other SUVs, the Tahoe is an excellent option for all-around driving.
Whether you're constantly driving in the city, frequently taking the highway, or combining the two, enjoy fewer fuel stops and more savings as you navigate your daily drive.

The Active Fuel Management system is an intuitive process that activates and deactivates cylinders as needed. This allows you to choose an engine with the maximum horsepower available without worrying about a dramatic increase in fuel consumption.
Combined with the spacious gas tank and other fuel economy innovations, you can expect to go the distance in your new SUV with fewer fuel stops.
How Can You Improve the Fuel Economy in Your Tahoe
Even the most fuel-efficient SUVs can use a boost. If your Chevy Tahoe isn't performing at peak efficiency, or if you want to leverage even more miles out of each gallon of gas, try these fuel efficiency tips.
1. Driving Slower Will Improve Your Gas Mileage
The easiest way to improve your gas mileage is to slow down. While you want to show off what that V8 engine can do, rapid acceleration can decrease your fuel economy and wear out key components.
Gentle acceleration and, when safe to do so, gentle braking can help you get the most out of your overall fuel economy.
2. Towing Will Use More Fuel
Although your Tahoe can pull an impressive 8,600 pounds, you'll notice a decrease in your fuel economy if you always max out its capacity.
Consider towing a smaller trailer or lightening your load for long trips. Pulling at full capacity can decrease your gas mileage.

3. Keep Up on Your Vehicle Maintenance for Better Gas Mileage
If you notice your fuel economy dropping below the average consistently, it's a good idea to bring it to your local dealer to give it a thorough inspection.
There are a number of maintenance issues that can decrease your gas mileage, including these common issues:
Incorrect motor oil

Low tire pressure

Loose gas cap

Incorrect aftermarket add-ons
4. Running Your AC Will Reduce Fuel Efficiency
Your climate control is another area that may be holding back your fuel economy. Thanks to the automated, three-zone climate control of the 2019 Tahoe, you can dial down certain areas of your vehicle.
If you're the only one in the vehicle, adjust the air conditioning accordingly to use the least amount of air necessary to keep you comfortably cool. This will help you improve your gas mileage, as high levels of air conditioning can lower your fuel economy.
5. The Right Tires for Your Tahoe Can Improve Gas Mileage
Ask your local dealer about the correct size and type of wheels for your Tahoe. Depending on the type of driving and climate, you may get more use out of specialty tires.
Smaller wheels typically improve your fuel mileage, but larger wheels may be better for certain terrain, climate, and driving style considerations.
6. Letting Your Tahoe Idle Will Use Up More Gas
Finally, one of the biggest factors in low fuel economy is constant idling. While you may love hearing the low, hearty growl of your V8, letting your Tahoe idle is a great way to use up all your fuel.
If you're going to idle for more than a few minutes, it's typically more efficient to turn your engine off and back on. Your Tahoe can warm up in as little as 20 seconds, so you don't need to wait 10 minutes or more to warm up your vehicle before hitting the road.
Other Important Specifications
The 2019 Chevy Tahoe offers far more than just an excellent fuel economy. The safety features on your Tahoe are designed to help you handle stressful driving situations with fewer risks.
See how you can park easily, check your blind spots conveniently, and keep your family safe.
A low-speed impact is unfortunately common. Driving under 50 miles per hour is a dangerous time when cars can suddenly pull out in front of you or come to a halt.
The automated system that comes standard with your 2019 Tahoe will automatically brake if it senses an impending front-end collision at low speeds.
Your new SUV also comes with a range of safety alerts. These alerts can help you quickly check your blind spots and identify and avoid a potential collision:
Rear cross-traffic alert

Forward collision alert

Lane change alert
These alerts all grab your attention in a way that isn't a distraction from driving. Whether you use the audio alerts or the convenient cushion vibration alerts, your Chevy helps you keep your eyes on the road and avoid any accidents involving blind spots and sudden changes in traffic patterns.
Available Accessories for the 2019 Chevy Tahoe

Regardless of your trim level, there are countless ways to upgrade and personalize your Chevy Tahoe. Accessories are available to protect your investment, including all-weather floor liners, organizers, and mud flaps.
Personalize your vehicle with new Chevy logos on the front or rear of your SUV. Add an iconic black Bowtie or upgrade to a stylish illuminated logo.
Cargo nets and cargo shades complete your setup and give you maximum flexibility and usable space in your sizable Tahoe.
Take full advantage of the 94.7 cubic feet of cargo space as you load the family or your group of friends up for a memorable weekend at the beach, on the road, or at your favorite getaway.
Test Drive a Tahoe Today
Whether you're upgrading to the latest year of your favorite SUV or trying out a Chevrolet for the first time, you'll love the 2019 Tahoe MPG, V8 engine, and other premium features.
Find a local Valley Chevy dealer today and stop by for more information. Test drive the latest Tahoe to discover why this comfortable, high-tech, and fuel-efficient vehicle is one of the best-selling SUVs available. You won't regret taking the all-new 2019 Tahoe for a spin and learning more about this highly-efficient vehicle.