2021 Arizona Car Shows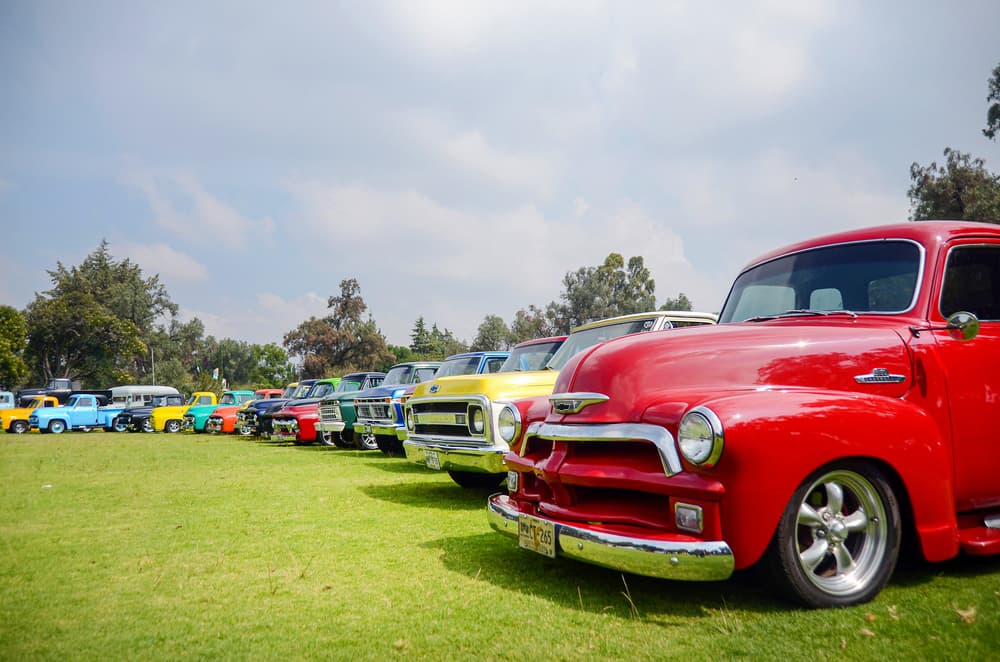 What You'll Learn
As you read about Arizona auto shows, you'll learn:
When are the major car shows happening in Arizona this year?

Which Arizona car shows can you attend in 2021? The last year has created some obstacles, but there are still plenty of options!

Besides looking at cars, what is there to do at the different auto shows?
2021 Auto Shows in Arizona
If you're a gear head, you probably look forward to Arizona's car shows every year. They might even be what you've missed the most when it was difficult to have large gatherings.
Car shows in Phoenix had to improvise, adapt, and find new ways to connect with people. The good news is that many of the best Arizona car shows will be returning in 2021. Here are some of our favorites for this year and what you can do to attend them.
Tucson Sabbar Shriner's Car Show – May 1, 2021
Shriners of North America runs pediatric hospitals, and they also put on a terrific car show. Shriner Hospitals for Children provide specialized medical care for children because the organization recognized a lack of expertise in some types of treatment. This car show in Tucson will prove to you that you can support a great cause and have fun at the same time.
This event will feature a DJ, raffle prize drawings, and plenty of beautiful cars. It costs $35 to enter the show, and you'll also get a shirt with admission. It runs from 9 am to 3 pm, and the load-in starts at 7 am. You can find the flyer and registration form here.
Classic Cars for a Cause – Chandler, AZ – May 1, 2021
The first of May is a big day for Arizona auto shows that have positive impacts within our state. Classic Cars for a Cause benefits Hospice of the Valley, and it's free to the public. For information about car registration or booth pricing, you can call 480-656-8300. This show is open from 7 am to 11 am.
Pharaohs Car Show – Golden Valley, AZ – May 8, 2021
This car show benefiting first responders at KRMC offers free admission for spectators. To register a vehicle, it costs $20. Spectators can take in music, pinstriping, a raffle, and awards from 10 am to 3 pm. Light food will be served in case you want to make a day of it– $5 will get you a hot dog, chips, and a drink.
Sally B's Cafe Tenth Spring Classic Car Show – Prescott Valley, AZ – May 15, 2021
This event calls on people to bring their classic cruisers, hot rods, rat rods, and special interest cars. This casts a broad net, so you can see all kinds of different things at this exciting event in front of Sally B's Cafe in the Safeway Shopping Center. To get some idea of what will roll through Prescott Valley that day, just take a look at some of the awards:
Best in Show 1st, 2nd, and 3rd place

People's Choice

Sports Car

Best Truck

Best Rat Rod

Best 1920-1929

Best 1930-1939

Best 1940-1949

Best 1950-1959

Best 1960-1969

Best 1970-1979

Best 1980-1989

Best 1990-2021

Best Low Rider

Best Custom

Best Survivor

Best Motorcycle

Kids Pick Trophies
Beyond the selection, one of the best things about this event is that the participants and the general public determine every award. In other words, you get a say in which cars should take home the honors!
The entry fee is $10 and five cans of food (for a great cause)! Any vehicle owner who registers will receive a $5 coupon to Sally B's Cafe. There's also a 50/50 raffle, and there is a selection of items that may be of interest to any automotive enthusiast to be raffled off for $1 per ticket.
The event is hosted by Dewey Classic Cruisers, which is a not-for-profit organization. A portion of the proceeds will help Yavapai County Food Bank and Prescott Valley Bird Busters. If you wish to make an additional donation of canned goods, it will certainly be welcomed! It runs from 10 am until 2 pm.
15th Annual Rex Allen Museum Car Show – Wilcox, AZ – May 29, 2021
The best in show winner for last year's Rex Allen Museum Car Show was a 1962 Corvette, so you know the judges have excellent taste. Pre-registration costs $25 when paid by Thursday, April 29. Otherwise, registration costs $30 up until the day of the show. Registration takes place from 8 am until 10 am on the day of the show, then there are two hours to get everything ready for the judging, which takes place from 12 pm to 2 pm.
The first 75 entrants get a novelty gift and event t-shirt. Attendees can look forward to door prizes, a 50/50 drawing, and other raffle prizes. Stick around and enjoy some music while you wait for the awards to be presented at 3 pm.
2021 Cruz'n the Rim Car Show – Show Low, AZ – June 4-5
This event stretches from Friday into Saturday, giving car enthusiasts just a little more to look forward to. Registration starts at noon on Friday, June 4. At 5 pm Friday, there's a cruise from through the Show Low area, starting at Frontier Fields and ending at Hatch Toyota. Once at that dealership, enjoy Burger Burn from 5:45 pm to 8 pm.
There's another window of vehicle registration from 7 am to 9 am on the morning of Saturday, June 5. The event runs from 9 am until the awards are given out at 3 pm. Throughout the day, you can enjoy a silent auction, 50/50 raffle, games, drawings, and activities.
4th Annual Righteous Rods Car Show – Chino Valley, AZ – June 5
All vehicles are welcomed at this event, which will take place, rain or shine. Of course, "rain or shine" seems like a relatively safe bet here in Arizona, so we're cautiously optimistic that it will be a bright, clear day to show off some of the shiniest vehicles around. Vehicle entry is $20, with roll-in at 2:30 pm. All proceeds from this event in Chino Valley benefit Life Pregnancy Resource Center.
4 the Love of My City Car and Fashion Show – Glendale, AZ – June 5
This is one of the best car shows near Phoenix because it seems like there's something for just about everyone. If the rest of your family isn't as interested in cars as you are, they might get excited about the fashion show portion of the event. Bring the whole crew to this Glendale car show, which starts at noon.
6th Annual Williams Historic Route 66 Car, Truck, and Motorcycle Show – Williams, AZ – June 11-12
This is your opportunity to see classic vehicles and future classics alike cruising Historic Route 66 in Williams, Arizona. There's plenty to take in throughout the course of the weekend. Just have a look at this schedule:
Friday, June 11

11am-5pm: Registration

11am-4pm: Slow Drags

11am-4pm: Burger Burn

11 am-5 pm: Parallel Parking on Historic Route 66

11 am-6 pm: Vendors Open on 3rd Street

3 pm-6 pm: Live Entertainment at World Famous Sultana from Jimmy and the Entertainers

4 pm-5 pm: Line up for "Cruise the Loop"

5 pm-6 pm: Cruise the Loop

7 pm-11 pm: More Live Entertainment at World Famous Sultana from Jimmy and the Entertainers

Saturday, June 12

6am-10am: Registration

6 am-10 am: Diagonal Car Parking on Route 66

7 am-4 pm: Vendors Open on 3rd Street

9:30 am-3 pm: Live DJ Remote Throughout Town

10 am-2:30 pm: Live Entertainment at World Famous Sultana from Jimmy and the Entertainers

3 pm: Live Auction

4 pm: Car Show Awards Ceremony

7 pm-11 pm: Live Entertainment at World Famous Sultana from Jimmy and the Entertainers
Veterans of Foreign Wars Mingus Mountain Post 10227 – Prescott Valley, AZ – June 12
Like the Prescott Valley car show on May 15, this one is hosted by Dewy Classic Cruisers. This time, there are awards for the best cars, motorcycles, and Kids Pick. It costs $15 and five cans of food to register for this one, which runs from 10 am to 2 pm. As with the other event hosted by Dewey Classic Cruisers, the general public is invited to come in, join the fun, and vote for cars, all for free!
Mid-Summer Cruise-In – Mayor, AZ – June 19
Stop by between 4 pm and 7 pm to witness yet another exciting event from Dewey Classic Cruisers. You know the drill by now:
The general public determines which car deserves the People's Choice award.

A portion of all proceeds goes to help Yavapai County Food Bank.

Canned goods are always welcomed.
Fourtillfour Car Show Benefiting the Alzheimer's Association – Scottsdale, AZ – October 10
This event will feature vintage European cars, vintage JDM cars, vintage off-road 4x4s, and exotics. If your vehicle fits any of the guidelines, you may register for free (though many registrants choose to make an optional donation). Instructions and details will be sent out to any vehicle owner who registers. Those who show up on the date of the event may register on the spot, but no guarantee show parking will still be available.
The event is suitable for all ages, and it's even dog friendly. This is another great option if you're looking to make a quick trip with the entire family. The location on 1st Avenue in Scottsdale is convenient for most people coming from anywhere in the Phoenix area or the Valley of the Sun.
Fourtillfour Weekly Cars and Coffee – Scottsdale, AZ – Every Weekend
The automotive coffee maker holds gatherings every Saturday and Sunday for those who just can't wait for the bigger shows to come around. And there is pretty much something for everyone, depending on your niche:
1st Saturday: Porsches

1st Sunday: Motorcycles

2nd Saturday: Fast Cars

2nd Sunday: Aircooled Volkswagens

3rd Saturday: Shakedown (Vintage European & JDM)

Last Saturday: Adventure Machines
These events are held at their Scottsdale 1st Avenue location and are a family-friendly way to try their coffee while taking in the incredible collections of vehicles from across the valley, and beyond.  
Which AZ Car Show is Best?
This is a subjective question because it totally depends on what you're interested in personally. Here at Valley Chevy, we're huge fans of Corvettes. That means we were especially excited when a 1962 Corvette won the 15th Annual Rex Allen Museum Car Show last year in 2020. When it comes to this year, though, you just never know which cars you'll see at some of these shows with broad guidelines for entry. The only way to decide which show is your favorite is to try a few different options!
If you're going to a car show by yourself, you may enjoy cruising Historic Route 66 to reach your destination. If you plan on going with family or friends, it's often easier to organize something even closer to Phoenix. The good news is that you're likely to have a memorable day at any of the 2021 Arizona car shows on this list.
Best Cars for Sale in Phoenix
If your most recent AZ car show inspired you to get your own future classic, look no further than the mid-engine Corvette. Vehicles from this historic lineage are always popular at car shows, and recent innovations have all but guaranteed this iteration a place in the history books. Find a Valley Chevy dealership near you, and stop by today to take one for a test drive!
Featured Image: OlgaPS/Shutterstock