2018 Chevy Corvette Safety Rating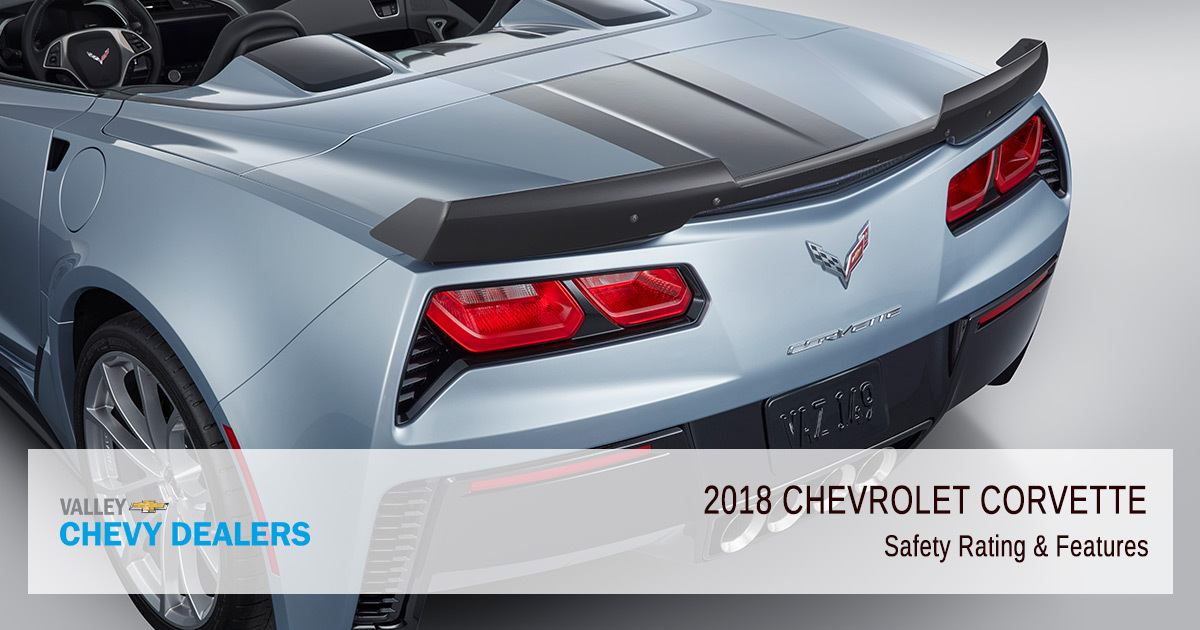 Whenever you are shopping for a new car, the vehicle's safety rating should be one of the first things you examine. Of course, other features such as technological upgrades and reliability are also important considerations. However, the safety of yourself and your passengers should be paramount, regardless of the type of vehicle you want to purchase. Thankfully, the 2018 Chevy Corvette, everyone's favorite muscle car, boasts impressive features designed to keep you and your passengers safe without sacrificing speed or power; regardless of whether you choose a 1LT or 2LT configuration.
2018 Chevrolet Corvette Safety Features
There are a few interesting safety features found on the 2018 Corvette, including run-flat tires. With other vehicles, a punctured tire means you have to pull over, get out, and either switch to your spare or use a tire inflator kit. In uncertain weather conditions or in unfamiliar places, this can put you at an increased safety risk. Run-flat tires continue working for approximately 50 miles following a puncture, giving you ample time to get to a service station.
Practical safety features can also be found in each model, such as driver and passenger front and side impact airbags, side impact beams, a panic alarm, and four-wheel anti-lock brakes. Daytime running lights, a tracker system, and optional security system also work to keep you safe. While there is no Corvette crash rating, reviewers and drivers generally agree that these features work well together to keep you safe, even if an accident occurs. This helps owners have peace of mind.
2018 Corvette Crash Test Safety Ratings
As with some other cars in its class, there is no universal Corvette safety rating. However, in independent tests, the car performed well. Additionally, reviewers have praised the list of safety features this car contains, setting it apart from others in its class.
2018 Chevy Corvette Safety Comparison
We can't easily compare the Corvette (2018) to others as few in this class have actually been crash-tested. However, we'll highlight some additional design aspects that add to this vehicle's overall safety.
When people think of safety, they don't typically think of a high-performance sports car. The Corvette is here to prove them wrong. The 2018 model includes all the fantastic safety features of prior years, while also adding a wider angle and better resolution to its backup camera. As a result, drivers get a crisper, larger view, making parking a breeze and reducing the risk of rear collisions.
Test Drive a 2018 Chevy Corvette in Phoenix Today
After learning about these amazing safety features contained in your favorite muscle car, you may be itching to get behind the wheel and experience them for yourself. Visit your local Phoenix Chevrolet dealer to test drive one of the new 2018 Chevrolet Corvettes today and be sure to ask about the Carbon 65 model.