2018 Chevy Corvette Fuel Efficiency & Gas Consumption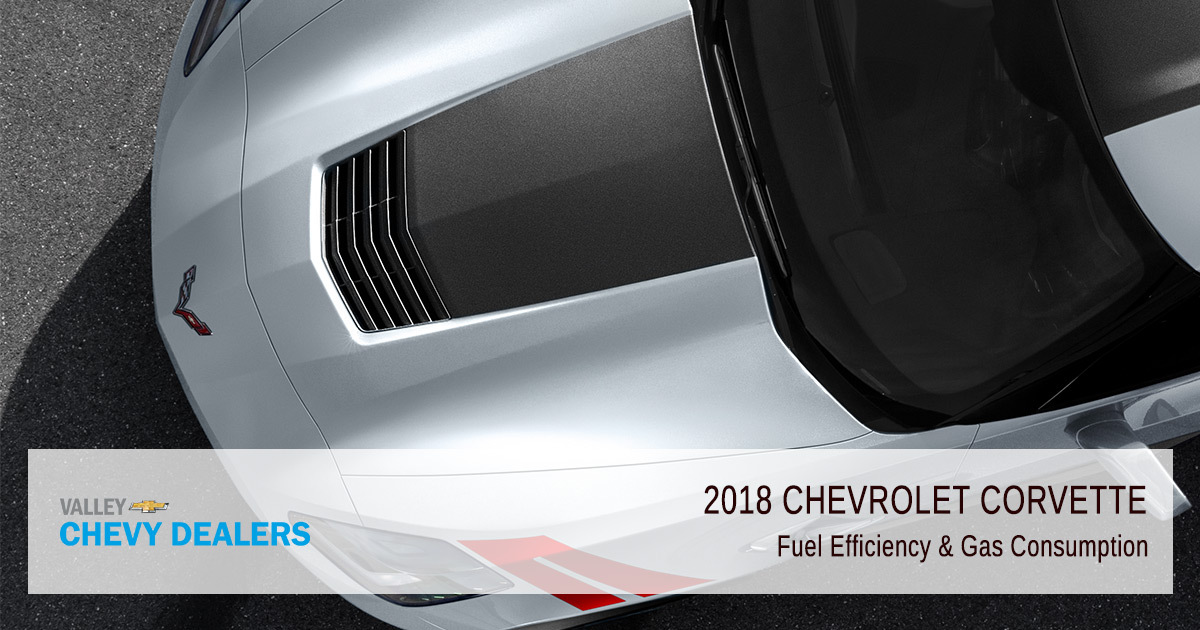 With gas prices rising across the country, fuel economy has become an incredibly important consideration to many drivers. Those looking for a sports car are particularly interested in the Chevy Corvette fuel mileage. While some muscle cars have a reputation for being hard on gas, the Corvette MPG sets the car apart from others in its class. This vehicle consistently performs well, in both real-world and manufacturer testing, making it an excellent choice for looks, performance, and efficiency; regardless if you buy the 1LT, 2LT, or a higher-end model.
2018 Corvette Fuel Mileage
The specific MPG associated with the new Corvette depends on the trim level selected (and how fast you're driving). In general:
All Stingray trim levels, including the Z51, have a combined city/highway MPG of 20.05
All Grand Sport trim levels have a combined city/highway MPG of 20.05
Corvette Z06 has a combined city/highway MPG of 18.15
Corvettes are known for their large engines, which should put them at a disadvantage when it comes to fuel costs. However, thanks to advanced technologies, a compact size, and reduced chassis weight, the Corvette is able to achieve impressive MPG numbers. These advanced technologies have led to improvements such as variable valve timing and cylinder deactivation, which mitigates fuel consumption without affecting performance.
In EPA and other independent tests, Chevrolet's Corvette performed surprisingly well thanks to these features. While it was not the best in its class, the Corvette (2018) does have improved economy when compared to other sports cars, such as the BMW M3, Porsche Cayman, and the Audi TT RS. It is also worth noting that the Corvette also has a larger tank than those models, leading to more driving time as well as improved efficiency.
2018 Corvette Fuel Efficiency
Annual fuel estimations depend largely on the nature and extent of the driving you happen to do the most. For example, those who drive more on the highway than in the city enjoy slightly improved fuel economy. Assuming you have an equal amount of highway and city driving in your most common commutes, and that you put 15,000 miles on your car per year, you can expect to pay anywhere somewhere around $2,500 in gas costs annually, give or take a few hundred dollars depending on trim level.
So long as you're not drag racing your Corvette, you should experience fairly decent gas mileage.
See also: 2020 Chevy Corvette Spied
Test Drive a New Corvette in Phoenix Today
Thanks to the impressive Corvette gas mileage, you can go home in a fantastic sports car that offers you everything you want, including a tank you can easily keep full. Visit your local Chevrolet dealer to speak with a knowledgeable sales representative to find out more, or to test drive the 2018 Corvette today. Be sure to ask about the 2019 ZR1, which should be arriving soon in showrooms, or the Carbon 65 trim in celebrations of the Corvette's 65 years in production.