Locate a Dealer
When it comes to picking out the best midsized truck, buyers often choose between the Chevy Colorado vs. GMC Canyon. While each truck has its perks, only the Colorado can offer you numerous advantages, including several best-in-class ratings.
The Chevy Colorado has also consistently been rated the most fuel-efficient pickup in the US, with ratings that the Canyon cannot measure up to. Despite its efficiency, the truck still packs a lot of power, and its ZR2 model was rated as the most capable off-road truck in its class.
Download Brochure
WHAT'S NEW?
Chevy totally redesigned the Colorado in 2015 and has been adding new features since then. This year, they have included an Active Tow feature, aligning the truck with your trailer for easier coupling.
The new Canyon is not that much different from past versions, as it includes very few upgrades and additional features. GMC has increased the size of the infotainment system, but the total size is still an inch smaller than what comes standard with the Colorado.
Download Brochure
THE EXTERIOR
The 2018 Chevrolet Colorado has a distinct look, different from other midsized trucks on the road. Buyers can choose from three bed-cab configurations, multiple trims, and numerous shades. The split-bar grill and angled headlights give it a sporty look without undermining its power.
Unlike the Colorado's unique design, the 2018 GMC Canyon resembles other trucks from their line, most notably the Sierra. The midsized truck is only available in a limited range of colors, all of which are common choices such as black and white, making it difficult to buy a truly unique vehicle.
Download Brochure
THE INTERIOR
Thanks to its large tires, soft suspension, and available seating with tons of legroom, the 2018 Chevy Colorado offers its drivers and passengers a very comfortable ride. The vehicle can seat up to five adults comfortably, helping you easily transport people as well as cargo.
While the Canyon also offers an enjoyable ride, it lacks the same technological features as the Colorado. The infotainment screen is also much smaller, making it less user-friendly. It also lacks available Wi-Fi, which prevents you from staying connected on the go.
Download Brochure
SAFETY
When it comes to safety, the Colorado outshines many of its competitors. It has numerous features designed to keep everyone safe, including collision alert, lane departure warning, and traction control. Additionally, each vehicle is built with a steel frame and safety cage that has been reinforced with high-strength steel.
Unfortunately, the GMC lacks the same safety features as most other midsized trucks. While it does perform well in crash tests, it lacks crash-prevention technology, especially on the standard models.
Download Brochure
2018 CHEVY COLORADO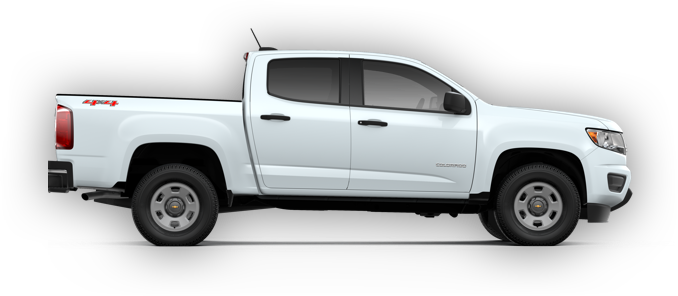 Locate a Dealer
TEST DRIVE ONE TODAY
When you are trying to decide between the Chevy Colorado or the GMC Canyon, taking them each for a test drive can help you better understand their differences. Learning about these cars and comparing them is helpful, but you need to get behind the wheel before you can really make a final decision. Visit your local Chevy dealer today to arrange a test drive for the 2018 Colorado. Taking this powerful, efficient, and attractive truck for a spin will help you confirm that it can live up to your expectations.
Download Brochure
CHOOSE COLORADO
If you are looking for a powerful and attractive midsized truck, the choice is clear. The Colorado offers more power, towing capacity, hauling capacity, and a more attractive look. Drivers can also benefit from the vehicle's low manufacturer's suggested retail price.
Put simply, the 2018 Chevrolet Colorado can get you where you need to go safely, and without a lot of expense. Shop for one today!
2.5L
ENGINE
STANDARD
30
MPG
HWY10
4
ALUMINUM
WHEELS
Download Brochure