Introducing the 2019 Chevy Blazer
The Chevrolet Blazer is one of those vehicles with a cult following, and some people really missed it when it got discontinued. We have some good news for all you loyal fans: the Chevrolet Blazer is coming back! Models are expected to go on sale in January of 2019. It's a little bit different than the Blazer of old you remember, but the new and improved design should help you get over your nostalgia in a hurry.
The Blazer's reincarnation is a sleek, sporty looking crossover. When you see it from the front, you may mistake it for the Camaro's bigger brother. The sporty grille gives way to a body with interesting design aspects on every single surface of the vehicle. The great looks are only a small part of a complete package, so read on to learn more about what makes this midsize SUV so special!
2019 Chevy Blazer Trim Levels
There are three 2019 Blazer trim levels that have currently been confirmed.
The base model will be referred to as the Blazer. Some early estimates are that the Blazer will have a starting price in the high $20s to low $30s, which is competitive for this class.
The middle tier is the Blazer RS, which is designed to look especially sporty, and offers a blacked out exterior to create a unique and domineering look.
The Premium configuration will be the highest trim level available, and we expect that Chevrolet will fill this model up with all of their latest technology, amenities, and performance boosters. This premium level is expected to employ a lot of chrome styling on the exterior.
Chevy has confirmed that each different Blazer trim level will offer unique elements of style. This is part of their attempt to offer something for everyone. You're sure to find a version of the new Blazer that's well-suited for your tastes.
Blazer Engine, Transmission & Powertrain
The standard 2019 Blazer engine will be a 2.5L four-cylinder engine with 193 horsepower and 188 lb.-ft. of torque. Those who want a little bit more power can upgrade this to a 3.6L V6 with 305 horsepower and 269 lb.-ft. of torque. This V6 Blazer should be able to tow around 4,500 pounds. Either engine will be perfectly acceptable for a daily driver, but those with a need for speed or a taste for adventure will find that the upgrade is worth every penny in the engine department.
Both engine options come with a nine-speed transmission. This transmission should provide responsible fuel efficiency, a smooth ride, and great control. Both front-wheel drive and all-wheel drive options will be available. These choices in powertrain once again come down to how adventurous the driver wants to get in their brand new Chevy Blazer.
2019 Blazer Interior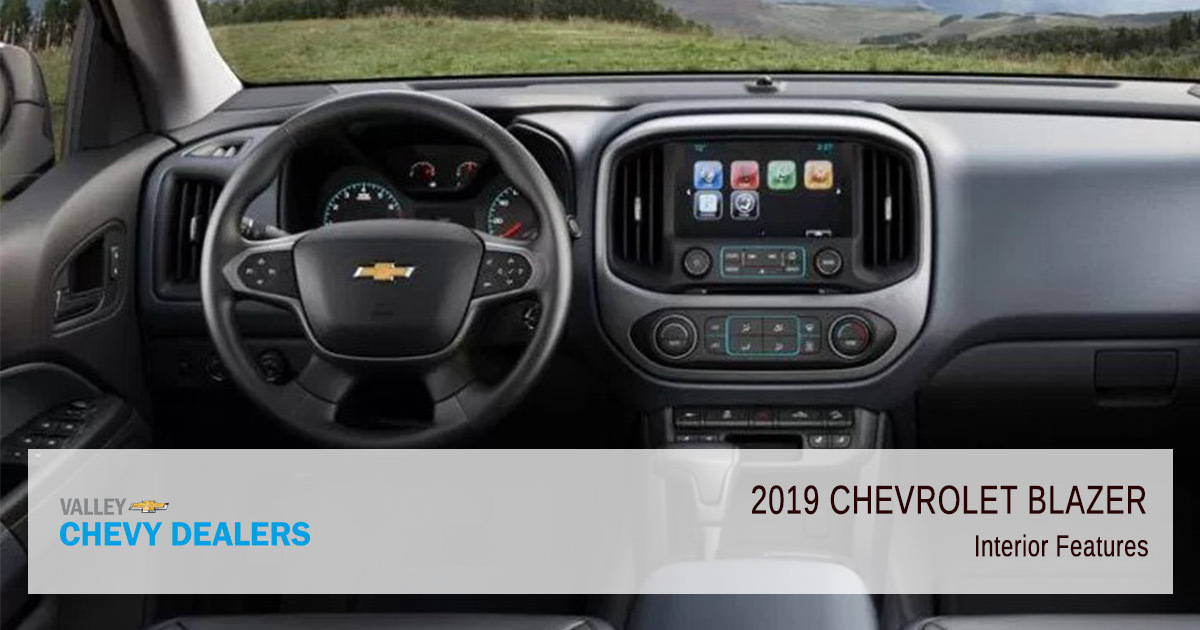 The new Blazer's center stack and circular air vents keep with the vehicle's sporty overall design, but this isn't one of those cases where drivers and passengers sacrifice comfort for style. Dual zone climate control will come standard in every 2019 Chevy Blazer. You can also expect plenty of room for passengers and gear alike, thanks to the smart layout in this five person SUV crossover. Sliding rear seats come standard too, to make the cabin even more flexible.
The interior of even the base model sounds like it will be well-appointed, and things only get better from there. A hands-free power liftgate is available for drivers or families on the go. If you've never experienced a hands-free liftgate before, you'll be amazed how often it comes in handy during trips to the grocery store, camping outings, and more.
There's also an option for a panoramic roof that will help you enjoy every ride even more. Your passengers will enjoy the view, and you'll be able to soak up more natural light on long drives or your daily commute. With or without this panoramic roof, everyone is guaranteed to stay entertained thanks to the state of the art technology that's going into this vehicle.
Blazer Technology
Chevy's MyLink system has become one of this brand's greatest strengths recently, and it's only getting better over time. You can look forward to all of the awesome infotainment features in the brand new Chevrolet Blazer:
4G LTE Wi-Fi Hotspot
Apple CarPlay and Android Auto
Bose Audio System
Up to Six USB Ports
8-inch Touchscreen
The technology also expands to Chevy's great safety features. The brand new blazer will have a backup camera and adaptive cruise control to make your drive just as safe as it is fun.
2019 Chevrolet Blazer Infographic
Share this Image On Your Site
Test Drive the New Chevy Blazer in Phoenix Today!
If you're eagerly awaiting the new Chevrolet Blazer, keep an eye on your nearest Chevrolet dealership. These exciting new models will be arriving before you know it, and then you can take one for a test drive to decide if you want to make it yours. Stop by a Valley Chevy Dealer location today to find out what you can do to be first in line!