Chevy vs Toyota Trucks, Which are Better?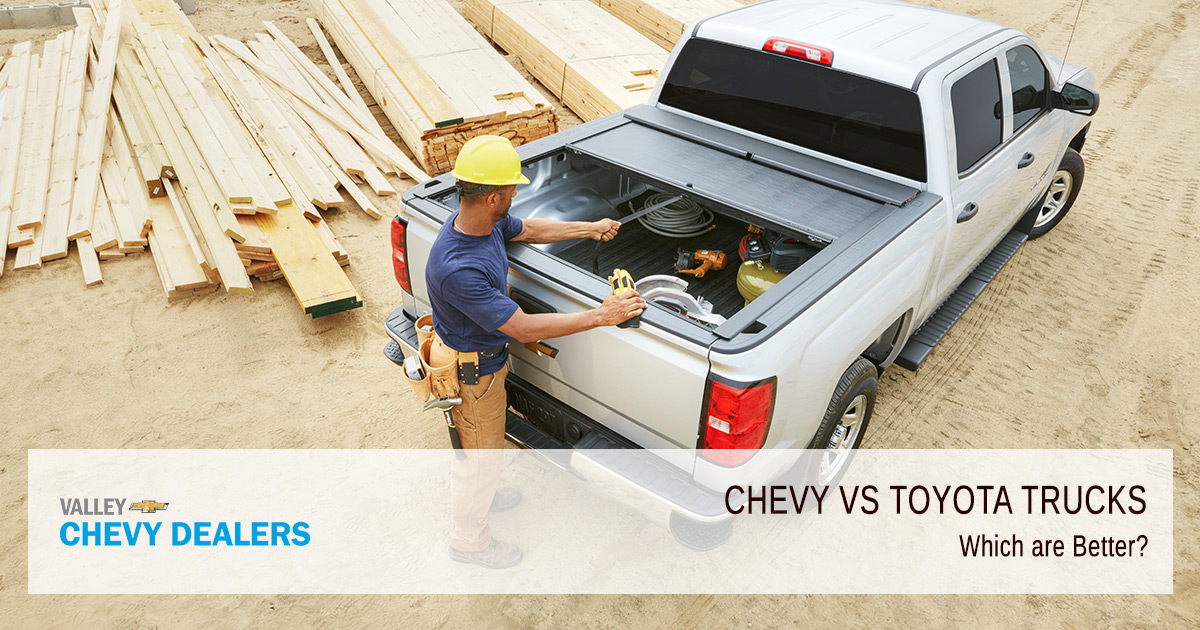 Buyers are often faced with choosing Chevy Silverado or Toyota Tundra for their next truck, as Toyota trucks have been competing against Chevy trucks in recent years. To get a solid grasp on the strengths of each brand, examine their specs among the key categories that matter most for pickup trucks.
Don't Buy Your Next Pickup Before Reading the Following
Here's how Chevrolet and Toyota trucks compare head-to-head.
Toyota vs. Chevy Trucks: Durability
Toyota does well by building reliable trucks that hold their value through a few years of use. They assemble vehicles in North America, and they certainly know a thing or two about building tough machines. Despite Toyota's best efforts, this is the area where there's the most difference between the two brands.
A couple years ago, some customers were surprised to find that Chevrolet outperformed every other brand by far in the area of durability. It's not a surprise anymore. Chevy is the only brand in the history of J.D. Power and Associates awards to earn top marks for durability amongst cars, trucks, and SUVs two years in a row. The awards and accolades are starting to pile up, and it's making it hard to ignore the fact that nobody beats Chevrolet when it comes to making durable trucks and vehicles that stay on the road for years and years.
Toyota vs. Chevrolet: Performance & Safety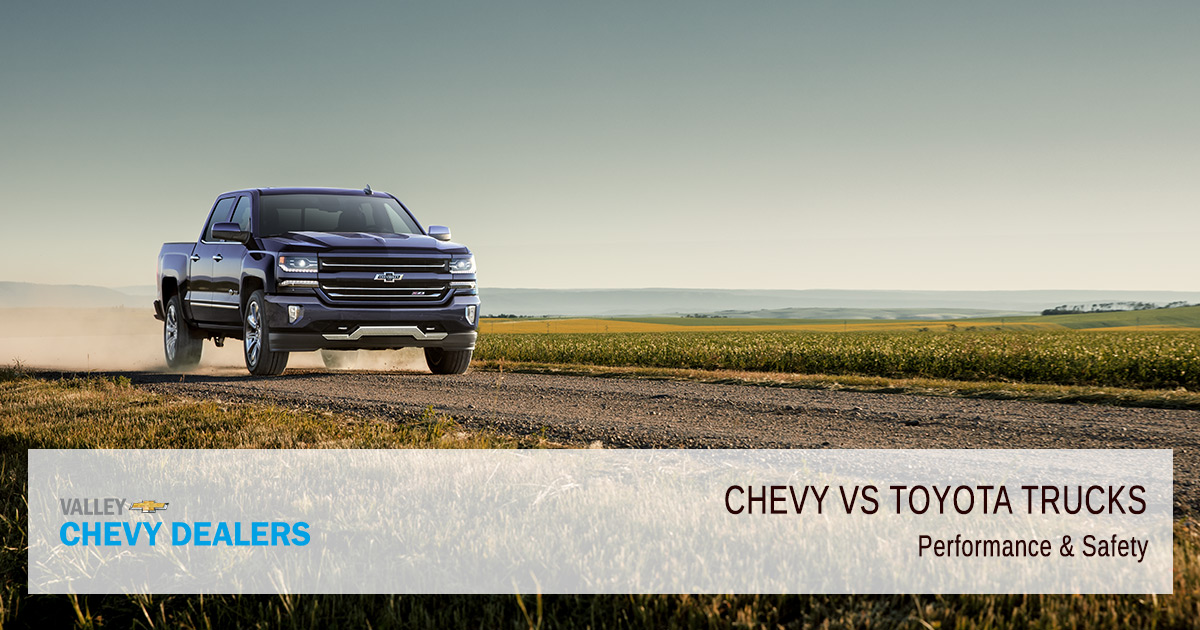 The pickup segment is defined by on-the-job performance, so this is a key component of the Chevy vs. Toyota matchup. Toyota is known for creating efficient vehicles, but it's wholly overmatched by Chevrolet in measures of raw power. Chevy builds bigger engines to haul bigger payloads. Both brands care about their customers, and they build trucks with safety in mind. However, subtle differences do exist, and we cover those in detail further down the page.
Chevrolet vs. Toyota Trucks: Interior Features
Both brands have come a long way since they first started making no-frills pickup trucks with limited interior comforts. Both leverage quality materials, new technology and a user friendly interface to bring the comforts of home to even the most rough and rugged work sites. However, Chevrolet gets a slight edge here, mostly because it supplies one of the quietest cabins available.
Toyota or Chevrolet Trucks: Individual Model Comparisons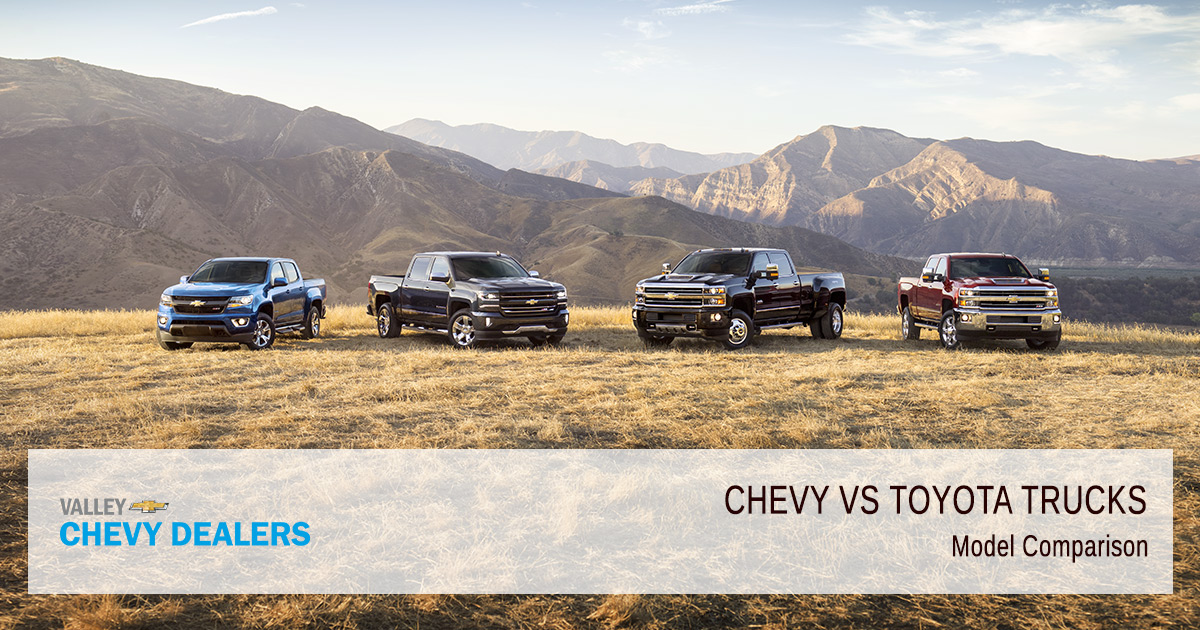 The competition between Chevrolet and Toyota extends across several segments. For example, you may have seen results from a head to head comparison of the Chevy Cruz and Toyota Corolla. Just as with trucks, the mid-size offerings from these two brands are at the top of the category.
The competition for superiority in the truck segment similarly sees Chevrolet and Toyota face off. The Chevy Silverado 1500 and Toyota Tundra both offer a lot to buyers looking for a full-sized truck. The models are similarly priced, so the difference is best found by examining the specs:
Performance
Toyota's maximum engine is a 5.7L V8 that delivers more than adequate power. Better still, Chevrolet retains its claim on superior American power by going above and beyond with an available 6.2 liter V8. The Chevy 6.2L V8 engine provides 420 horsepower and 460 pound feet of torque to complete any job.
Safety
The size and weight of trucks generally makes them one of the safest options on the road. The innate safety of pickup trucks may have played a part in helping the 2018 Toyota Tundra earn an 8.1 for safety from U.S. News. This rating is surprisingly strong considering the truck received only three stars out of five for a rollover rating. The 2018 Silverado still managed to earn a much stronger 9.2 rating from U.S. News.
Warranty
The Tundra and Silverado have similar basic warranties. Both trucks include a three-year 36,000-mile basic warranty. Additionally, both options carry a five-year 60,000-mile powertrain warranty.
Similar results come from a comparison in the mid-sized truck category. Toyota offers great off-roading capability with the Tacoma, and their reliability is undeniable. However, the Chevrolet Colorado looks like a quintessentially rugged American pickup truck, and the performance follows through on the exterior's promise. The handling is stunningly smooth for a truck of this size, and the interior exceeds expectations too. The Chevrolet Duramax diesel engine is what seals the deal and puts the Chevy Colorado in the front of the pack for midsize pickups.
Test Drives: The Ultimate Showdown for Chevy and Toyota
On paper, Chevrolet is the overall winner in the battle for superior trucks. But you don't need your new truck to perform on paper, you need it to perform on and off the road. If a picture is worth a thousand words, a test drive is worth a full photo album. The best way to experience the real difference is to get inside these trucks and drive them yourself. Find your neighborhood Chevy dealership in the Valley and get behind the wheel today.