The 2019 Chevrolet Colorado ZR2 Bison Is GM's Most Capable 4×4 Ever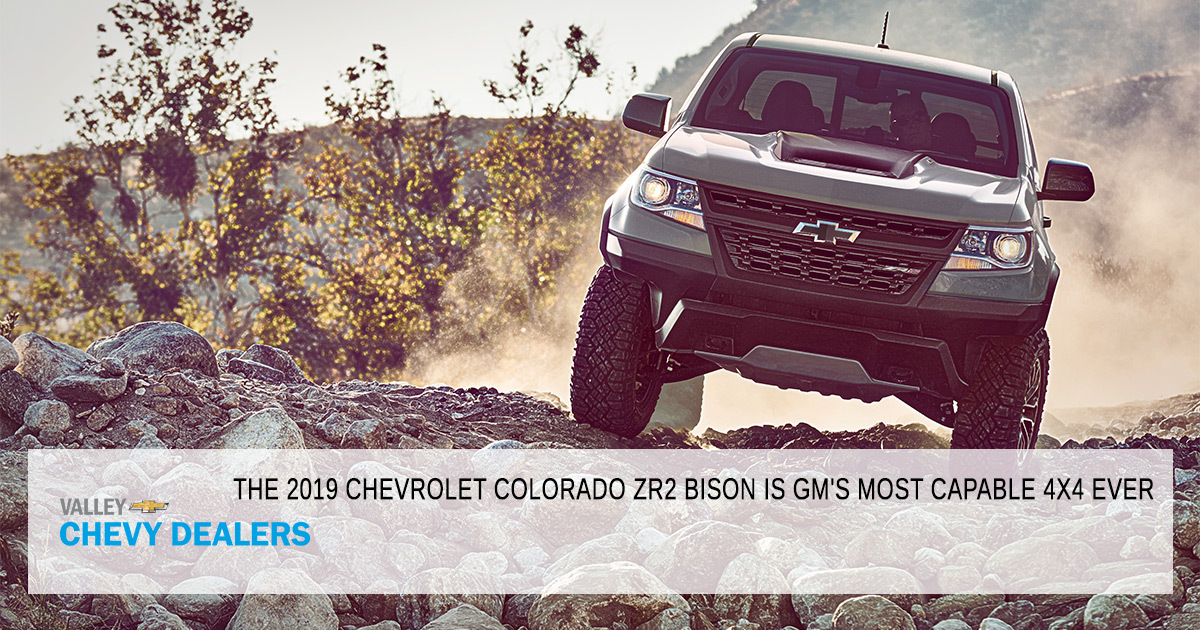 The 2019 Chevy Colorado ZR2 Bison is a uniquely beefy, powerful vehicle for off-roading that is also drivable in the city. For off-road enthusiasts, this truck is the perfect option for driving through extreme terrain that can also transition neatly to street driving.
It perfectly emulates the sturdy, solid body of the bovine creature it's named after. Learn more about the unique features that make it suited to rough drives in this article.

The ZR2 Bison is Designed With Off-Road Enthusiasts In Mind

Chevrolet spent two years designing this truck, creating a build that is capable enough for any challenge. It goes above and beyond other off-road vehicles with its uniquely intelligent design, armored and ready for any stretch of wilderness.
The Bison is a result of a collaboration with American Expedition Vehicles, off-road parts, and accessories company. The result is a factory build that incorporates design features typically added as aftermarket parts by those who plan to use the car for off-road driving.
This collaboration is big news for the off-roading community since incorporating those parts in a factory assembled vehicle means a more professional, stabler looking truck overall.
All AEV parts are tested for resistance against corrosion and thermal damage. The bumpers are also tested by a FARO arm, to provide precise measurements of their thickness.
Designing the truck was a challenge, since adding on sturdier, bulkier protection suited for exploration driving could easily weigh down the truck. The engineering process prioritized security without sacrificing power and ease of driving.
The bumpers include a split design that allows removal of one side, in case one takes damage out on a trail. They are held in place with impressive-looking steel tubes.
From this truck, you can expect a sturdy, durable powertrain and body that both set it apart from other models. Innovations such as front and back bumpers made from stamped steel keep things lightweight and nimble for intense off-roading. This truck is designed for adventure, wherever you choose to take it.

Features of a Chevrolet Colorado ZR2 Bison

The Colorado ZR2 Bison is a unique truck with a variety of features that cater to adventurous drivers. Many of its celebrated features emphasize the truck's body. The internal components and specifications are equally impressive, though. Here are some of the remarkable features of the Bison:
8-speed automatic transmission, with manual mode option
3.6 liter, V6 engine 308 horsepower/275-lb-ft DOHC 24-valve
2.8 liter, V4 engine with 181 horsepower and 369-lb-ft
It takes 7 seconds to go from 0 to 60 miles per hour
Mileage on streets is 16 miles per gallon, 18 MPG for highways, and 17 combined
133-foot braking distance
The ZR2 Bison has an Armored Body to Take You Anywhere

AEV is known for coming up with creative solutions to problems facing exploratory drivers. The body of this vehicle is meant to stand up to extreme weather and challenging trails.
The front grille includes a unique aesthetic feature: instead of the traditional logo placed front and center, the black grille showcases "Chevrolet" spelled out in bold letters. The roughest, most rugged aspects of the truck are centered around protecting the body.
Skid plates, bumpers, and fender flares all protect the most vulnerable components of the vehicle, ones that could be damaged by a stray rock or a large piece of debris.
The skid plates included on the Colorado ZR2 were specifically formulated to guard the underside of the truck without adding too much weight. To achieve this goal, AEV experimented with a material that hadn't been used for skid plates before: boron steel.
Though plate steel is the go-to material, boron steel's flexible traits make it a great material choice. It absorbs shocks without deforming or denting. The skid plates protect vital truck components, like the oil pan, transfer case, differentials, and even fuel tank.
Each boron steel plate is 2.5mm thick and weighs in at six pounds. Plate steel skid plates often weight around 20 pounds each. Five of them protect the undercarriage from potential harm caused by scraping rocks, foliage, or other materials.
The material tends to cost more than plate steel, so boron isn't used by many companies. It's the perfect material to keep the ZR2 Bison light, however.
The control arms on the truck are made of cast iron, to keep the wheels firmly in place even during the most extreme driving. The heavy-duty iron material lets drivers have peace of mind, knowing that the arms will keep things in check. They create comfort and safety, whether you are driving through boulders or down a paved street.

ZR2 Beefy Size

As compared to the Chevy Colorado ZR2, the Bison is designed to navigate rough terrain where the trail disappears. That's why it has bigger fender flares, bigger tires, and striking hubcaps. All this is beefing up amounts to around 200 pounds heavier than the 2018 Chevy Colorado ZR2.
The build uses lightweight materials wherever possible to keep things smooth, like the boron steel skid plates. Those extra pounds of weight provide the car with its secure, armored feel. Bigger fender flares and bumpers increase the width, making it 3.5 inches wider than a typical Colorado truck. It's also two inches taller.
The stamped steel front and rear bumpers are wide and durable, meant to easily take the bumps and knocks that are expected when taking the truck off-road.
The bumpers are actually allowed to cool on the press after they're stamped, which lends them extra strength and hardness. They're also easy to replace if they get dinged, a feature that comes in handy on trucks that are going to see lots of intense drives.
The front bumper is designed to easily accommodate the addition of a winch since it includes a winch receiver, though it's not included. Winches are great assets for off-roading because they make it easy to pull yourself out of a ditch or other tight spot.
You'll have an anchor to pull you out. The larger size of this truck means an option for a bigger truck bed. At five feet long, the extended truck bed option is an impressive size that can fit plenty of gear for camping, moving, and other endeavors.
Creative designer for the Colorado Paul Arnone describes the truck as a "purpose-built vehicle," and with features like this, it's easy to see why.
The Colorado ZR2 has a Powerful Engine

The Colorado ZR2 Bison includes a standard engine and a 2.8-liter diesel option. Either choice is powerful, though the standard emphasizes speed. It's a 3.6 liter V6, with an attractive 308 horsepower. 275 pound-feet of torque allows plenty of power and ability to accelerate.
The diesel option allows for more fuel storage, which may be preferable to those who want to go on long excursions far from opportunities to refuel. It also has a higher torque of 369 pound-feet, making it more powerful out on the trail.
As a compromise, the horsepower is reduced to 181, so the diesel engine isn't the best for speed. However, it excels when crawling over rocks or steep inclines.

Designed to Take Off-Roading to New Heights

The Chevy ZR2 bison is designed to make driving over any surface easy. Crawl over rocks with confidence and ford rivers boldly. Multimatic DSSV shock absorbers keep things stable, and they protect your back and body from taking stress and pressure from bumps in the road.
Good shock absorption is vital in any truck that may end up off-road or even off-trail. Locking differentials mean that both wheels keep turning even if one is deep in mud or some other obstacle. This feature helps you keep moving forward more easily.
Even if you do get stuck, as it can be expected during the most extreme off-trail driving, it'd take as little as a push forward to get moving again. The Bison includes front and rear locking differentials that are electronically powered.
The vehicle also includes the all-wheel-drive for getting the most traction in sticky situations. It can handle anything from snow to rivers deep enough to reach the wheel wells. The tires and wheels are perfectly primed.
AEV's owner pushed for the biggest tires possible, and the truck comes with 31-inch high tires as a result. The Goodyear Wrangler DuraTracs emphasize traction with deep grooves and self-cleaning shoulder blocks. They're also approved for severe snow.
Those who prefer even bigger tires won't have any trouble swapping these out for 33-inch tires since the fender flares are wide and accommodating.

The Chevy Colorado Bison is Good for Street-Ready Driving

Despite all its capability in mud, snow, and gravel, the Bison is notable for its ability to play nice on city streets. Drivers have found it a good choice for highway driving, with a quiet engine that keeps things tame.
Steering and traction hold up even on paved roads, and the shock absorbers prevent an unsteady ride. The truck is easy to maneuver in parking lots and on streets, especially compared to other vehicles designed for off-roading.
Its size, while large enough to hold its own during extreme driving, is perfectly suited for functioning in daily life. It can maneuver into parking spots and drive-throughs with no problem.
It's not too large and distracting to take for a normal drive through town, so don't worry about needing a less rugged car for regular use.

ZR2 Bison is Good for Comfort and Entertainment

The ZR2 Bison's impressive capabilities still leave plenty of room for a comfortable interior. The truck includes AEV branded headrests and floor mats that protect against all weather.
It also has heated front seats, perfect for winter travel. To help with climbing into the cab, it includes a pipe running along underneath the front doors. It's sleeker than a step, while still providing the support that makes it easier to step up.
It includes an infotainment system so that you can take music and podcasts with you on adventures. The controls are on a touchscreen that measures eight inches, a comfortable size for selecting music and other controls.
The truck has Android Auto, and Apple CarPlay included, letting you easily connect your smartphone. The truck has Bluetooth capability that allows easy connection, but it also has USB and AUX inputs.
The vehicle fits five passengers inside the four-door cab, and the spacious interior allows all four of those passengers to sit comfortably. The truck is ideal for camping trips, and it can carry you far across the bumpy ground to get to your favorite campsite.
Before you make your decision on whether this truck is for you, come and try it out in person. Get a closer look at its unique features and sturdy driving capabilities. Find your local Valley Chevy dealer and contact us today.