What is the Best Car for a College Student?
College is hard enough without having to worry about breaking down on a weekend trip home or commuting to class with only a gallon of gas left in the tank. Fortunately, due to their safety, reliability and fuel efficiency, Chevrolet automobiles can help you avoid these kinds of car issues while you're in school. However, this begs the question: Which Chevrolet car is the best car for a college student? Considering that each car has its unique benefits, that is up to you to decide!
Top Choices for College Student Cars
To help you make the best decision, we've picked out some of the best options for you and reviewed them below.
#9 Chevrolet Traverse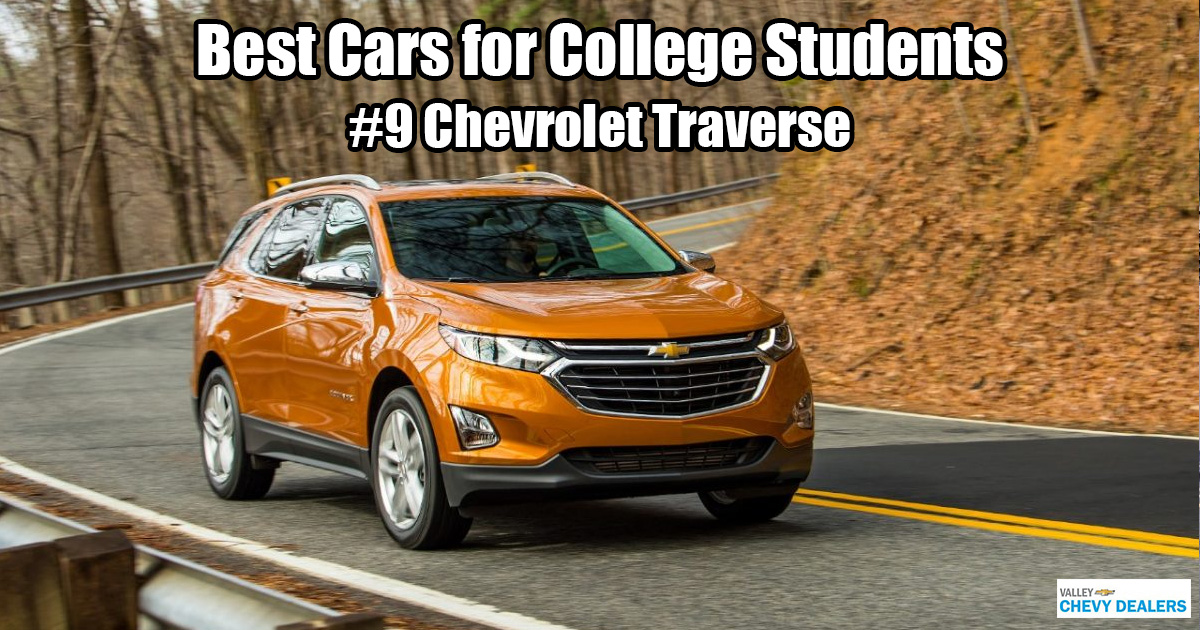 Source:

Chevrolet.com
We value surrounding our college-age child with plenty of crash protection, especially when home and college are far apart.
The Traverse
: 
Video
Prevents accidents with available Forward Collision Alert that uses a smart camera sensor. We would definitely choose the optional safety features like Side Blind Zone Alert and Lane Departure Warning.
Protects passengers and drivers with an industry-first available front center air bag. We also like that the high-strength steel safety cage protects passengers in rollovers.
---
#8 Honda Civic
Source:

Honda.com
With a well-tuned suspension, excellent braking system and plenty of safety features, such as side-mounted airbags, traction control and even tire pressure monitoring, the Honda Civic is one of the safest cars out there. Few options are as safe as the newest addition to the Honda Civic line. One significant drawback is the Civic's infotainment system. It is hard to use when it comes to the navigating features, making it a distracting feature and reducing the overall safety of the vehicle.
---
#7 Chevrolet Trax
Source:

Chevrolet.com
The
2017 Trax
protects college students in sleek style, never revealing its multi-layered safety features until they are needed. The Trax prevents collisions with available features like Side Blind Zone Alert, Forward Collision Alert, Rear Cross Traffic Alert and
Lane Departure Warning
. The sporty Trax SUV also offers OnStar and GPS technology to summon help. So even if you're miles away from home, you never need to feel alone or unsafe.
---
#6 Mazda 3
Source:

MazdaUSA.com
With its easy handling and maneuverability, the Mazda 3 is ideal for a young driver who is new behind the wheel. With this vehicle, parents can be sure that their college student will not be overwhelmed while driving. This vehicle is limited regarding space, though. The back seats do not offer much room for your college student's belongings and may make passengers feel crowded.
---
#5 Hyundai Accent
Source:

HyundaiUSA.com
The Hyundai Accent offers strong acceleration and a spacious interior, meaning both driver and passengers are guaranteed a comfortable ride. The Accent, unfortunately, lacks many of today's modern features, such as navigation and rearview camera, meaning this is not the vehicle for someone who needs that extra help when it comes parking, backing up or driving to a new location.
---
#4 Kia Forte
Source:

Kia.com
When it comes to space, the Kia Forte offers excellent cargo capacity –perfect for students who have a great deal to move once it comes time to move back to campus. Money Crashers also rated it as the 10th most fuel efficient vehicle, making it a great option for students traveling long distances between home, school and other activities. Unfortunately, U.S. News reports the Forte has dull handling and can experience a rough ride on bumpy roads.
---
#3 Chevrolet Malibu
Source:

Chevrolet.com
For style, we need to look no further than the
mid-sized Malibu
with its aerodynamic body, windswept lines and an agile stance that always seems to be moving – even when the car is parked in the student parking lot. This sporty ride offers a sleek, appealing look with available LED daytime running lamps and tail lamps. Malibu perfectly blends form and function, which makes it a winner for both proud parents and college students.
---
#2 Nissan Versa Note
Source:

NissanUSA.com
The 2017 Nissan Versa is an economical choice when it comes to price and fuel consumption, making it a great buy for a college student on a budget. Its sticker price begins, on average, at $16,000 and offers 31 miles per gallon in the city and 39 on the highway. The Versa, though, lacks many standard features seen in today's vehicles, and adding them to the vehicle means paying more. For example, an armrest for the driver's seat is not included unless a customer asks for one and comes at an additional cost. Also, its engine is known to struggle on hills and while entering highways.
---
#1 Chevrolet Cruze
Source:

Chevrolet.com
Stretch a tight student budget with the fuel-sipping
efficiency of the Chevy Cruze
– a compact car that offers choices in engine technology. Select the 2017 Diesel Sedan with its 1.6-liter turbo engine for an incomparable 52 miles per gallon on the highway. In fact, the Cruze Diesel offers the highest American highway fuel economy of any non-hybrid or non-electric vehicle. Not down with diesel? Select the 1.4-liter gasoline engine and enjoy up to 40 mpg highway.
Which Car Will You Pick?!
To better determine which of these options is ideal for you or your college student, find your 
nearest Chevrolet car dealership
today to arrange a different kind of college entrance test — a test-drive at a
Valley Chevy
dealer.