2017 Chevrolet Malibu Interior Features
Everybody knows that the exterior of a car is what gets people interested in looking at it, but it's the interior that can make or break a person's desire to drive it or ride in it.  Are the seats comfy?  Is there enough room to stretch out?  Does the stereo sound good?  Is the air conditioning going to reach the back seat?  Let's take a look at the interior of a
Chevrolet Malibu
and answer some of these important questions.
The Starter
The basic L series trim package is very much that: basic.  It's intended to be a minimum equipment package for cost conscious buyers, or those who don't feel they require a large number of extra options or creature comforts.
A Little Luxury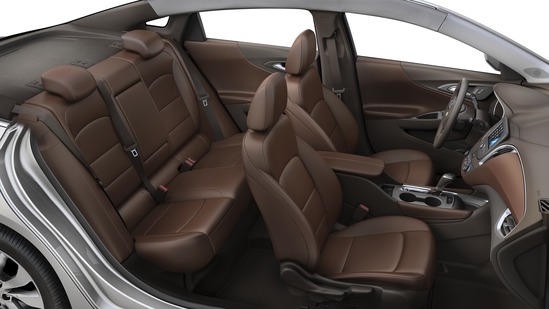 The LS and LT trim packages are notable because they incorporate more features than the basic L package.  Some of these options are electronic in nature, such as connectivity packages for mobile devices.  Others are almost entirely cosmetic, such as different pads for the brake pedal and accelerator.  Still others are highly functional, such as dividers and cargo netting to help keep things held down in the trunk.
The Full Package
The Premier trim package may not have absolutely "everything," but it does have significantly more than the other packages, and often as standard features rather than mere options.  For example, while it's possible to get a Bose 9-speaker sound system in the LT package, that level of car audio performance is built right into the Premier package.  A remote vehicle start is a nice option to have, but part and parcel of the Premier package. 
Alternative Comfort
The Chevy Malibu Hybrid has features that are similar to the interior of Chevrolet Malibus with different trim packages.  But owing to the nature of the drivetrain, there are some features which might be missing from other packages, or other packages may have features which can't be put into the Hybrid.  Nonetheless, the Hybrid can be a very nicely appointed vehicle, more well-appointed than the L, LS, or LT series, and very close to the Premier in many respects.
Your Valley Chevy Dealers
With a special 20% on Malibus through the end of May, it's worth visiting your
Valley Chevy
dealer and taking a test drive today.