FIND YOUR MATCH
The Chevy Silverado is a pickup truck with a multitude of uses – a catchall tool for life's little surprises. But if you want a Chevy Silverado for a very particular reason, purchasing a special edition will dramatically increase your level of satisfaction.
Each Chevy Silverado special edition is highly specialized and customized to master a specific purpose. Whether you want a truck that fits your personality, lifestyle or career, one of these editions will go above and beyond to meet your needs.
REDLINE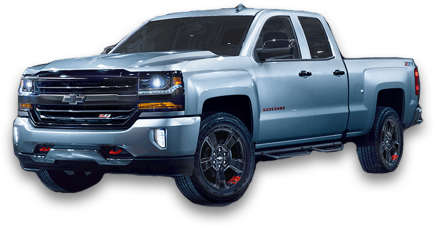 STREET LETHAL
Most people don't look at pickups as stylish cruisers that look truly stunning as they fly through the streets. The Silverado's Redline Edition begs to differ, as it offers a series of styling options to turn an unremarkable truck into something street lethal.
Its highly distinctive red and black color scheme includes:
Red badging
Red brake pads
Red tow hooks
Black grille
Black sideview mirrors
Black rims
RALLY

STOCK MEETS STYLE
While NASCAR hasn't paid as much attention to trucks as a racing platform, Chevy wants to give some Silverado owners a little taste of stock car styling.
Rally 1 comes with rally stripes, 20-inch black wheels, and is available with Double Cab.
Rally 2 comes with 22-inch glossy black wheels, 4-inch assist steps, and is available with Double Cab or Crew Cab.
MIDNIGHT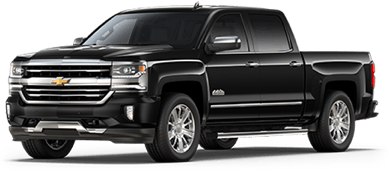 THE SILVERADO MIDNIGHT EDITION
If you are always wondering, "Does it come in black?" this is the edition for you. The Midnight Edition sheathes every inch of itself in black to striking effect, and it boasts amazing tires that are as aggressive as the truck's appearance.
Black 18″ wheels
Black bumpers, grille, handles and mirror caps
Black Chevy bowtie emblems
Goodyear Wrangler DuraTrac off-road tires
ALASKAN
STAND OUT IN THE SNOW
With the ability to effortlessly overcome treacherous terrain and harsh winter weather, the Silverado Alaskan Edition is unapologetic in its status as a "working" truck. If you live in Flagstaff or frequent Sunrise Park Resort, this truck will help you navigate through any snow storm.
Standard snowplow package
6.6L Turbo Diesel engine
Rubberized mats for easy snow sweep-out
BLACK OUT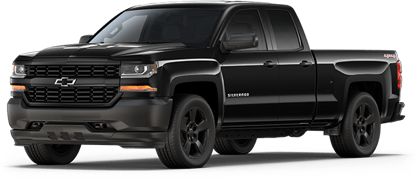 THE CHEVY BLACK OUT
If the Midnight Edition isn't sinister-looking enough for you, the Black Out Edition should definitely do the trick. The Midnight Edition is almost innocent-looking when compared to the "murdered-out" aesthetic of the Black Out Edition.
Deep tinted windows
20-inch black aluminum wheels
Available on 1500 Regular Cab and Double Cab
REALTREE
FOR THE OUTDOORSY
The Silverado Realtree Edition is made for the sportsmen and outdoorsmen who need a truck that can survive any adventure. With tastefully applied Realtree camo graphics and powerful features meant to defeat the toughest terrain, this one will be a popular pick come hunting season.
Rancho® tube shocks
Underbody shield
20-inch wheels with all terrain tires
SPECIAL OPS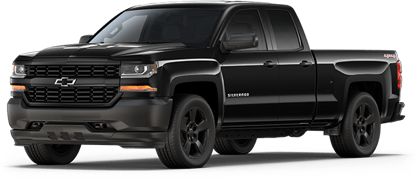 TACKLE ANY MISSION
US Navy SEALs are among the toughest Special Operations troops in the world. It seems only fitting to try and build a Silverado edition that matches that durability and sense of purpose.
Black "tiger stripe" paint scheme
Bed-mounted sport bar
A portion of all sales donated to the Navy SEAL Museum
CUSTOM SPORT HD
GET SPORTY
With subtle chrome accents that glisten in the sunlight, the Custom Sport HD Edition has a fierce yet polished presence. Its monochromatic theme is coupled with body-colored front and rear bumpers to create a clean and mature look that demands respect.
Chrome door handles and mirror caps
Chrome bodyside moldings
20″ aluminum wheels
HIGH DESERT
MOVE OVER NATURE
Down here in the Valley, we know what it's like in low desert. But further north, and much higher up in altitude, the high desert awaits with its own distinct challenges.  The High Desert Edition is built with those challenges in mind.
Lockable cargo system provides full waterproof protection against the elements
Magnetic Ride Control suspension for the smoothest ride possible
Your Valley Chevy Dealers
Your Valley Chevy dealers can give you more information about all of these unique editions of this classic pickup truck.  Find the one closest to you today, schedule a few test drives, and discover which special edition best suits your needs.