Locate a Dealer
Buyers in the market for a midsized truck typically end up comparing the Chevrolet Colorado vs. Toyota Tacoma. While both offer drivers a few benefits, only the Colorado leads its class and gives drivers access to many improved features.
Among the many Chevy features that can sway the Tacoma or Colorado debate are its incredible fuel-efficiency and notable safety ratings. The Colorado also offers drivers best-in-class horsepower and towing capacity, setting it apart from the Tacoma.
Download Brochure
WHAT'S NEW?
Ever since Chevrolet redesigned the Colorado in 2015, the manufacturer has continued to make steady improvements to it across the board. This year, they have added a few new utility features, including Active Tow, which helps you better align your truck with your trailer.
Toyota has discontinued a few features on their new model, including its prior manual transmission. One of the biggest changes made to the 2018 models is the introduction of one new paint color.
Download Brochure
THE EXTERIOR
It is easy to customize the exterior of your Colorado to match your needs and lifestyle. For starters, there are now nine color choices, multiple trim levels, and three cab-bed configurations. With its split grill and angled headlights, the truck has a sporty, athletic feel that attracts a wide range of buyers.
While the Tacoma is made with very durable materials, it is clear that Toyota focused more on creating a rugged exterior than one that is more universally attractive. There are also fewer configurations, color choices, and other customization options available.
Download Brochure
THE INTERIOR
Large tires, spacious seating, and a soft suspension make the 2018 Chevy Colorado's ride as smooth as possible, regardless of terrain. The interior also has tons of room, making it a practical choice for a family vehicle as well as a fun car to take off-road.
Toyota's philosophy is that interiors should be bare-bones. As a result, they lack the same options that are available in the Colorado. The ride is still moderately comfortable, but the Tacoma is not exactly designed for family or everyday use.
Download Brochure
SAFETY
Often, the choice between a Chevy Colorado or Toyota Tacoma can be decided by looking at safety features. This is the area where Chevy truly shines. There is a massive, seven-inch infotainment screen in the dash, making navigation and accessing emergency services easy.
Conversely, the 2018 Toyota Tacoma lacks many expected and important safety features. Its touchscreen display system is also much smaller, making it harder for drivers to see while also keeping an eye on the road.
Download Brochure
2018 CHEVY COLORADO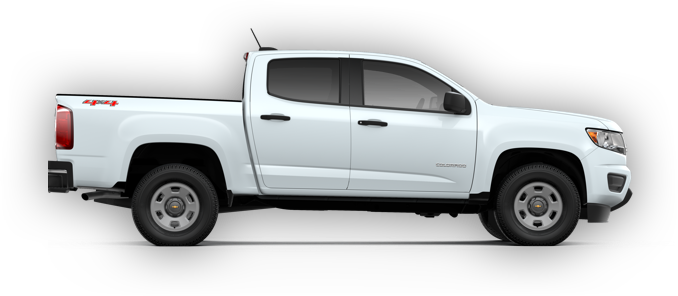 Locate a Dealer
GO FOR A TEST DRIVE
The best way to answer the Colorado vs. Tacoma question for yourself is to visit your local Chevy dealer and take the 2018 Chevrolet Colorado out for a spin. Reading about the available features does not compare with feeling how the truck handles when it is on the road.
Visiting a dealer for a test drive also gives you a better understanding of how the safety features work, ensuring that you feel comfortable traveling with your family on board.
Download Brochure
CHOOSE COLORADO
The choice between the Toyota Tacoma vs. Chevy Colorado is obvious. Only the Colorado can offer you improved mileage, better safety features, and a more attractive vehicle you can feel proud driving.
With the range of interior technology and available upgrades, the 2018 Chevy Colorado is the perfect car for off-roading, driving to work, or taking your family on a much-needed holiday. You can rely on the 2018 Chevrolet Colorado to give you a great ride, every time.
2.8L
ENGINE
STANDARD
30
MPG
HWY10
4
ALUMINUM
WHEELS
Download Brochure