Locate a Dealer
THE SILVERADO ADVANTAGE
You don't buy a classic American pickup truck to have it be second best. There are many great trucks out there, and you may be considering the Ford F-150. But there are a number of very comparable options on the market, including the Chevy Silverado vs. Ford F-150.
The Silverado is the favorite of many pickup truck owners who want a truck that gets everything right, especially those who like a lot of leg and headroom.
Download Brochure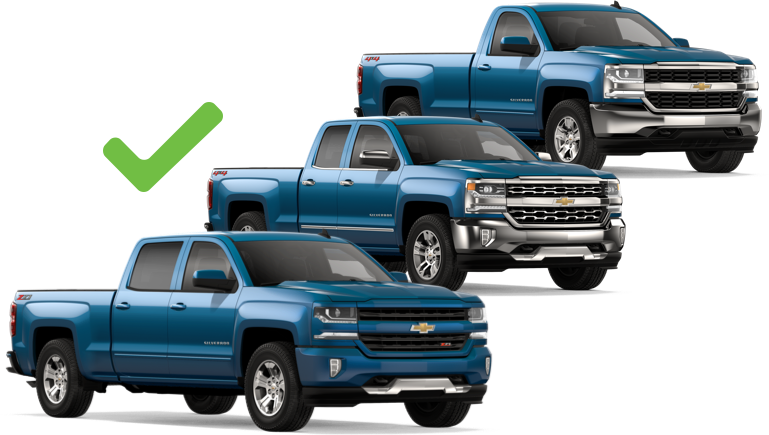 A BOLD EXTERIOR
The Ford F-150 has a rugged exterior that looks somewhere between utilitarian and aggressive. It is undoubtedly intense overall and features some angles and lines you may find appealing.
The Silverado is an excellent choice for those looking for a classic, elegant look combined with a rugged determination. Compared to the F-150, the Chevy Silverado 1500 has a sleeker profile with sweeping broad lines and comes with a greater selection of options compared to the more basic offerings on the Ford F-150.
Download Brochure
A SPACIOUS INTERIOR
The 2018 Ford F-150 includes high-end materials, especially with the upper trims, and seating is relatively spacious. However, there are not a lot of features that come standard.
If your cab doubles as your office sometimes, you may appreciate the extra space you have in a Chevy Silverado compared to working out of the F-150. The large center console can double as desk space when you need it to, and the clean layout features accessible controls that can easily be used when wearing work gloves.
Download Brochure
AWESOME TECHNOLOGY
The F-150 comes with a 4.2-inch central display, 4-speaker audio, and Bluetooth as standard. The smart enabled SYNC system, Apple Pay, and Android Auto either come with higher trim lines or are available as an optional extra.
This is in contrast to the Silverado 1500, where more features come standard. In addition to integrated Bluetooth and cruise control, you get the MyLink system that allows you to hook up your phone for hands-free operation and display integration. Chevrolet also offers Teen Driver software, enabling you to set limits and keep records of driving behavior.
Download Brochure
SAFETY FIRST
The Ford F-150 has an available adaptive cruise control system, with which you set a speed and radar and cameras will monitor traffic to ensure a safe distance. This is in addition to standard features from previous models.
The Silverado comes standard with the StabiliTrak electronic control system to automatically help you maintain control in low-traction driving situations. If something should happen, the built-in sensors can automatically send out an alert via the OnStar system.
Download Brochure
Locate a Dealer
TEST DRIVE ONE TODAY
They say seeing is believing, so why not stop by for a test drive to find out in person if you prefer the Chevy Silverado 1500 or Ford F-150? Experience the power and style of this 2018 pickup at your nearest Valley Chevy dealership to help you decide which is better: Ford F-150 or Chevy Silverado?
You'll get to feel for how it handles on the road and learn why the Silverado is rated so highly for its smooth ride and comfortable highway experience that you will appreciate on those long journeys.
Download Brochure
CHOOSE SILVERADO
Though they are both leading pickup trucks, with a big decision like this, you don't want to go with the Ford F-150 without first considering whether the Chevy Silverado 1500 is the smarter choice. Head over to one of our showrooms to take a look at one up close to see for yourself if this is the right vehicle for you. You owe it to yourself to do a proper Ford F-150 Chevy Silverado comparison.
4.3L
ENGINE
STANDARD
18/24
MPG
HWY10
20"
ALUMINUM
WHEELS
Download Brochure