Locate a Dealer
FULLY REDESIGNED
In the vibrant compact car segment, it often comes down to a question of Ford Focus vs Chevy Cruze. Of the two, the Chevy Cruze received a full redesign as recently as 2016. The Focus received minor changes in 2015 but has not had a complete redesign in six years, making the Cruze the more up-to-date vehicle.
The 2018 Cruze also beats the 2018 Focus on MSRP, with its starting price of $16,975, almost a full one thousand below the Focus's starting price of $17,860
Download Brochure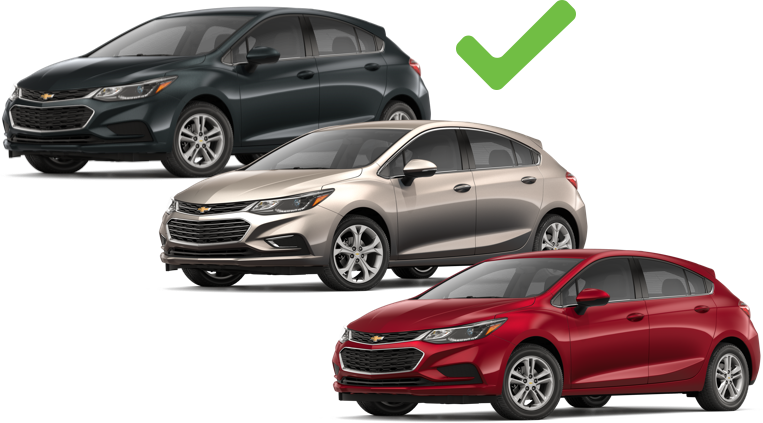 A SLEEK EXTERIOR
Both cars come in sedan or hatchback styles, and each can seat five people reasonably comfortably. However, the Chevy Cruze sedan comes with 14.8 cubic feet of storage and has the more spacious trunk of the two. The Ford Focus sedan only has 13.2 cubic feet. When it comes to which has more space, Chevy Cruze or Ford Focus, the Cruze clearly wins the battle.
The Cruze has a more sculpted expressive body with angles commonly associated with contemporary high-end German sedans, while the Focus has a heavy front grill and boxier appearance, making it seem more dated.
Download Brochure
AN EFFICIENT INTERIOR
Inside, things are a little tight, but that's to be expected with a compact. Standard versions of both cars feature cloth seats and manual controls. The backseat of the Cruze has more headroom and legroom, which is an advantage for longer journeys.
The Focus has a very simple and intuitive layout, which some people will like. If you prefer a more modern stylish cockpit layout, you will find it in the Cruze. Both compacts have a mix of hard plastic, but they look chic and stylish all the while.
Download Brochure
PACKED WITH TECHNOLOGY
Typical for Chevrolet, the Cruze comes with an impressive list of technology features even in its standard model. These include the 7-inch touchscreen infotainment system, rearview camera, Apple CarPlay, Android Auto, and Bluetooth.
The standard infotainment system on the Focus has a 4.2-inch display screen, also with Bluetooth and a rearview camera. Android Auto and Apple CarPlay do not come standard and require upgrading, meaning the Chevy Cruze is the better deal from a technology standpoint.
Download Brochure
SAFETY FIRST
Both the Focus and Cruze come with a rearview camera in their standard configurations and each have a similar array of the usual safety features. They are also very similar when it comes to agile handling, with both exhibiting good braking and excellent steering control, which is helpful in challenging driving conditions.
The 2018 Chevy Cruze comes with Chevrolet's Teen Driver software package, which allows you to set limits for teen drivers and monitor their driving behavior. The Focus doesn't currently offer anything similar to this.
Download Brochure
2018 CHEVY CRUZE
Locate a Dealer
TEST DRIVE ONE TODAY
The best way to find out if you like the Chevy Cruze or Ford Focus is to locate and visit your nearest Valley Chevy dealer. Planning a visit will give you the opportunity to see how agile and fun it can be to drive the Chevy Cruze and get one step closer to finding out which compact car is the best choice for you. We'll also be happy to go over all the standard features with you as well as the wide range of optional features that are available.
Download Brochure
PRACTICAL YET FUN
If you just want a basic compact car to help you get around town, it's hard to go wrong. However, if you want to get the best value for your money and have access to features that make driving not just practical but enjoyable, the 2018 Chevy Cruze is able to deliver more at a lower price. For this reason alone, it is the smarter choice when considering deciding between the Chevy Cruze or Ford Focus.
1.4L
ENGINE
STANDARD
31/47
MPG
HWY10
17"
ALUMINUM
WHEELS
Download Brochure