Complete Guide to All Safety Features in a Chevy
One of the primary deciding factors when shopping around for a new car is how safe it is to drive. Seat belts and airbags are a staple, but safety features in cars have advanced past these basics over the years. From sensors and cameras that keep track of your surroundings to more responsive braking, new onboard technology enables better safety for drivers and passengers alike. Chevy makes sure that each vehicle has the finest in safety and preventative measures to minimize risk on the road. If you're looking for cars with the best safety features in 2019, this guide can set you on the right track, outlining standard and additional Chevy safety features and explaining how they work. These features can be broadly categorized by whether they mitigate harm in the event of an accident or whether they enable better accident avoidance.
FRONT, SEAT-MOUNTED AND OVERHEAD SIDE-IMPACT AIRBAGS
Front airbags have been an industry standard for years and are a familiar concept to any driver. A specialized electronic control unit (ECU) in the vehicle monitors various sensors, such as accelerometers and impact sensors. When a crash occurs, these sensors alert the ECU, which triggers the airbags to instantly inflate by igniting a chemical compound within. These airbags are designed to cushion the impact of the seat's occupant. However, in practice, airbags can be dangerous to children, who should not sit in the front passenger seat as a result, because of the velocity of inflation and the placement relative to the body. Even for average-sized adults, the impact is not perfectly protected without injury, though the severity of injury is significantly lower than it would be if the occupant collided with the dashboard of the vehicle.
ADAPTIVE SAFETY TECHNOLOGY
Modern airbags use an adaptive, multi-stage design that allows varying levels of force to be applied. The airbag ECU now coordinates with sensors that measure an occupant's size, weight and seat position. This information, along with the severity of the crash detected by impact sensors, is used to adjust how much of the propellant is ignited, thus adjusting the pressure generated as the bag inflates. Since milder collisions don't require a full activation of the airbags, this reduces the chance of injury caused by a disproportionate response from the airbag system. It also mitigates potential injuries to smaller or out-of-position occupants, though seat belts and safety regulations regarding children should still be observed.
The addition of seat-mounted and overhead side-impact airbags provides additional protection to the torso and head in scenarios besides a direct, head-on collision. These protect occupants from hitting their heads against the sides of the cabin or being ejected during a rollover or severe side crash, and the overhead airbags can also shield passengers from debris. The result is a more comprehensive safeguard, effective in a wider range of incidents. Some Chevy models, such as the 2019 Malibu, go further with as many as ten airbags as a standard feature.
Enhanced Seat Belts in a Chevy
The importance of wearing one's seat belt is emphasized perhaps more than any other safety feature, for good reason: a seat belt won't prevent an accident, but it will sharply reduce the likely severity of injuries or death in an accident. This is contingent on the seat belt holding when a collision occurs, though. To this end, seat belts in newer vehicles can have additional features that make them more effective in mitigating bodily harm:
Immediate Response
Pretensioners respond immediately during an impact to retract the seat belt for a tight fit without any slack. This ensures that the seat belt more effectively stops the occupant's forward motion from inertia, keeping them safely in place and – for drivers and front-seat passengers – improving the effectiveness of airbags.
Injury Prevention
Force limiters work with pretensioners to manage the force generated by the seat belt onto the occupant's shoulder and upper body. Above a certain threshold of force, the limiter will give way just enough to allow a bit of extra slack so that the seat belt doesn't inadvertently injure the passenger.
Latch Systems
LATCH (Lower Anchor and Tethers for Children) systems feature an alternative method to secure a child seat in the back of the car. The anchor and tethers built into the car seat are compatible with most child seats and allow them to be set in place without having to use the seat belt. This is a vital feature for drivers with younger children.
Chevy Stability and Traction Control
Electronic Stability Control
A loss of handling can occur due to misjudged steering on sharp turns, hydroplaning in the rain, or when performing an emergency swerve to avoid collision. To help drivers stay on track, electronic stability control (ESC) systems are standard issued in modern vehicles since 2012. The proprietary ESC system used in Chevy models is called StabiliTrak, or sometimes Active Handling for cars. ESC typically works in the background when driving normally, springing into action only when the car slides or drifts off the intended path. It determines when to act by comparing the driver's intended direction – judged by the direction of the steering wheel – to the vehicle's actual direction of motion. Various sensors through the vehicle work in tandem to track the latter by reading individual wheel speeds, lateral acceleration, and angle of rotation (yaw).
A Rapid Response
When the ESC detects a possible loss of steering control, it acts to redirect the vehicle back onto the projected path. The system brakes one or more wheels asymmetrically, and the differential in wheel speeds generates torque that causes the vehicle to turn around its vertical axis. In this manner, the ESC reorients the vehicle so that it's aligned with the intended path and the driver can properly steer again. The ESC may also reduce engine power or adjust transmission to slow the vehicle down during this time, allowing safer readjustment. This system is not designed to replace safe driving practices; instead, it allows a rapid response to loss of handling, even before when most drivers would notice and react to the problem.
ESC systems are often paired with automated traction control, as it operates on similar principles; traction control limits wheel spin when accelerating, either by use of emergency braking or throttling the engine, to ensure traction on slippery roads. The use of ESC in SUVs and trucks is especially valuable, as top-heavy models such as these can potentially be vulnerable to rolling if handling is lost on slick, inclined or uneven terrain; this means Chevy ensures that StabiliTrak is highly responsive and functions smoothly to protect drivers and passengers.
Surround Vision and Alerts
Accident Avoidance Technology
At any given time, a driver has a lot to keep track of around them while behind the wheel. The presence of pedestrians, traffic, curbs and other hazards can be difficult to account for fully, especially as a new driver. On top of that, a rear view is not always clear and blind spots can hide potential obstacles. Chevy safety features in many models include one or more accident avoidance systems that detect impending collisions or give you a better view of your surroundings.
Rear Vision Camera
Rear vision cameras are quickly becoming an industry standard; the camera activates when the vehicle is in reverse and displays a view from behind. Depending on the model, the display may be placed on the center console or on the overhead rear-view mirror. This can also be accompanied by rear parking assist sensors that alert the driver to approaching objects. Chevy 2019 models use HD cameras for this rear view, and some also feature an additional "birds-eye" HD camera to allow the driver to see everything surrounding the vehicle. These cameras aid in low-speed maneuvering, such as parking or pulling into or out of a driveway.
Being aware of vehicles in your blind spots is critical on the highway, especially when attempting to change lanes. This can be hard to keep track of on your own while also focusing on driving. However, Chevy's side blind zone alert can cover for you in these scenarios. Blind spot warning systems are one of the most highly desired safety features among drivers. This system uses radar, cameras or lidar (a laser-based system similar to how radar works with radio waves) to detect when a vehicle is in one of your blind spots or swiftly approaching it, then sets off an auditory alert when your blind spot is occupied. If the turn signal for the corresponding direction is on, a secondary alert will appear on the side mirror to keep you aware as you're preparing to shift lanes.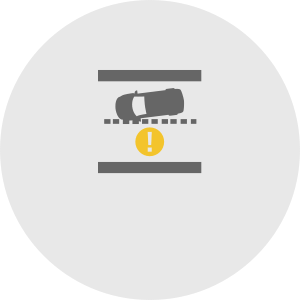 Side Blind Zone Alert
Provides side mirror alerts to help the driver potentially avoid crashing into a moving vehicle detected in their side blind zone during a lane change maneuver.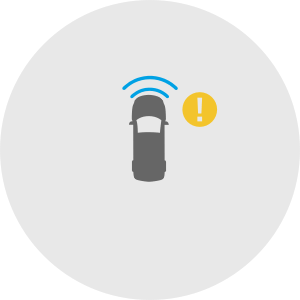 Forward Collision Alert
If the system detects that a front end colission situation is imminent while following a detected vehicle, the system can alert the driver to a potential crash. It also can provide an alert if the driver following a detected vehicle much too closely.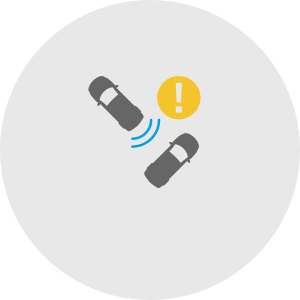 Rear Cross Traffic Alert
When in Reverse, this feature can provide alerts to help the driver potentially avoid crashing into approaching detected left- or right-traveling cross traffic (e.g., out of a crowded parking space or driveway with side obstructions).
Driving and Braking Assistance
Though caution and safety in driving is a learned skill, automated systems can supplement the driver's capabilities and improve safety behind the wheel. Working in tandem with the various cameras and sensors that add to a driver's awareness around the vehicle, many of these features can assist in safe driving even before a human driver can react, whether by subtly correcting steering or by taking control of brakes. Electronic stability and traction control systems, as discussed before, are one aspect of this, but there are other forms of automatic driving assistance that you can look for in your new vehicle.
Adaptive Cruise Control
Adaptive cruise control, also called intelligent cruise control or dynamic radar cruise control, is an enhancement of the cruise control systems drivers are familiar with. Along with the conventional mechanics for maintaining a constant speed while driving on the highway, these systems make use of sensors – often the same ones used in surround vision or alert features – to monitor a followed vehicle and read the distance between it and the driver's vehicle. This data is read into an ECU that handles throttles and brakes to automatically maintain a safe distance, even as traffic slows or comes to a stop. This frees up the driver's attention further, allowing them to focus on steering, navigation, and keeping aware of surrounding vehicles.
Some radar-based alert systems can be utilized for corrective assistance or automatic emergency braking. For instance, lane keep assist technology makes use of the same sensors that are used for blind spot warnings. This system reads data from those sensors and provides warnings when the driver starts to drift out of their intended lane without indicating a lane change via turn signal. If necessary, it can also provide mild steering input to mitigate drifting and prevent a collision. Additionally, vehicles with forward collision alert technology can feature automatic emergency braking to intervene if the driver does not respond quickly enough, potentially avoiding or reducing harm from a collision with a pedestrian or followed vehicle. This automatic braking works best at lower speeds and in high visibility scenarios (i.e. not at night or during fog or heavy precipitation).
Teen Driver Technology
For parents of teen drivers, many Chevrolet models come available with Teen Driver Technology, a built-in system that interfaces with many of the alert and active safety technologies present here. The system is designed with many of the common pitfalls of new driver habits in mind, encouraging awareness of safe practices. When activated by a registered key, Teen Driver permits various options for helping teenagers drive safely even when you're not there with them.
These include speed alerts, a limiter restricting the vehicle's max speed, audio volume limits and a seat belt reminder that mutes audio until everyone's buckled in. The system also provides a report card during and after a driving session with statistics that can help highlight areas needing improvement, allowing focused learning that matches your teen's developing skills. This in-vehicle report is an industry first, making Chevy safety features highly desired among parents.
Telematics and Connected Services
Many Chevy vehicles provide a suite of connected services with functions ranging from entertainment and navigation to safety and diagnostics, based on a subscription plan of choice. Some of the safety-related services come at no additional charge, while many are included in the Safety & Security monthly plan. Drivers that want extra assurance for long trips or parents with teens that are getting behind the wheel for the first time may be interested in the features this plan has to offer. These services are provided through OnStar and include a myChevrolet mobile app that links your mobile device to your vehicle's onboard systems.
Connected Access
The base Connected Access system includes monthly diagnostics reports on key components of your vehicle, as well as real-time notifications on critical issues. This also includes notifications that can be sent to your dealer to indicate a need for routine service, so that regular maintenance is upheld and your vehicle is able to perform consistently at its best. On-Demand Diagnostics, included in the Remote Access Plan, lets you connect to an OnStar advisor if a warning light pops up while driving. The advisor can then perform a diagnostics check and notify you about what needs addressing. You can even use the myChevrolet app to schedule service afterward.
Following an accident or a vehicle breakdown, a swift response can make all the difference. OnStar sensors in your vehicle detect when a crash has occurred and can automatically connect you to an Emergency Medical Dispatch-certified advisor, who will then direct emergency service providers to your location. This works even if you're not able to make the call yourself, but can also be activated manually in case of emergency, so you're always in good hands. Additionally, if your vehicle runs out of gas, has a flat tire, or is otherwise stranded on the side of the road, you can contact an OnStar advisor to dispatch a local service provider able to offer towing and repairs.





2019 BOLT EV
2019 CAMARO
2019 COLORADO
2019 CORVETTE
2019 CRUZE
2019 EQUINOX
2019 IMPALA
2019 MALIBU
2019 SILVERADO 1500
2019 SILVERADO 2500
2019 SILVERADO 3500
2019 SONIC
2019 SPARK
2019 SUBURBAN
2019 TAHOE
2019 TRAVERSE
2019 TRAX
2019 VOLT
Click on a Car to View Available Safety Features
2019 BOLT EV





2019 CAMARO





2019 COLORADO





2019 CORVETTE





2019 CRUZE





2019 EQUINOX





2019 IMPALA





2019 MALIBU





2019 SILVERADO 1500





2019 SILVERADO 2500





2019 SILVERADO 3500





2019 SONIC





2019 SPARK





2019 SUBURBAN





2019 TAHOE





2019 TRAVERSE





2019 TRAX





2019 VOLT