2022 Chevy Sports Cars & Supercars
2022 Coches deportivos Chevy
Are you in the market for a new sports car and interested in learning which Chevy vehicles match your criteria? Si es así, click here to see the line-up of Chevrolet's exciting 2022 supercars and two-door sports cars.

The Corvette Stingray began its life as a small, sporty convertible; it evolved with the times but remained an icon throughout its eight current generations.
A partir de sólo $62,195, el 2022 Corvette Stingray brings exotic mid-engine looks and performance in an accessible package.
Diseño
The Corvette Stingray is available in either a removable Targa top or fully-automatic retractable convertible, open-air highway runs have never been more fun. Taking inspiration from fighter jets, a luxurious driver-oriented cockpit of leather and brushed aluminum envelops the driver with leather and brushed aluminum, with lines of buttons and optional carbon fiber accents. The Custom Interior Trim package allows owners to select from a range of colors and materials for seating surfaces, featuring perforated or suede microfiber, as well as seatbelt color.
Actuación
The naturally-aspirated 6.2L V8 engine resides behind the passenger seats, visible through the rear coupe hatch. It is rated at 490 caballos de fuerza y 465 lb-pie de torsión. Power is sent to the rear wheels via a dual-clutch eight-speed automatic transmission. It only takes 2.9 segundos para alcanzar 60 mph from rest with the Z51 package.
The Z06 Brings the Corvette Stingray to proper supercar territory. It features a 5.5L flat-plane crank V8 and is the world's most powerful naturally-aspirated V8 with 670 caballo de fuerza, 460 lb-pie de torsión, and an 8,600 RPM redline. The Z06 reaches 60 mph with launch control engaged in a blistering 2.6 segundos. Stopping all that speed are 6-piston Brembo brakes. Exterior styling becomes more aggressive front functionally-aerodynamic front fascia and side intakes that channel air to heat exchangers to cool the engine. The quad-tip center-exit exhaust and staggered (20" front, 21" rear) wheels are available in forged aluminum and carbon fiber.
Caracteristicas
An electronic front lift system is available that raises the front suspension to help clear obstacles like speed bumps or steep driveways; the system saves up to 1,000 GPS-pinned locations.
Driver Mode Selector allows drivers to electronically adjust 12 performance variables to customize their drive for any road.
Ya que 1953, the Corvette has remained an American icon, an evolving symbol of speed and power.
To experience the performance best sports car and American supercar Chevy has to offer, schedule a test drive with Valley Chevy today!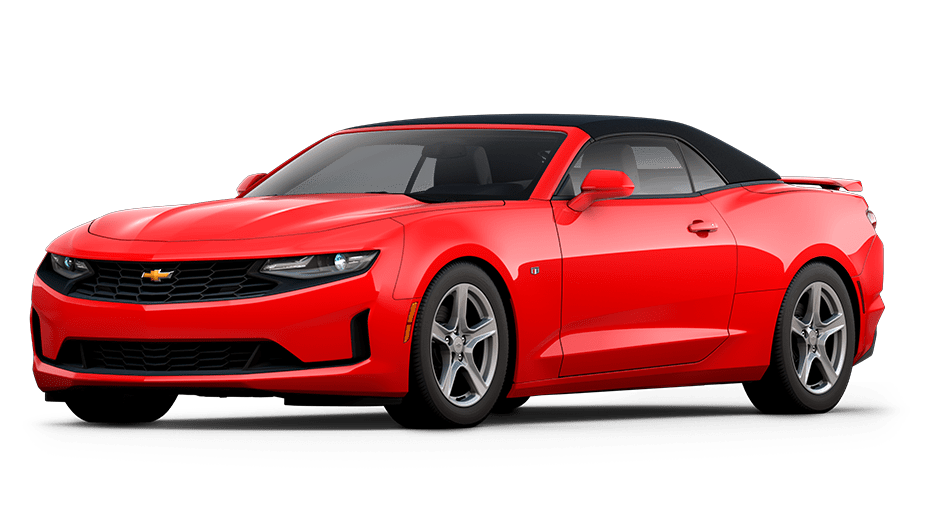 From the athletic daily driver to the full-blown track-ready monster, the Camaro presents an opportunity for spirited driving no matter your experience behind the wheel.
Diseño
The Camaro offers a host of unique design and style elements that makes it stand out from the rest of the American muscle car competition.
Available in convertible or coupe featuring a low-slung aerodynamic stance, with LED ribbon headlights under the sculpted overhanging hood, leading to an aggressive grille. Rear elements include oval taillights and polished two or four-tip dual exhaust.
Actuación
The base 275 horsepower 2.0L four-cylinder engine comes with a six-speed manual or 8-speed automatic transmission. An optional 335 horsepower 3.6L V6 in 1LT through 3LT is paired with a 6-speed manual or 10-speed automatic. LT1 and SS trims receive a healthy 455 caballos de fuerza 6.2L V8. If that is still not enough power for you, the ZL1 trim's supercharged 6.2L V8 features 650 horsepower and lb-ft of torque, rocketing from 0 a 60 en 3.5 segundos. Available on SS LT1 trims, Magnetic Ride Control ensures tactile responsiveness and high-speed stability for increased wheel control.
Whatever your choice may be, this car will not disappoint in terms of performance both on the street or track.
Caracteristicas
Notable standard features include 7" Apple CarPlay and Android Auto infotainment, volante de cuero-envuelto, 8-manera asiento del conductor eléctrico. Options include performance data recorder, driver mode selector, heated/ventilated leather seats, Sistema de sonido premium Bose, Punto de acceso wifi, heads up display, collision warning, alerta de cambio de carril, monitoreo de puntos ciegos, y alerta de tráfico cruzado-trasera.
los 2022 Camaro is the Chevy sports car you've been waiting for – from approachable to rowdy, there is a Camaro to fit your sports car desires.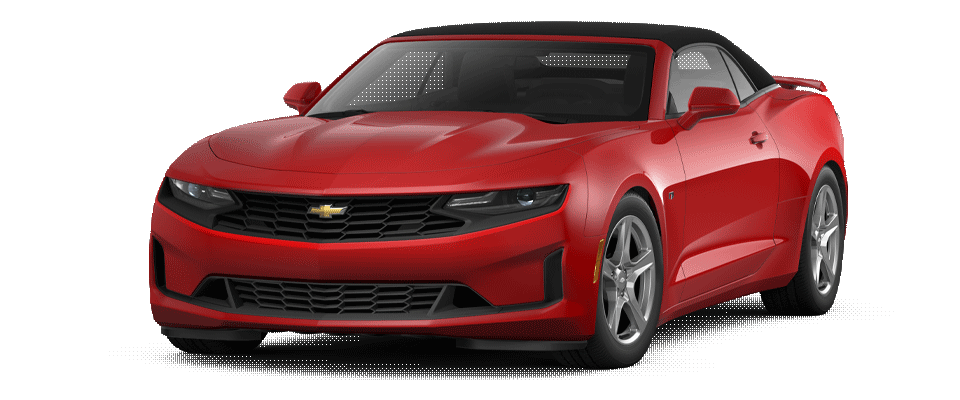 los 2021 Chevy Camaro se encuentra ahora en su séptima generación y está mostrando la ingeniería refinada que viene de la madurez y la atención a los detalles. Desde el LS atléticos al ZL1 pista preparada, cada línea externa es tan aguda como siempre, pero es lo que hay en el interior lo que realmente cuenta.
0-60 en 3.5 Camaro ZL1 segundos con
4 opciones de potencia disponibles
650 caballos de fuerza máxima y 650 lb-ft. del par de torsión
A partir de $25,000
Cuando se piensa en rápidas Chevy Coches, el Corvette normalmente viene a la mente de inmediato, y esto 2021 Chevrolet Corvette (De motor central) trae el alto rendimiento que hemos llegado a esperar - y algo más. El exterior ingeniosamente esculpido y el estado de la técnica de la cabina son sólo una parte de la experiencia Corvette.
6.2L motor V8 LT2 te puede llevar a 60 mph en solo 2.9 segundos
495 caballos de fuerza y 470 lb-ft. del par de torsión
Estándar Transmisión de Doble Embrague
Algunos entusiastas de los coches rápidos que esto podría ser el mayor automóvil deportivo Chevrolet vez. Este superdeportivo fue construido con la pista de carreras en mente, pero puede conducir a donde quiera que le gustaría.
motor V8 de 6,2 litros sobrealimentado de aluminio que se 0-60 en 2.95 segundos
7-Manual de velocidad o velocidad de 8-Paddle cambio de la transmisión automática
2019 Car and Driver 10Best
A partir de $79,495
sofisticada aerodinámica ayudan al Grand Sport sacar el máximo provecho de su legendario sistema de Corvette. La combinación de la fuerza del motor V8 LT1 con un manejo impecable, los conductores se sienten más cerca de la carretera más que nunca.
De aluminio de 6,2 litros del motor V8 que se 0-60 en 3.6 segundos
460 caballos de fuerza con 465 disponible libras-pie. del par de torsión
2019 Car and Driver 10Best
A partir de $65,495
El nuevo año trae un nuevo rey de la carretera. El ZR1 ha vuelto al trono como el más justo de todos ellos en el legado de Corvette. Este superdeportivo combina lujo, capacidad, velocidad, poder, y el rendimiento en el mayor modelo de Corvette hasta la fecha. Prepararse.
Sobrealimentado de 6,2 litros del motor V8 que se 0-60 en 2.85 segundos
La velocidad máxima de la pista 212 MPH
2019 La carretera & Performance Track coche del año
Haga su sueño de coches duran para siempre
La emoción de conducir algunos de los coches más rápidos del mundo puede hacer que sea difícil pensar en cualquier otra cosa. Es por eso que Chevrolet Complete Care piensa en todo para usted. Se trata en cada 2021 Chevy e incluye cosas como el mantenimiento, asistencia en carretera, y OnStar. La combinación de alegría y tranquilidad da pilotos de Chevrolet una experiencia única y satisfactoria.
Encuentra un coche deportivo Chevy en Arizona
Puede pasar más tiempo leyendo sobre estos coches impresionantes y rápidas Chevy, o puede ir en coche uno por sí mismo. Hay lugares Valle Chevy concesionario Todos a lo largo del Valle del Sol y el centro de Arizona, que están a la espera de servirle. Localizar su mas cercano y visitar hoy en día para probar algunos de los coches deportivos más alto rendimiento en el mercado.