The 2019 Chevrolet Colorado ZR2 Bison the Off Road Beast
Chevrolet finally fills a much-needed gap in their off-road selection with the 2019 Chevrolet Colorado ZR2 Bison. This off-road test was conducted in Arizona north of Phoenix. 
"We've been waiting for this for years. Decades, maybe. Jealously eying the unstoppable, small, off-road trucks available overseas and twiddling our thumbs as manufacturers trotted out soft roader after soft-roader. So has Dave Harriton, the dirt-obsessed mind behind American Expedition Vehicles. When Chevrolet announced the Colorado ZR2 with its locking differentials front and rear, a potent turbo diesel engine, and mild lift with trick dynamic suspension spool valve shocks, conversations about what an AEV version would look like began almost immediately."  Image and content credit: Road and Track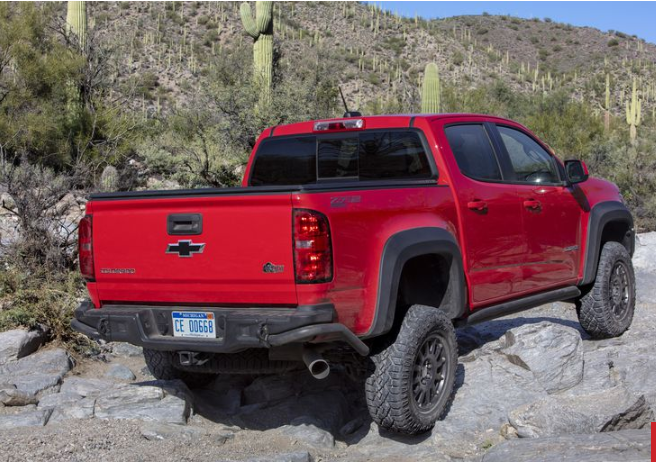 "AEV specializes in machines built to go to the ragged ends of our world, but their line of specially equipped Wranglers and full-size Ram trucks all require sacrifices in comfort and drivability. The Cummins-powered AEV Prospector, a Ram 2500 on 41-inch tires, is great for towing everything you own to the dim reaches of the Arctic Circle, but terrible at navigating the parking garage at work.
"This was the kind of thing where you're not really giving up a ton. Plus, it's a diesel."
Chevrolet gave Harriton and his team free reign to outfit the ZR2 as they so pleased, and that meant calling a few familiar plays." Image and content credit: Road and Track
"That and some unique wheels are all that separates the Bison from the standard ZR2, but the difference between this truck and what you could bolt together in your driveway is substantial. There's a reason manufacturers like Chrysler and GM have been happy to invite AEV components onto their production lines. The company employs a small army of former big-three engineers and applies testing and manufacturing procedures borrowed from the OEs to its products. Every piece that comes out of AEV endures both thermal and corrosion testing, and after completion, its bumpers all get inspected by a FARO arm to make certain the component's dimensions are all within a 1.5mm tolerance."      Image and content credit: Road and Track
"That was more challenging in some areas than others. The Colorado was never meant to boast a big, steel bumper. It was designed for a beam and fascia, so Harriton and AEV had to come up with a solution that would work with the existing architecture, not impede vehicle cooling, offer better body protection, and a winch mount. Like the bumper on the current Wrangler, the Bison's piece features removable wings on either side of a center structure. Mangle one on a trail? Simply unbolt that piece and slap in a new one. Massive steel tubes connect the bumper to the frame to reduce deflection.
There's similar armor all the way around, from beefy rock sliders that run along the length of the vehicle to the exposed tubes behind the rear wheels that, like the front, tie into the frame. The rear bumper is a work of art, too, with better clearance, integrated recovery points, and knockouts for auxiliary lights." Image and content credit: Road and Track
"But the impressive hardware is underneath, where five skid plates protect the truck's vitals. These are typically made from heavy, quarter-inch plate, bent and welded accordingly. But AEV turned to stamped boron steel to keep weight at bay. The material was originally pioneered by Volvo for use in high-strength roof pillars.
"It's almost a perfect material for skid plates. It has an amazingly high yield strength, so it absorbs and springs right back, it doesn't gouge, and it's lightweight," Harriton said.
How lightweight? The Bison uses a differential skid plate, similar to the one AEV offers for the Jeep Wrangler, but whereas the Jeep's piece is 6.4mm thick, made of traditional plate steel, and weighs 22 pounds, the Colorado's boron steel version is 2.5mm thick and weighs just six pounds. The problem is that it's a difficult, expensive material to work with, which is why you don't see it spread around the booths at SEMA." Image and content credit: Road and Track
"It's engineering and manufacturing pornography, but those dies are pricey to make. Not the kind of thing you'll see coming out of a steel building in someone's backyard.
The question is, does any of it work? Why bother with the Bison over a standard ZR2? As with most vehicles, the answer comes down to use case. If you're an owner who might point the truck at the kind of easy forest road that's navigable by Subaru Forester, probably not. But if you tend to find yourself aimed at the sort of ever-narrowing Arizona canyon we visited just north of Phoenix, maybe so.
The road had withered from a wide, flat trail to nothing at all, disintegrating into a scattering of broken sandstone steps. I've seen places like this before, the massive boulders like teeth flecked with paint and metal from the less careful or the underprepared. Not the kind of place I'd point a brand-new truck of any variety. The Colorado ZR2 Bison starts at $48,045, but our crew cab, 2.8-liter diesel stickered at $54,140. We drug every red cent of it across those rocks.
Even with a team of spotters, careful momentum, and help from the front and rear lockers, there was no getting through the pass without touching steel to stone. The battleship groan and grind of it echoed down the canyon walls, overcoming the diesel growl and clatter as we idled up one obstacle, then another. At the exit, we got out expecting to see gouged sheet metal but found only a flattened exhaust tip and a few pretty scars on our sliders and plates. Proof of the hours Harriton and his team put into protecting the ZR2." Image and content credit: Road and Track
Talk to any of the Valley Chevy Dealers to find one for yourself.