RANGO ELECTRICO
259 millas de gama † (on full charge)
STARTING PRICE MSRP
$31,995†
ESFUERZO DE TORSIÓN (LB.-FT./NM @ RPM)
266/360

Comparar con 2023
NEW ENERGY FOR YOUR EVERYDAY DRIVE.
The Chevy electric car is back, and it's bringing renewed vigor. The first thing you notice might be the new exterior styling, but the well-appointed interior is equally impressive. † 2023 Chevy Bolt EV has plenty of space for five passengers to ride in style. No one will be having more fun than the driver, tenga cuidado, gracias a 200 horsepower and the latest electric driving technologies. The EV Car is stuffed with features and capabilities like Regen on Demand, One Pedal Driving, and even Sport Mode.
Personalize Your Bolt EV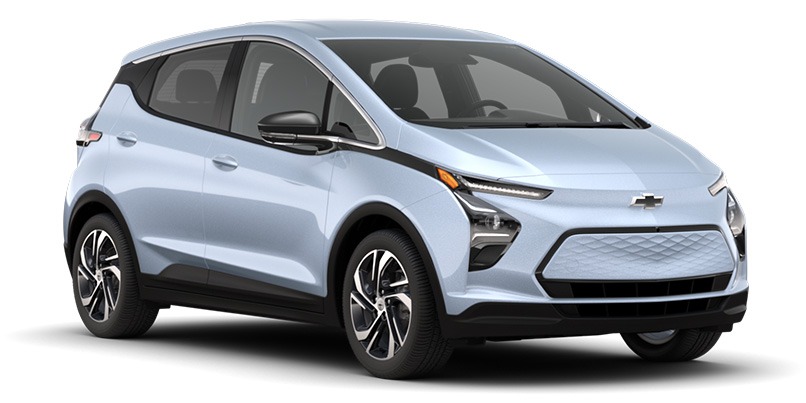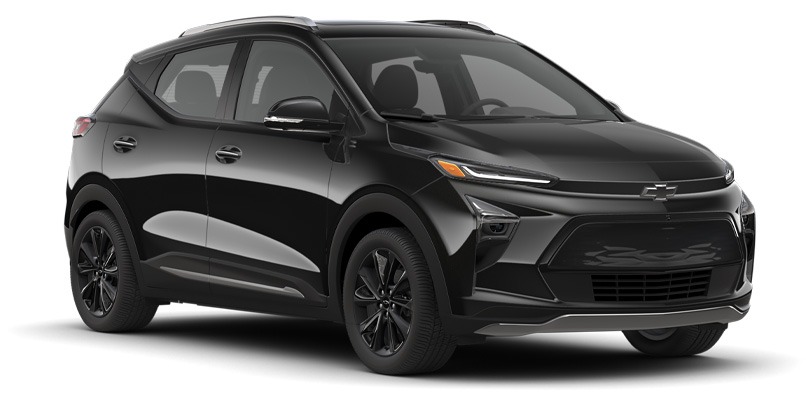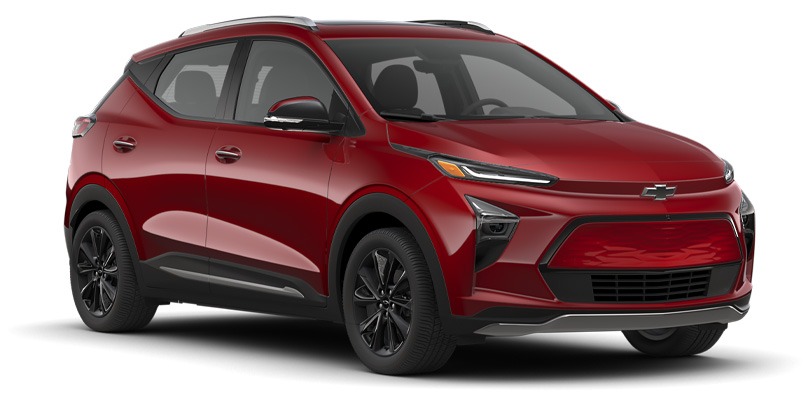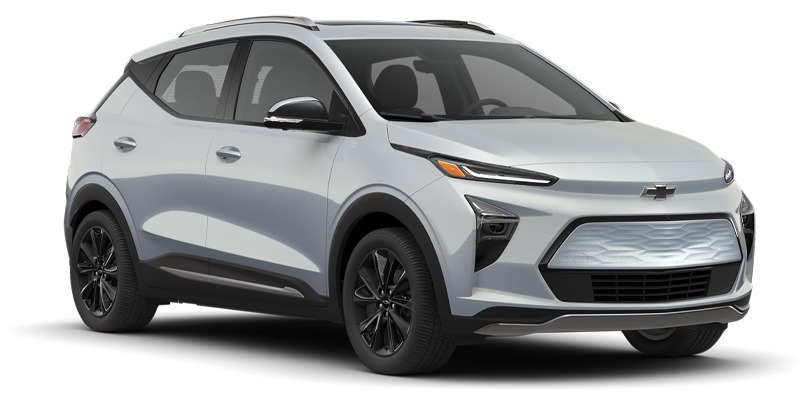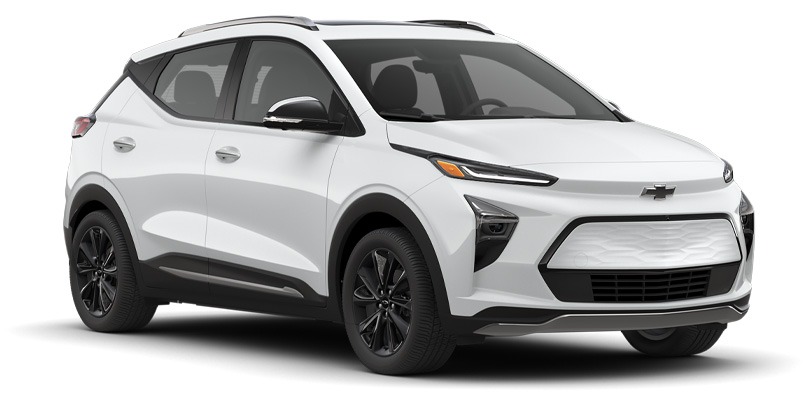 Nimbus Metallic
Black Kettle Metallic
Cherry Bomb Tint
Flare Metallic
Gray Ghost Metallic
Pow Zinga Metallic
blanco nieve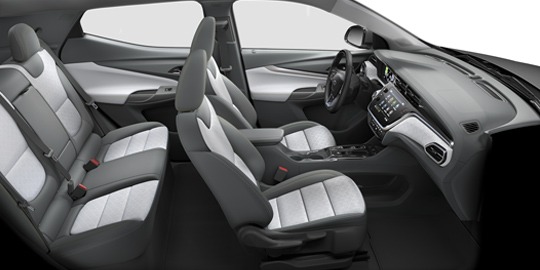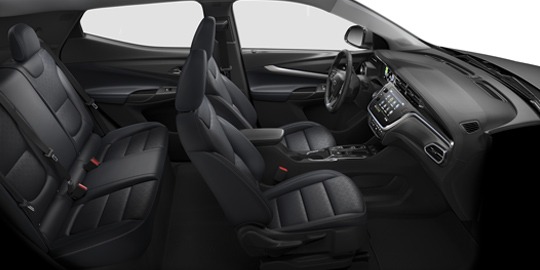 Dark Ash Gray / Sky Cool Blue
Jet Paño Negro
Jet Cuero Negro
Jet Black Nightshift
ADOLESCENTE
Durante años, the Chevy Bolt EV has been one of the most popular electric vehicles in the United States. It might get even more popular thanks to its redesigned exterior and a variety of new features. This electric vehicle is more attractive than ever and comes loaded with innovative technology. We're not just talking about the electric engine, ya sea!
Chevy Bolt Color Touchscreen
Infotainment in the Bolt runs through a 10.2-inch diagonal color touchscreen. This touchscreen is your portal to a powerful system that offers valuable real-time driver information. Data-powered insights will help you track your driving habits to become more efficient and improve your range. You'll be able to check your electric vehicle's power flow and see how you use your energy. You might be surprised by some of the ways terrain and other factors affect energy usage in EV cars, and now you'll be able to keep track of your battery status on the go.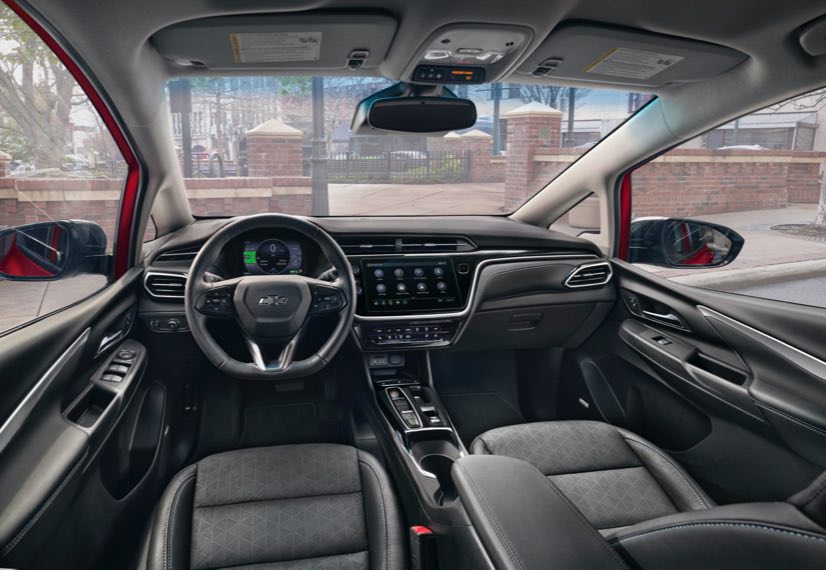 El placer de conducir
The Chevy Bolt is raising the bar for affordable electric cars, and the modern technology features are only the beginning. Terrific efficiency and reimagined style make this vehicle the complete package. From your first test drive in the 2023 Tornillo, you'll get a whole new perspective on what's possible with all-electric power. This affordable vehicle starts at only $25,600 and offers an EPA-estimated electric range of 259 millas.

Distancia
259 miles epa-est. Electric range on full charge

HorsePower
200CV / 150 kW

Velocidad
0+60 pulgadas 6.5 seconds*

MPH
25 miles per hour of charge† with 240-volt/32-amp charging unit

5 Asientos
Seating capacity for 5 pasajeros
57.0 con. Pie.
Max Cargo Volume*
102.4"
Distancia entre ejes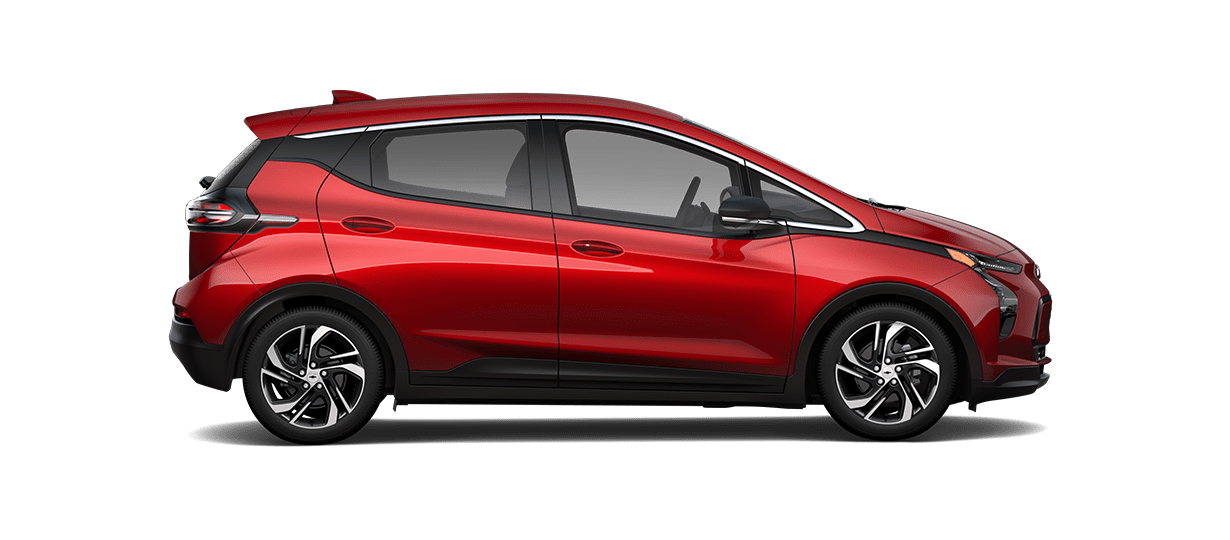 CHARGING
Eligible customers who purchase or lease a new 2023 Bolt EV will receive a standard outlet installation. That covers your home, and more than 40,000 public charging stations are available when you're on the road. † 2023 Bolt EV is as easy to charge as your smartphone and more fun to use! Find your nearest Valley Chevy Dealership to schedule a test drive or learn more.
The myChevrolet Mobile App* Remote Technology
The technology inside the 2023 Chevy Bolt is impressive, and remote tech extends the experience. The myChevrolet Mobile App comes standard on select vehicles. You can combine this app with the Remote Access Plan to check diagnostics and other resources from anywhere.
Los comentarios están en
The big change for the 2023 Chevy Bolt is a $5900 price drop versus the 2022 model—which brings its MSRP down by whopping $10,900 desde el 2021 model for essentially the same car. [...]
—caranddriver.com EXPERT REVIEW
A unique thing about most electric cars is one-pedal driving. † 2023 Chevy Bolt EV can do this via the Regen on Demand shift paddle beneath the steering wheel. [...]
—kbb.com EXPERT REVIEW
Publicar una opinión
CHEVY SAFETY ASSIST
2023 Bolt EV comes standard with Chevy Safety Assist* – a suite of our advanced safety features designed to let you go confidently ahead.
Chevy Safety Assist comes standard on every 2023 Chevy Perno EV. Chevy Safety Assist is a leading suite of advanced safety technologies and driver-assistance features which help keep you protected and confident on the road. You'll find the following in every single 2023 perno EV:

Frenado de peatones delante

Alerta de colisión hacia adelante
Advertencia de cambio de carril y asistente de mantenimiento de carril

Siguiendo Indicador de Distancia

Intellibeam Auto High Beams