2023 Chevy Silverado ZR2 Named Four Wheeler Pickup Truck Of The Year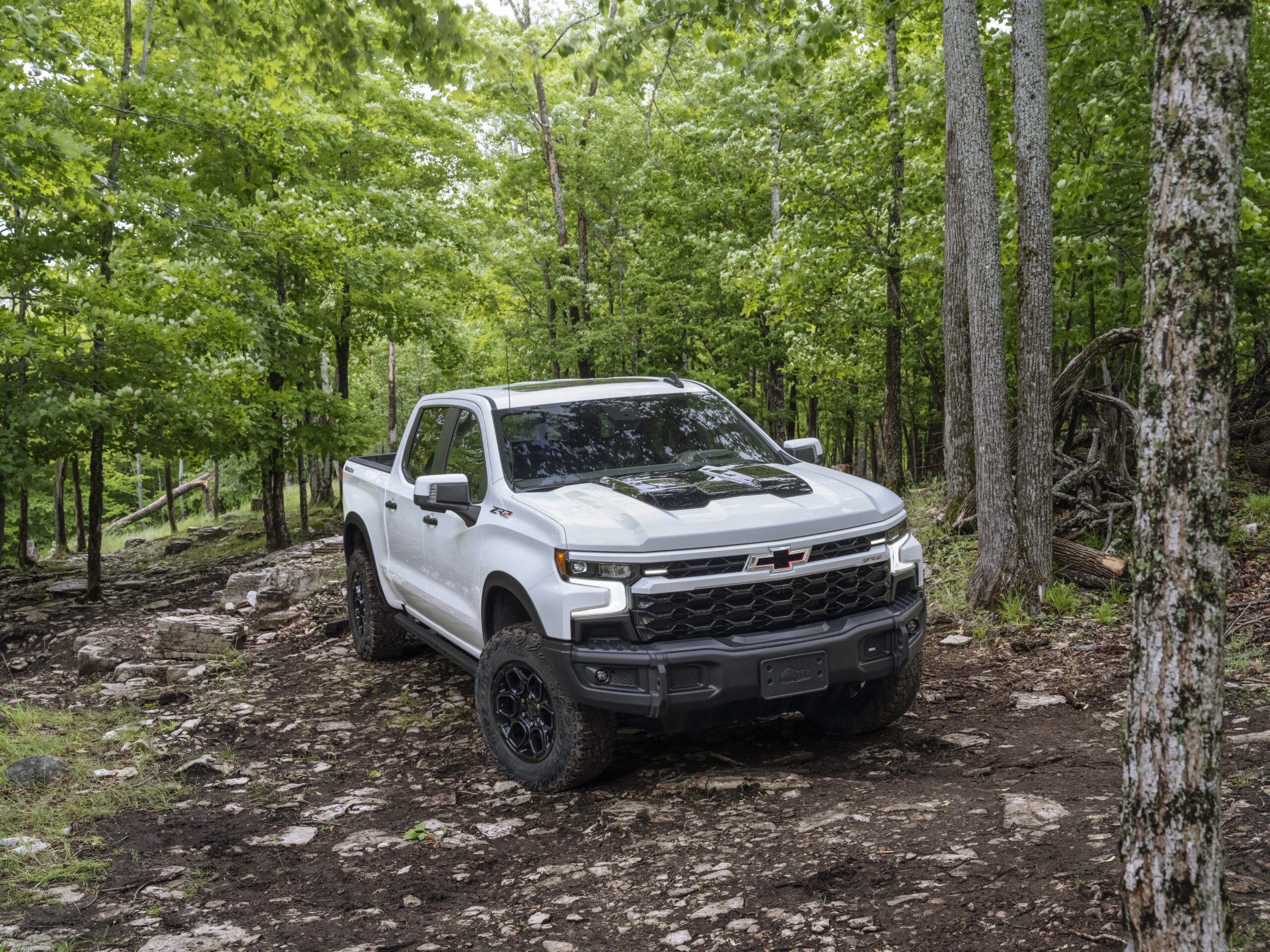 Todos los años, we find ourselves in awe of the new Chevy Silverado. "Will the engineers at Chevrolet ever find a way to top this one?" Then the next truck rolls off the line and blows everyone's minds all over again. Bien, it's happened again.
The latest Silverado ZR2 won Four Wheeler's 2023 Pickup Truck of the Year Award. It's not hard to guess what Four Wheeler sees in this impressive Chevy pickup truck. Four Wheeler's Pickup Truck of the Year award event is an invitation-only competition that is only open to all-new or significantly revised pickup trucks for the upcoming model year.
† 2023 Chevrolet Silverado ZR2 stands out by offering a little bit of everything you could ever want from your truck:
Resilient and capable off-road hardware

A tough exterior and refined interior

Front and rear locking differentials

420 caballos de fuerza

460 LB.-PIE. del par de torsión
The new Silverado ZR2 provides plenty to get excited about, and Four Wheeler considered everything.
Choosing the Pickup Truck of the Year
What goes into becoming Four Wheeler's 2023 Pickup Truck of the Year? The award involves an invite-only competition. The contestants are pickup trucks that have been significantly updated since the previous model year, including complete redesigns. por 2023, this pitted the ZR2 against the 2023 Ram Heavy Duty Rebel.
Truck Trend editor Jason Gonderman was One of the award event's judges. He told Motortrend that the Chevrolet pickup truck "made a commanding showing during the 2023 Four Wheeler Pickup Truck of the Year competition, sweeping nearly every one of our judging categories." Gonderman went on to praise the way the new Silverado ZR2 can do it all. He called out the off-road capabilities, track speed, remolque, hauling, and even fuel economy.
The competition takes place at Four Wheeler's headquarters in Los Angeles. Then the trucks go head to head in acceleration and braking competitions at the Famoso Dragway in McFarland, California. Finalmente, it's time to take advantage of California's diverse landscape.
Between the mountains and the deserts, the Four Wheeler team can test trucks in almost any condition imaginable:
Sandy trails

Rocky trails

Muddy trails

Snow

Ice

Dirt roads

Loose-dirt hills
As if checking all those boxes isn't enough, there's also a night driving portion to test lighting and visibility. En otras palabras, the competition is designed to weigh all aspects of the truck and consider all the ways you might want to use it.
This Chevrolet Pickup is Built for Power and Speed
When judging a pickup truck, it's hard not to start with the engine. The ZR2 boasts Chevrolet's 6.2-liter V8, which has already proved itself in other models. Ofrece 420 caballos de fuerza y 460 LB.-PIE. of torque while working with an automatic 10-speed transmission to deliver a smooth ride.
The even more interesting thing about this Chevrolet pickup truck is that it can still outpace competitors with bigger engines. An efficient design helped the 2023 ZR2 go from 0 a 60 en un solo 6.36 segundos. It also hit 95 miles per hour while completing the quarter-mile in 14.83 segundos.
All of that power must be hard to stop, derecho? Maybe not. The truck was able to get from 60 miles per hour to a complete stop in under 144 pies.
Chevy Silverado Exterior Design
Starting where the rubber meets the road, this Chevy truck has Goodyear Wrangler Territory MT tires wrapped around 18-inch wheels. The truck on top of that rugged base is equal parts intimidating and sophisticated.
† 2023 Chevy Silverado ZR2 includes rock rails to protect from off-road hazards. The rock rails also help with the step into or out of the truck, which is convenient because of the high ground clearance. There's plenty of clearance at the bumpers, y, and the exhaust tip has been raised to go behind the rear bumper.
A Soft Interior in a Rugged Chevrolet Pickup
Some people complained about the ZR2's interior in years past. We even have to admit they might have had a point at times. por suerte, the team at Chevrolet heard those complaints loud and clear. The interior of the new 2023 Silverado ZR2 has been elevated to a different level.
There are improvements in the classic comforts, ranging from cushy front seats to ample rear-seat leg room. The materials and design seem more luxurious, and thoughtful storage solutions are throughout the cabin. The car is also much more modern. The dash and color touch screen organize entertainment options and important information into intuitive, interactive displays.
Ready for the Long Road Ahead
The Silverado ZR2 has a reputation for being somewhat of an off-road specialist. Esto plantea la pregunta, "how is it on the highway?" Certain trail-friendly vehicles have become known for being uncomfortable on road trips. That isn't a problem here.
The pickup truck's automatic 10-speed delivers smooth, almost effortless shifting. Then there's the handling, which is surprisingly agile for a truck with this kind of size and power. It's just like with the track performance – the 2023 ZR2 simply performs better than it seems like a trail-ready pickup should.
Chevrolet Pickup Trucks Go Where Roads Won't
The redesigned Silverado ZR2's performance on city streets and long drives was a pleasant surprise. The off-roading performance was pleasant, y, but there was nothing surprising about it. Chevy created this truck to dominate the off-road categories, and it does.
The locking front and rear differential allow this truck to deliver consistent traction to all four tires on just about every surface. Loose dirt has never felt like less of an inconvenience. It goes climbing over rocks like a musclebound mountain goat.
The latest Silverado ZR2 has the latest and greatest Multimatic DSSV dampers. The massive spool-valve design helps the 40mm DSSV shocks deliver a smooth ride. Given the way the Four Wheeler team drives vehicles during this competition, it means a lot that they were impressed by the truck's ability to absorb impacts.
The advanced dampers also help keep the tires in contact with the ground. This will be important for those who want to conquer uneven terrain or zip through rutted backroads. It's not often that the dampers get a lot of attention in a vehicle, but this is an important ingredient in the 2023 Four Wheeler Pickup Truck of the Year. Responsive steering and braking are important no matter where you're taking your truck.
2023 Chevrolet Silverado ZR2 Truck: Additional Specs and Details
You can learn more about the 2023 Chevy Silverado ZR2 by contacting your nearest dealership. Our experts will be happy to tell you everything we know about the pickup that's been getting all of this praise and attention from critics. Mejor todavía, encuentra tu más cercano Phoenix Valley Chevy dealership and see the full Chevrolet pickup truck lineup for yourself.
Créditos fotográficos: Chevy Pressroom