Locate a Dealer
THE CHEVY VOLT ADVANTAGE
When it comes to hybrids, the choice comes down to the Chevy Volt vs. Prius – and it's a close match. Both offer environmentally friendly transportation, but the 2017 Chevy Volt outshines the Prius in many different areas.
For starters, the Volt offers a greater electric-only range and 149 horsepower combined. In comparison, the Prius only offers 121 hp. GM's redesign of the motor and gearbox has also improved the Volt's efficiency while also shedding more than 100 pounds. Plus, Volt has earned an IIHS Top Safety Pick+ award for 2017.
Download Brochure
THE EXTERIOR
The Chevy Volt is much more attractive than the Prius with its sleek exterior styling. This Chevy electric car also offers a road-hugging posture with a sporty profile, LED headlights and taillights and striking 17-inch alloy wheels. It is available in nine exterior colors, including several unique offerings like Kinetic Blue and Silver Ice.
Striking looks are combined with finely tuned aerodynamics like the recess that moves air smoothly around the vehicle for reduced drag and maximum efficiency. In fact, the Volt offers the most efficient design of any hybrid currently on the market.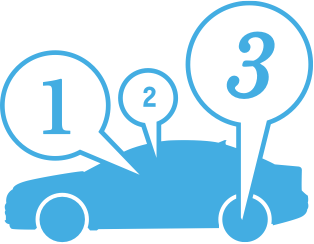 Download Brochure
FUEL ECONOMY
The Chevy Volt miles per gallon equivalent is among the best in class, delivering up to 53 miles on a single charge. With a 1.5-liter, direct-injected, high-efficiency engine, the Volt generates additional power through a gas-powered generator when the battery runs out.
A full charge and full tank delivers a whopping 420-mile total range, and Volt owners can go up to 1,000 miles between fill-ups! Volt recorded a zero-to-60 time of just 7.1 seconds, making it much quicker than the Prius.
Download Brochure
THE TECHNOLOGY
With 4G LTE Wi-Fi coming standard in the 2017 Volt, you can keep up to seven devices seamlessly connected from anywhere on the road. Chevy MyLink technology lets you make phone calls, access navigation, select radio stations and play music from your mobile device hands-free.
With the myChevrolet Mobile app, you can even turn your mobile device into the ultimate remote – including engine start/stop and doors lock/unlock. As of 2017, the Toyota Prius does not offer any app similar to this one.


Download Brochure
SAFETY FIRST
With its series of innovative safety systems and response technology, the 2017 Chevy Volt is designed to protect you before, during and after a possible collision.
Equipped with lane keep assist, lane departure warning, rear cross traffic alert and forward safety awareness technology, the Volt protects you on all sides. It also features 10 airbags in the case of an an accident, while the Prius only has eight.
Download Brochure
2017 CHEVY VOLT
Locate a Dealer
TEST DRIVE ONE TODAY
When it comes to choosing the Volt or Prius, the best way to find out which car is the best fit for you is to slip behind the wheel for a test drive.
Stop by your local Valley Chevrolet dealership and take a test drive in the all new Chevy Volt so you can experience everything it has to offer. We're sure the comfort, performance and style of Chevy Volt will have you sold!
Download Brochure
CHOOSE THE CHEVY VOLT
In the battle of the Prius vs. the Volt, the winner is pretty clear. The Volt offers greater all-electric range, better pick-up, plenty of standard safety features and state-of-the-art technology – all in a sleek, head-turning body!
And with its IIHS Top Safety Pick+ award for 2017, the Volt will not only get you where you're going in style, it'll get you there safely.
ENGINE
STANDARD
MPG
HWY10
ALUMINUM
WHEELS
Download Brochure